Tom Bergeron and Erin Andrews Are Being Replaced on 'Dancing with the Stars'
Hosts Tom Bergeron and Erin Andrews are leaving "Dancing with the Stars" but not by choice.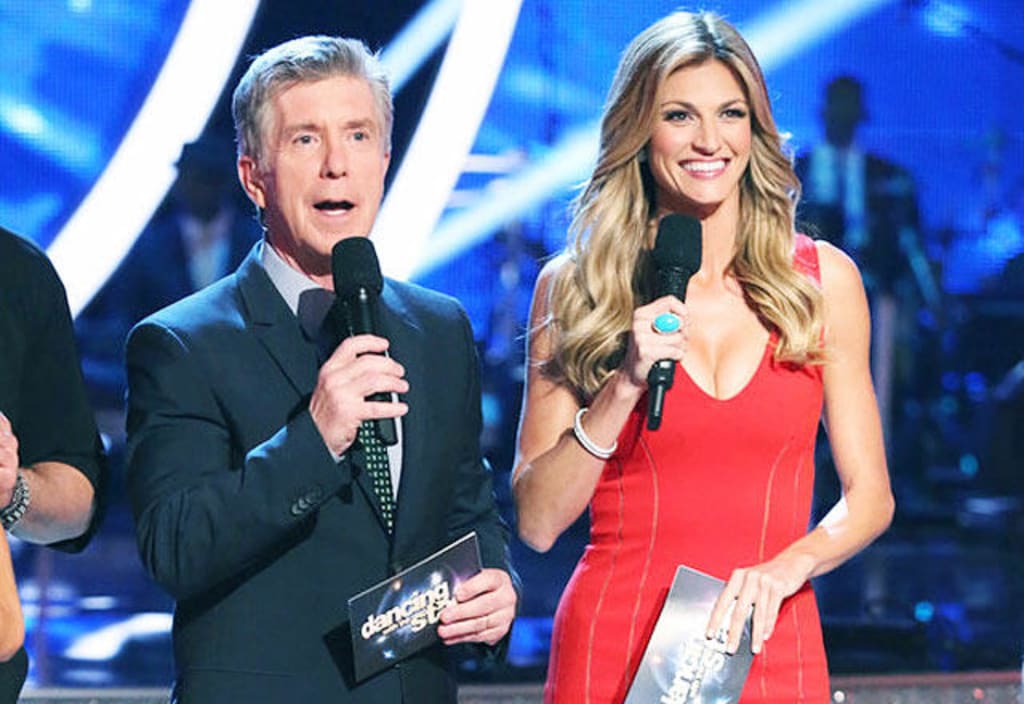 Dancing with the Stars has been renewed for a 29th season. However, it is unclear when the season will go into production and return to ABC because of the COVID-19 pandemic. What the public knows is that when the popular dance competition show does return, it will be without former hosts Tom Bergeron and Erin Andrews.
Bergeron broke the news on social media on Monday, July 13. He tweeted, "Just informed @DancingABC will be continuing without me. It's been an incredible 15-year run and the most unexpected gift of my career. I'm grateful for that and for the lifelong friendships made. That said, now what am I supposed to do with all of these glitter masks?"
Likewise, Erin Andrews also responded about her exit. She tweeted: "Thank you ABC and the entire Dancing with the Stars family for six memorable seasons. Those years wouldn't have been as special without my loving host Tom Bergeron, the talented dancers, and witty judges. I will always cherish my days on that set, even if I wasn't the best at walking in heels."
ABC's Statements
ABC commented on its decision to part ways with Bergeron in a statement that read: "Tom Bergeron will forever be part of the Dancing with the Stars family. As we embark on a new creative direction, he departs the show with our sincerest thanks and gratitude for his trademark wit and charm that helped make this show a success."
ABC also made a statement confirming that Erin Andrew will also be replaced. The statement from the network read: "Erin will also not be returning, and we appreciate all that she brought to the ballroom. Fans have been rooting for her since she originally competed as a contestant back in 2010, and her signature sense of humor has become a hallmark of the show."
The Hosts
It seems as if Bergeron and Andrews were shocked to learn they are not being invited back when the show returns. The 65-year-old former host has been with the hit show since its premiere on June 1, 2005. Viewers thought Tom was doing a fantastic job. He received nine Primetime Emmy Award nominations for Outstanding Host for a Reality or Competition Program. He won that award once in 2012.
Bergeron had four co-hosts, including Lisa Canning, Samantha Harris, Brooke Burke-Charvet, and Andrews. Canning was a co-host for the first season only. Harris followed Canning and was co-host from Seasons 2 through 9. Burke-Charvet was co-host during Seasons 10 through 17. Andrews worked alongside Bergeron in Seasons 18 through 28.
We are expected to keep seeing Erin Andrews since the 42-year-old former co-host is a sportscaster and television personality. She is also a sideline reporter for Fox NFL
Why Are the Hosts Being Replaced?
Bergeron had been a fixture on Dancing with the Stars since the very beginning. So, why is ABC replacing him? If the statement about his departure is to be believed, it is to "embark on a new creative direction."
No replacements have been named to replace Tom and Erin yet. They both worked well together and fans of the show loved their working relationship. Tom got along with the three judges: Carrie Ann Inaba, Len Goodman, and Bruno Tonioli. Needless to say, it will take some getting used to new hosts when the series returns.
Reactions to the Surprising News
Many surprised celebrities responded to the news on Twitter. Most of them offered support for the dismissed hosts. Tom hosted 448 episodes over 28 seasons. He worked with a total of 321 celebrity dancers, 46 professional dance partners, three judges, and two different live bands.
Former contestants tweeted their support for Tom. Bindi Irwin tweeted that time with Bergeron "was one of my favorite parts" of the show. Lea Thompson said what a lot of fans are thinking. She expressed that there's no show without Bergeron. She added, "They might as well cancel it."
Celebrities are also supporting Erin who originally competed as a contestant in 2010. She returned to be Tom's co-host in 2014. Viewers loved the sense of humor she brought to the show. Both Tom and Erin will be missed.