This AI App Turns Your Face Into 127+ Memes
Become a Shape Shifter With This Revolutionary Tool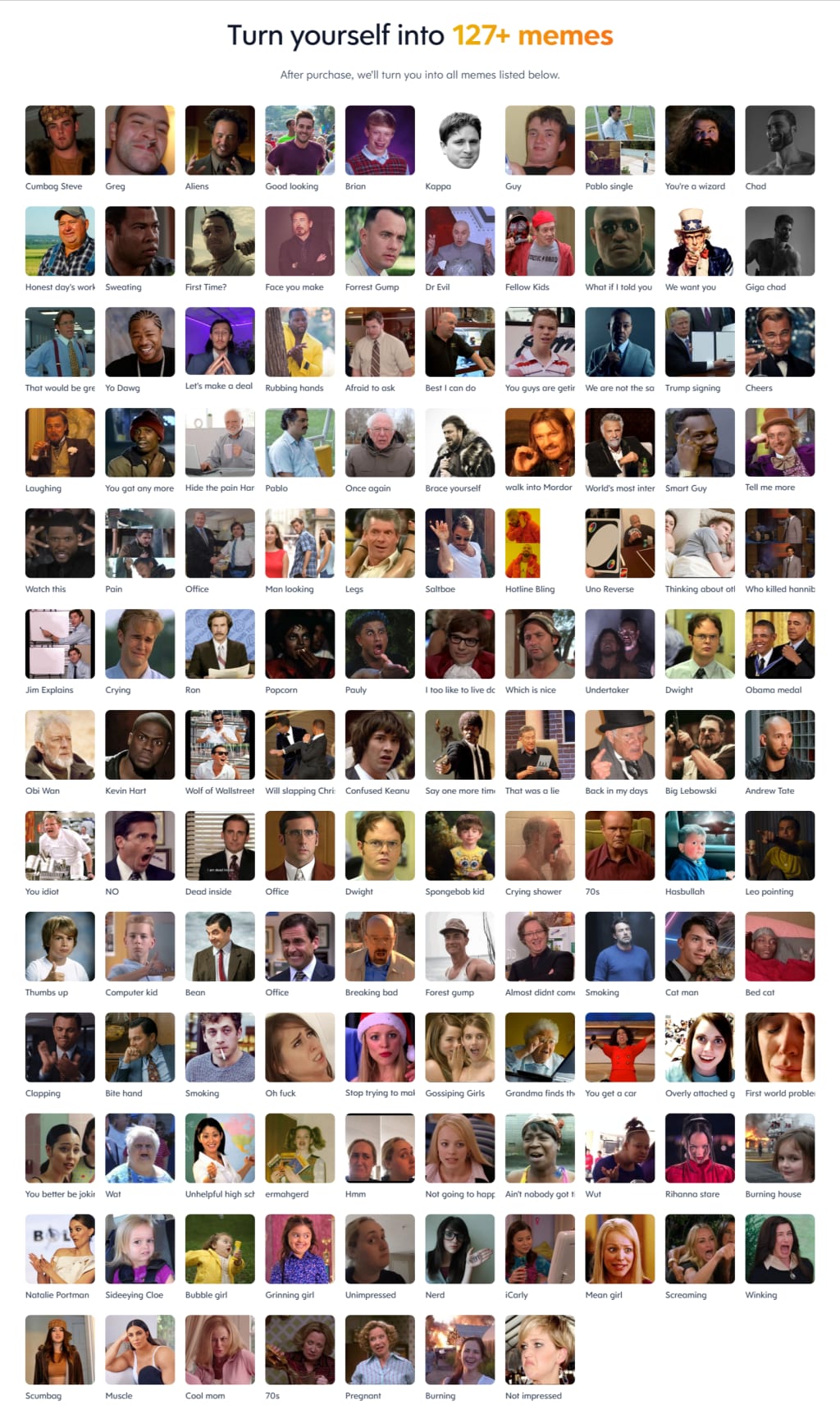 Image Credit: MemeMorph
MemeMorph, a new AI-powered app, gives users a creative way to express themselves and show off their personality by transforming themselves into their favorite memes.
The app merges the latest AI technology with popular meme culture to create a hyper-realistic morph effect — now users can turn themselves into memes with the click of a button.
MemeMorph identifies the user's unique facial features, then overlays them onto a chosen image to create a picture-perfect morph.
It's an easy three-step process:
Upload your photos. Upload at least 20 photos of your face. Their AI will morph memes based on the photos you upload.
Their AI starts generating. Their AI will start to learn from your photos and generate memes based on them.
Receive your memes after about an hour. Then start sharing them with your friends, family, and on social media.
The results of this new app range from hilarious to impressive — depending on the user's style. Everything from popular classics to celebrity memes.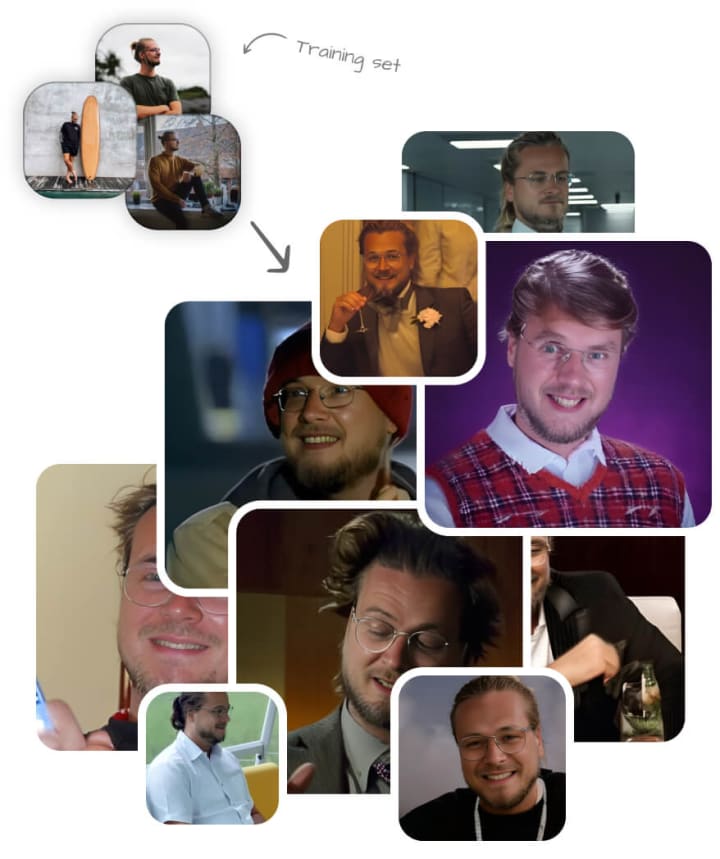 Examples of the 127+ memes offered are:
Aliens
Leonardo DiCaprio (Cheers toast with glass, Wolf of Wall Street)
Willy Wonka
Will Ferrell as Ron Burgundy
World's Most Interesting Man
Samuel L. Jackson ("Say it one more time," from Pulp Fiction)
Confused Keanu Reeves
Mean Girls
Game of Thrones ("Brace yourself")
Bed Cat
The Office memes (Michael, Jim, Dwight)
Oprah ("You get a car")
Cool Mom
Muscle
Rihanna Stare
Walt from Breaking Bad
Gordon Ramsay ("You idiot!")
Kevin Hart
Gossiping Girls
And much more! There's something for everyone with this app.
Frequently Asked Questions
Mememorph put together a list of common questions. I'll quote a few FAQs from their website:
"What do you do with my photos after training?
We train our AI model with input photos, render memes, then delete them and the models from our servers/GPU APIs within 7 days. To delete faster, simply press Delete, and we'll erase all data instantly.
What type of photos should I upload?
We recommend 10 close-ups, 3 side profiles, 5 chest-up and 3 full-body shots. Variety is key: facial expressions, locations, backgrounds, and perspectives should all be different. Look away from the camera too. High-quality photos work best; minimal makeup is advised as it may be exaggerated in the photos. No nudes, swimwear/underwear is OK.
What photo formats do you accept?
We support JPG, PNG, WebP, and HEIC but not AVIF or GIF.
Can I use my photos anywhere?
Yes, you can use your photos anywhere you want. You can use them on your social media profiles, on your website, on your business cards, etc. You can also use them for your personal use, such as on your dating profile, etc."
Pricing
MemeMorph charges a one-time payment of $6.99. There is no subscription.
Summing It Up
MemeMorph is the world's most advanced face-morphing app. You can turn yourself into your favorite memes by uploading a few selfies to their platform and then letting their AI do the rest of the work!
➡️Click here to check out the memes you can create with MemeMorph.
* * * * * * * * * * * * * * * * * * * * * * * * * * * * * * * * * * * * * * * * * * *
Disclaimer: This article contains affiliate links. If you purchase through one of them, I may earn a small commission at no extra cost to you.
Additional Disclaimer: The original version of this story was published on another platform. Link to original version: https://medium.com/crazy-good-ai/turn-your-face-into-127-memes-30f1069c43f5?sk=b0a05d08a5da62407f6b2e8bb9b2cfd5
About the Creator
Attorney, writer, and content creator. I write about passive income, affiliate marketing, AI tools, legal issues, content creation, books, and side hustles. I live in New York City.
See more at www.bestmoneyhustles.com
Reader insights
Be the first to share your insights about this piece.
Add your insights