Things Heard & Seen - A Netflix Movie Review
I was expecting Netflix's 'Things Heard & Seen' to be a thriller.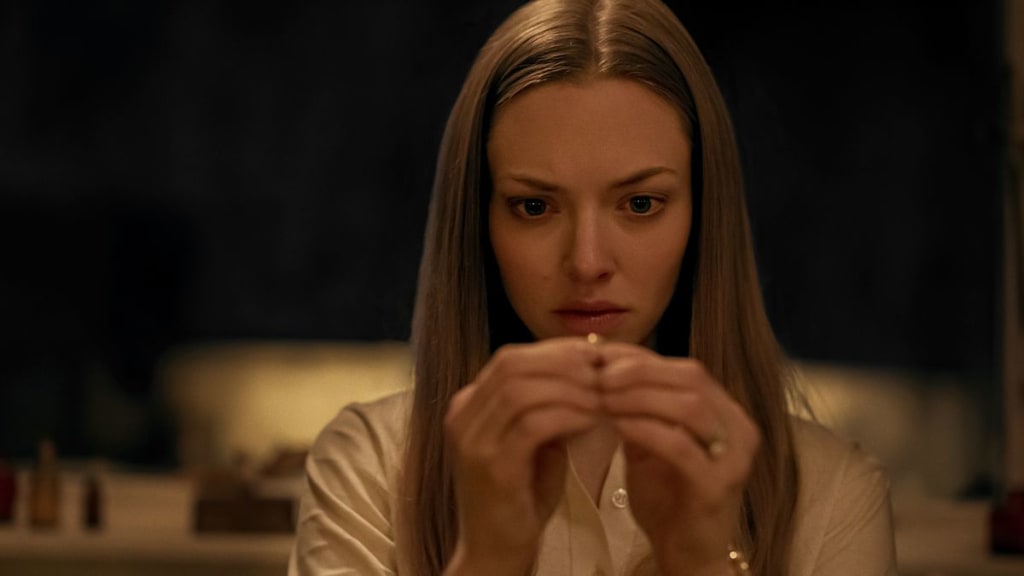 Either I just saw a ghost or the writers who are trying to figure out what happens next.
Based on the novel written by Elizabeth Brundage, Things Heard & Seen is a 2021 Netflix adaptation. Moving into a new home, Catherine suspects that they are not alone. Discovering that dark murders took place in this house, her husband refuses to believe her. Their constant arguing causes a strain on their marriage.
After viewing the trailer of Things Heard & Seen, I was expecting it to be a thriller. I am still not quite sure what to think about the film. Aside from incredible acting talents, a better focus could have been attained on the story which was repetitive.
Amanda Seyfried and James Norton embodied their characters. Amanda Seyfried was wonderful in her portrayal as a conflicted woman who feels trapped in the shadow of her husband. Seyfried excelled in her emotional performance.
Norton succeeded in making his character as despicable as he could. George Claire is not somebody with whom you want to cross paths with. He always gets his way. Seyfried and Norton worked tremendously in their interactions. However, they quarreled too much.
Other credits to try to make sense of this fragmented story include Natalia Dyer, Alex Neustaedter, Rhea Seehorn, Michael O'Keefe, Karen Allen, Jack Gore, F. Murray Abraham, and Ana Sophia Hegar.
Most of the purpose of the supporting cast is to learn exposition from Catherine or George. We hardly get to know the characters. And there is barely any focus on their daughter.
Performances aside, it's the story that is flawed. I went into this film believing it would be a ghost story. While there are ghosts - for a total of five minutes - we're treated to constant repetitive scenes of Catherine and George arguing, or the two separating to talk to supporting characters about their relationship.
More attention could have been given to the spiritual/thriller angle of the film. There are a total of two brief jump scares with a dark figure lurking in the background. In one of my most favorite scenes, Catherine discusses with Floyd (Abraham) how she has connected with this spirit. It was thought-provoking.
Filmmakers conceived effective designs that portrayed the spirit in the house. Cinematically, Things Heard & Seen had a great edit - to an extent. I like how the camera focused on essential objects and followed the characters. The way it was shot gave the feeling that they were being watched. And the film loses that energetic flow, too!
Sometimes, the film knew when to cut out scenes for the right suspenseful tone, while other times it kept in at least ten scenes too many with Catherine and George arguing. We already get the George is an awful person. We get that Catherine and George have problems. And we could have settled with one party.
I would have liked for the film to have studied the paranormal atmosphere earlier instead of over an hour into the film. It is a fragmented story with a piece here and there. The film needed to focus on one thing.
Shari Springer Berman and Robert Pulcini reflected the right mystical atmosphere of Things Heard & Seen, but the story got lost. With the way this film was presented, and I don't know if it was because it had two directors, the writers threw in one idea after another. Was it a ghost story or a film about a bickering couple?
Things Heard & Seen could have been better. Up until the middle half, it is an engrossing film. If you would like to watch it, take a look at it on Netflix.

Marielle Sabbag
Writing has been my passion since I was 11 years old. I love creating stories from fiction, poetry, fanfiction. I enjoy writing movie reviews. I would love to become a creative writing teacher and leave the world inspiring minds.
See all posts by Marielle Sabbag →