'The Zookeeper's Wife'
A war story like no other.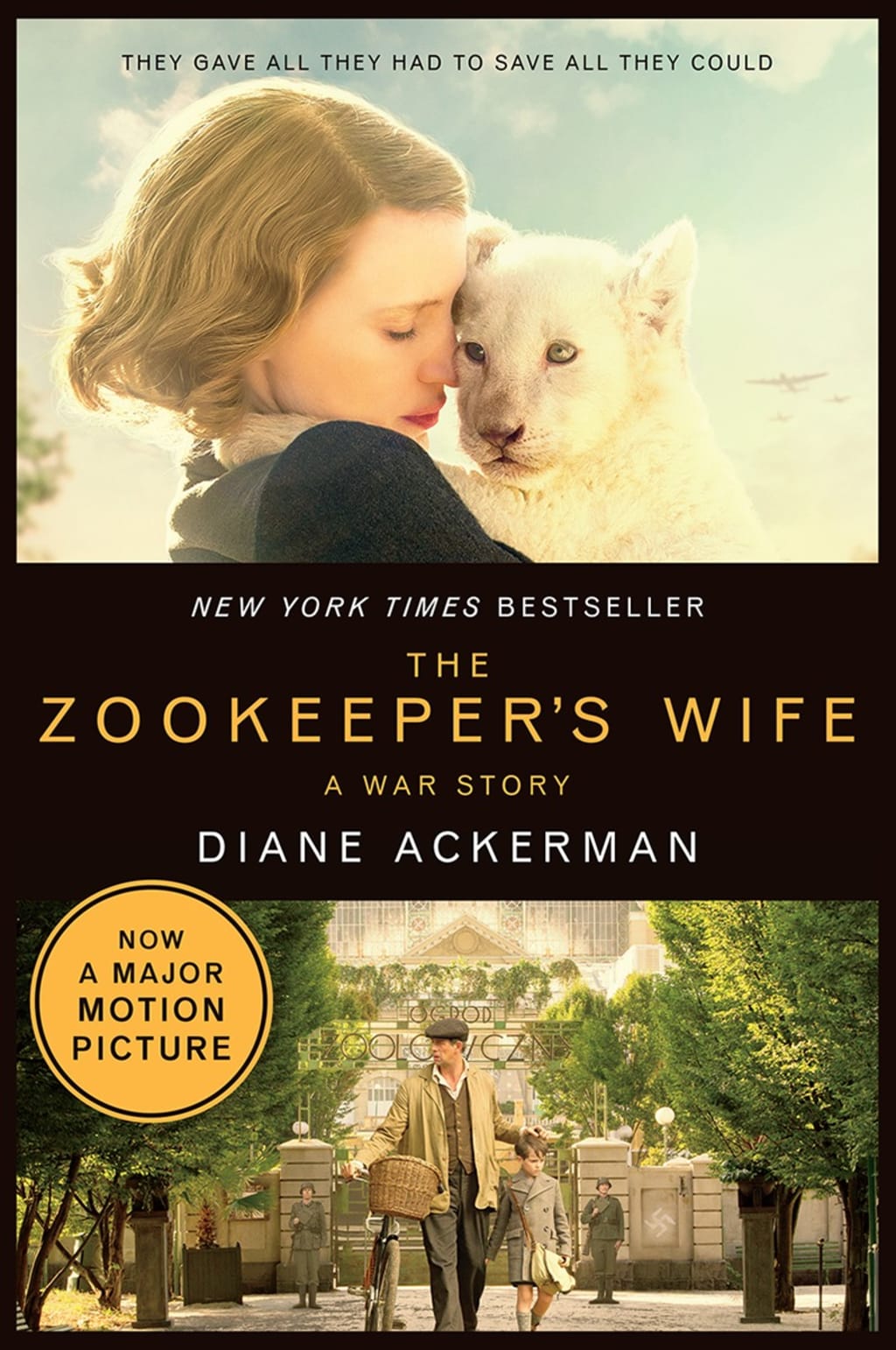 For starters, I am not a history buff. I have a very limited area of interest when it comes to history, but one of those areas of interest has always been World War II and the Holocaust. Ever since I was in school, this tragedy has always interested me; I have always enjoyed reading books that take place during this time, watching movies that chronicle the horrors of the war, and even visiting the museums that do such a brilliant job of honoring the history of those involved. Another, unrelated area of interest that I have is animals; I have always loved animals, and I have always been fascinated by the relationships that can be built between animals and humans. Needless to say, when I came across a story that brought those two, seemingly unrelated, interests of mine together, I was instantly hooked.
The story I am referring to is Diane Ackerman's novel, The Zookeeper's Wife. To be honest, it was the trailer for the movie (which I think is a fantastic movie) that first turned me onto this story, but after finding out that it was a novel, I knew that I needed to get my hands on it. This novel has been sitting on my shelf for a while now, but I have finally gotten around to reading it. It was profoundly inspiring.
The Zookeeper's Wife tells the story of Jan and Antonina Zabinski, who owned and operated the Warsaw Zoo in Poland. At its prime, the Warsaw Zoo was one of the most successful zoos in Europe. Jan and Antonina were proud of the zoo that they had built, and they were equally proud of the collection of animals that they were able to care for and display for the locals of Warsaw, the people of Poland, and even travelers from abroad. Unfortunately, during Hitler's play for power during World War II, Warsaw fell to the ravages of war—and the zoo was not spared. With animals either taken to Germany or killed by gunfire or bombs, the empty zoo provided Jan and Antonina with the opportunity to help those in need. Despite the risk, Jan and Antonina opened their zoo as a safe house for Jewish and other persecuted people who were escaping the tyranny of Hitler and his Nazi soldiers.
This book, although it was filled with first hand accounts from various people who passed through the zoo, as well as Jan and Antonina themselves, read like it was a work of fiction. Ackerman did a fantastic job at bringing this amazing story—and these amazing people—to life. This book was able to transport the reader back to Warsaw. Although the story of the Warsaw Zoo features many different people, the main focus of this story was Antonina. Ackerman brought the actions of this woman to the forefront of the story and showed off exactly how important her (Antonina's) contributions and sacrifices were to the success of the zoo.
Antonina, the matriarch not only of her own family, but of the guests that made their way through the zoo, was the glue that held the entire operation together. Reading about her struggles, her triumphs, her fears, and her optimism, made an event that I didn't experience seemed more real. Although I couldn't imagine what it was like to endure the hardships that were faced by many during this time, being able to read about Antonina's struggle in her own words created a sense of empathy.
Not only did this story portray the tales of the human guests who passed through the zoo, but this story also paid homage to all of the animal guests who played equally important roles. Reading about how Jan and Antonina used animal psychology to attempt to outwit Nazi soldiers, seeing the pictures of the Zambinski family with various animals at the zoo, and falling in love with these animals that became members of the family added another layer to an already complex narrative.
This story provides readers with an unfiltered look at the struggles that were faced during Hitler's reign. This book is filled with heart, soul, horror, and, at times, whimsy and humor. There were times where I found myself laughing, times when I found myself crying, and times when I had to set the book aside because the sheer weight of those horrific events was too heavy. For anyone who particularly enjoys reading about this period of time, I would highly recommend picking up Diane Ackerman's, The Zookeeper's Wife.
I would give this book a solid 4 out of 5 stars.