'The Young and the Restless' spoilers tease that Lola may go to the dark side
Kyle's ex could cause him and Summer a lot of trouble.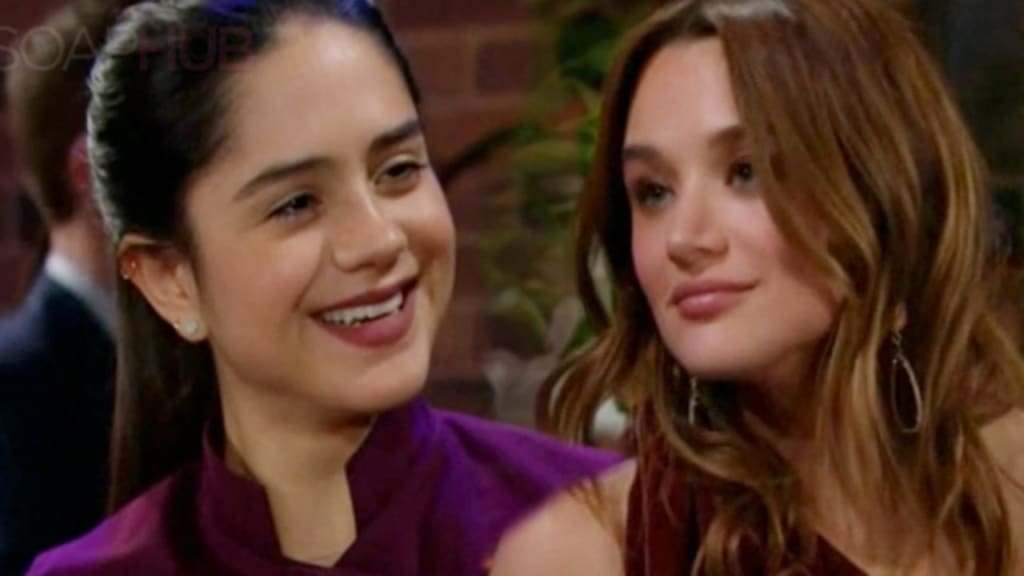 Lola Rosales showed up in Genoa City as a sweet young woman who did not have love on her mind. She had remained a virgin and was on no hurry for romance, but Kyle changed all of that. He pushed her into dating him and several times it was clear they were not compatable. Lola did not like the fact that Kyle spent money on an expensive handbag for her for Christmas and she had a problem with his being born with a silver spoon in his mouth. Lola had to endure Summer around every corner but she hung in there and gave her heart and virginity to Kyle.
Now. however, in one short year Lola's life hs changed. She is about to edivorce Kyle who left her for Summer and she basically had meaningless sex with Theo. The sweet, innocent young woman has been replaced by one who has sbeen damaged and is lashing out at those around her. Lola has been rude to Kyle and practically took Theo's head off before she broke up with him. On Monday, she was eavesdropping in Chancellor Park, when Kyle and Summer proposed to each other. Now, Celeb Dirty Laundry suggests that she might go to the dark side and seek revenge.
The spoiler suggests that perhaps Lola will take the approach that if she is not happy then no one should be. CDL says it's possible that Kyle's ex may delay the divorce because she hates that Skyle is so happy when she is not. Viewers will remember that Kyle walked out on his wife and immediately went to bed with Summer. Lola has never really dealt with this and instead threw herself into her work. She then began dating Theo, but fans knew that relationship was doomed from the start. A few weeks back Mr. Vanderway was flirting with Victoria and on Friday he was doing the same with Chelsea.
Theo explained to Lola that he and Chelsea were talking about business, but seeing him leave Society with her was too much and Lola called off their relationship. It's obvious that she is in a lot of pain and confused about her current situatioon. It had to cut her deeply to see just how in sinque and in love Summer and Kyle really are. It may not seem like Lola's personality to be so petty that she holds up the divorce but this might be exactly what happens. On Tuesday, both Phyllis and Nick emphasized that Kyle is still married. Could this have been a subliminal message that the divorce will be delayed?
The Lola Rosales who came to Genoa City with her food truck would not try to hold on to a man who does not want her. Soap Dirt is also suggesting that Lola might seek revenge but points out one reason she should not be angry. it is true that Kyle and Summer are planning a wedding while he and Lola are still married. It is also a fact that Lola gave her virginity to Kyle while Summer was his wife. This is a complicated situation but it reveals something about Ms. Rosales/Abbott. She was not so sweet and innocent that she waited until her wedding night, or at least until Kyle was free.
As a matter of fact, she seemed a little bit eager to giver herself to a married man and stake her claim to someone elses husband. Kyle is responsible for breaking the hearts fo both women and setting all of this in motion, but Lola could have told him no. She agreed to an arrangement that hurt Summer deeply and hs no right to play the victim now. More than likely her pain is so great that Lola will not see it this way and may wallow in self pitty. If Lola does go down the dark path of revenge, this will bring out the worse in Summer and hell hs no fury like the daughter of Nick and Phyllis scorned.
Earlier spoilers and some viewers were suggesting that Loa and Noah could have a sweet romance. If, however, Ms. Rosales goes down the dark hole of getting even Noah might not be an option. It's always possible that Nick an Sharon's son could deter Kyle's ex from dragging out the divorce and perhaps they could begin a relationship. All of this is speculation as spoilers are only sugggesting the possibility. Stay tuned to find out what happens next.
entertainment
Cheryl is a poet, freelance writer, published author and former Newspaper columnist. She has degrees in Psycology and Biblical studies. She enjoys sharing natural cures, and Nostalgia related info. Tips are greatly appreciated.
Receive stories by Cheryl E Preston in

your feed