The Yellow Handkerchief - A Movie Review
'The Yellow Handkerchief' focuses on human interactions.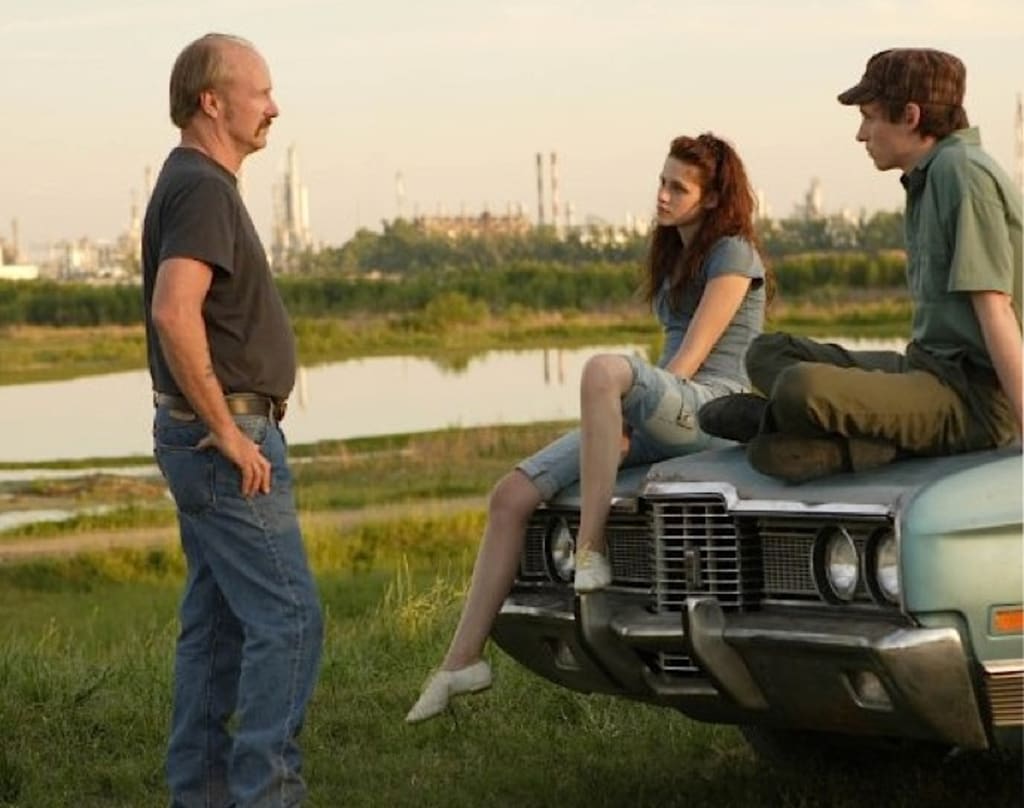 Why are you on the road? Everyone's gotta go somewhere.
The Yellow Handkerchief was released to theaters in 2008. Three strangers meet and take a road trip through Louisiana. They have one thing in common. Loneliness. Helping one another out in more ways than one, this adventure is uplifting.
Movies with simple storylines hold so much depth. I love movies that center around road travel. The Yellow Handkerchief focuses on human interactions. You can't always trust what you see - especially in a person.
The Yellow Handkerchief has two stories. A love story and another segment that details friendship. William Hurt, Kristen Stewart, and Eddie Redmayne were excellent. Strangers at first, I liked the subtle nature when it came to their backgrounds. Character films make entertaining stories. There's always a character to who we can relate.
Harboring insecurities - whether invisible or a disability, nobody is ever alone when fighting battles. Redmayne is a strong actor. Playing a man with a disability, George doesn't think too fondly of himself based on how people have treated him. This film challenges audiences to have an open mind.
Stewart is a wonderful actress. I can't believe I never watched any of her films until a few years ago. Let it be a lesson to never underestimate actors based on their acting careers. The way Stewart studies the energy of her character is always inspiring.
Brett has made mistakes, but mistakes from the past help him grow. His growth allows him to have a heart-to-heart conversations with his companions. That's what I loved most about Hurt's performance.
The late William Hurt and Maria Bello had their own love story told through flashbacks. The flashbacks were a little much at times because they took away from the main story. This film is about the friendship between the trio.
Brett and May get involved in several arguments regarding their relationship. Hurt and Bello created genuine romantic chemistry. Bello was fantastic in her short role. Not afraid to tell people off, May is one tough cookie. The piercing monologue May delivers to Brett was tremendously delivered.
I liked the camera shots. Shots focused on one character or a location for long periods. For example, the camera remained still as Martine (Stewart) was having a conversation on the phone. You can feel a lot going on in the world, including the silence.
Road trip films are the best. Udayan Prasad was attentive to character study and their relationships. The Yellow Handkerchief is both a love story and about friendship. It's a snippet of life. We immediately get a sense of this town and the people living in it.
The color yellow is prominent. Yellow represents happiness and friendship. I also really liked Prasad's choice of music. He encourages audiences to go on an adventure to get away from the past. Move on from what you've been to be someone new.
Feeling lost is one notable theme. Prasad connected to us and our feelings. You can't always trust what you see. What is your definition of a stranger? Take as much time as you need to understand your past. Sometimes that's why we're on the road.
The only issue that I had with The Yellow Handkerchief was the ending. After building up the impact of a relationship, a character's reaction was so unrealistic. Unless they were leaving the ending up to interpretation, I didn't feel closure.
Find The Yellow Hankerchief and watch it. The story may be slow, but that's the whole point of the film. It's a good adventure.
movie
About the author
Writing has been my passion since I was 11 years old. I love creating stories from fiction, poetry, fanfiction. I enjoy writing movie reviews. I would love to become a creative writing teacher and leave the world inspiring minds.
Reader insights
Be the first to share your insights about this piece.
Add your insights