The Watch: What We Know So Far
8 Years in the making – we're finally getting a result.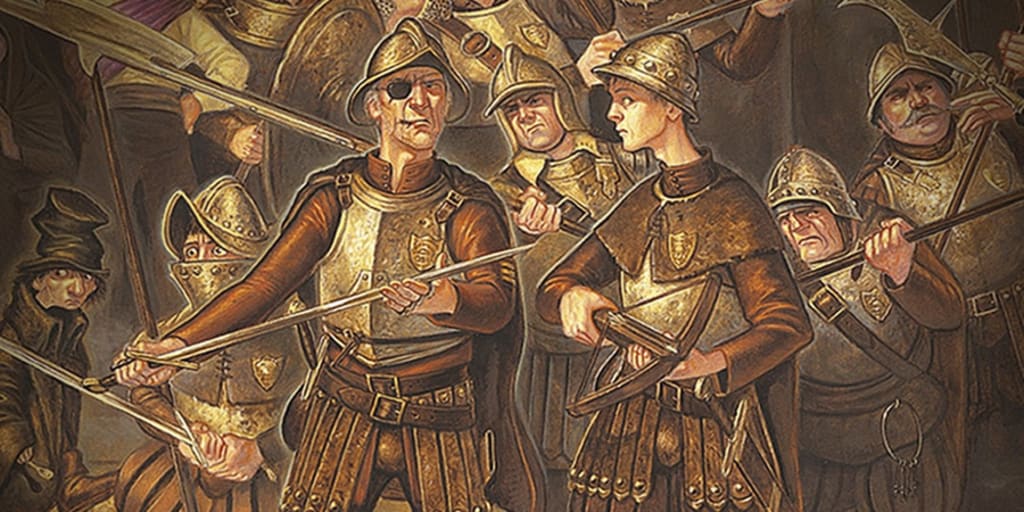 Pratchett's The Watch book series has sold more than 90 Million copies worldwide. It was back in 2011 that Pratchett fans perked up like meerkats at the prospect of The Watch being adapted for television. Prime Focus Productions. Pratchett's own TV production company, Narrativia, went on to confirm reports in 2012 where Pratchett himself was said to be overseeing the writing of the script. The series was going to have a run of thirteen 60-minute episodes, with Pratchett's daughter Rhianna as co-writer.
In September 2014, Pratchett's agent announced that the script was officially in development and that shooting would commence in 2015. Sadly, 2015 was also the year Sir Terry Pratchett was escorted by Death from this world to the next. After Pratchett's death, his assistant said that pre-production was still ongoing, but were to expect no further updates until filming had begun. Production was confirmed again in October 2016 by Rhianna Pratchett.
Fifteen months later, in March 2018, Deadline Hollywood brought the news that BBC Studios was developing The Watch as a six-part series – and the basis of a "returnable franchise". That October, BBC America announced that it had ordered an eight-episode series of The Watch. Filming took place in Cape Town, South Africa, and we are expecting the series release in 2020.
The BBC describes the series as a "disruptive, character-driven thriller [that] centres on Terry Pratchett's misfit cops as they fight to save a ramshackle city of normalised wrongness, from both the past and future in a perilous quest". Naturally, we will be seeing many fan favourites brought to life – however, the casting process has left some fans up in arms.
Announcements of Anna Chancellor as Lord Vetinari, and Ruth Madeley as Cut-Me-Own-Throat Dibbler caused quite a stir as cries of 'political correctness' were carried on the wind from displeased fans. It's a shame, as we believe Sir Terry Pratchett would have been very open to cross-gender casting, as gender for his characters tended to be more of an after thought than a plot necessity (barring Wizards and Witches, of course). In fact, while I am a huge fan of Charles Dance's portrayal, I think Lord Vetinari is a character for whom gender is the last thing to be concerned about. Vetinari is smooth, authoritative, and makes you a little weak at the knees when you imagine that voice telling you in a firm and calm manner to do as you're told… but I digress. The gender swaps were divisive, with some fans adopting the 'wait and see' mentality, and others threatening to boycott the series altogether- but there was one more casting choice that send outraged aftershocks rippling through the Pratchett fandom. Her Grace, Lady Sybil Deirdre Olgivanna Ramkin-Vimes, The Duchess of Ankh.
Whilst many fans of the 'wait and see' attitude are still happy to reserve judgement of the casting until after having watched the series, there is no denying that casting the young, slender Lara Rossi as broad-built, battle-ready dragon breeder Lady Sybil Vimes is a little scandalous. Of course, the acting profession has always favoured a certain type of woman, with larger and 'plus sizes' women being tossed into 'comic-effect' roles or being made to go on an amazing body-changing journey to be considered pretty. With this in mind, fans are hoping that the choice to cast Rossi is strictly plot-dependant, and not a testament to age-old discriminations in the industry.
Apart from casting, which is almost impossible to keep secret in this day and age, the BBC have managed to keep their cards very close to their chest. I have a feeling this will remain to be the case right up until the release, when we hope 8 years of anticipation and build up will prove to be worth the wait. It wouldn't be too crazy to imagine we will not only get to see more of the streets of Ankh-Morpork, but also Uberwald and other lands across the Disc. Whatever your views on the choices that have been made so far, I urge you to try to remain positive and see what the BBC has to offer. After all, existing adaptions have been an absolute joy to watch.
To paraphrase Sir Terry Pratchett; this article has been written using 100% recycled words.
Ook.
~Anduril
tv
Receive stories by The One True Geekology in

your feed