The Top 5 Reasons Why You Should Start a YouTube Channel
For people who want one, but feel like they wouldn't do well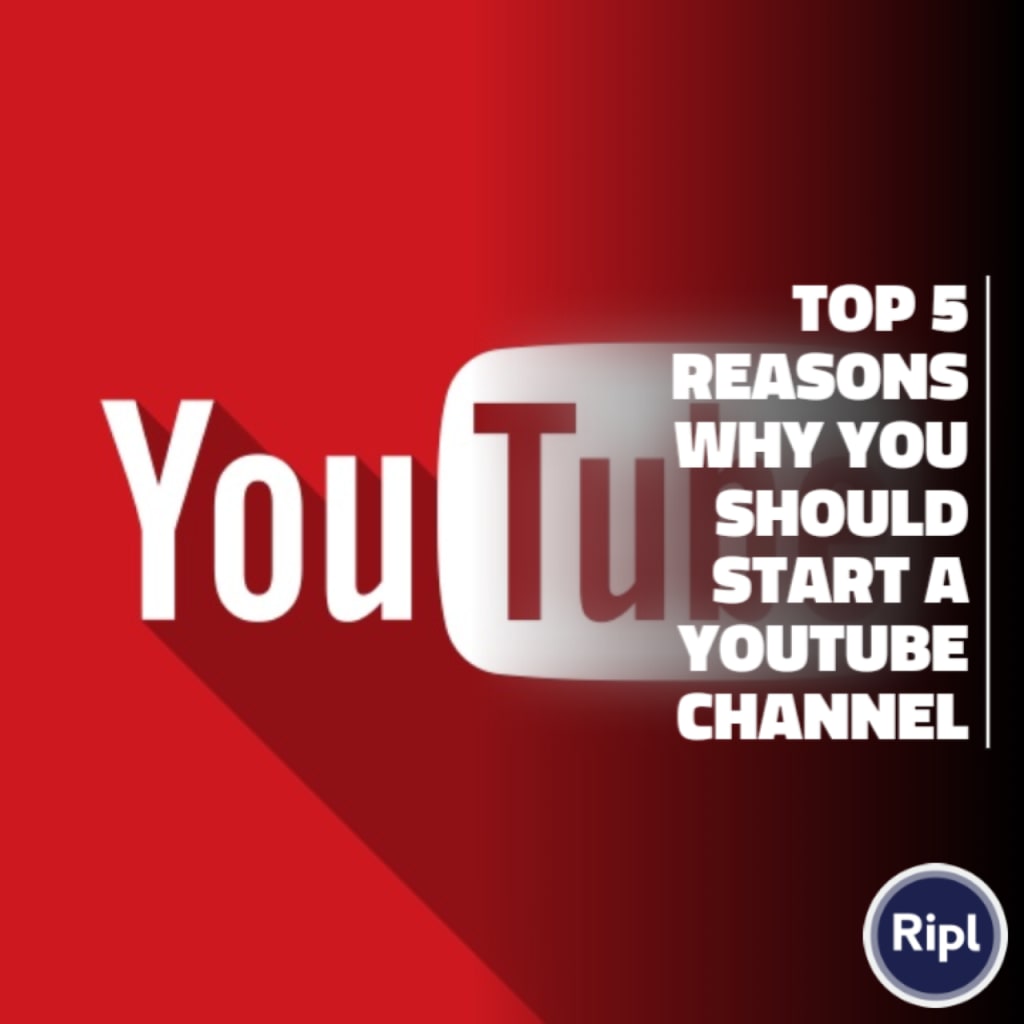 Made with Ripl (Great App)
"Welcome back Ladies and Gentlemen! My name is JeezBee and this is..."
This is how I start ALL of my videos. YouTubers call this the intro. It's where you introduce yourself to your audience and where you will first grip their attention. (This is probably the most important part of your video.) It's also where you need to announce a "Call To Action" or where you ask your audience to comment, like, share, or (famously) subscribe.
Moving on from all the technicalities, you're initially here to find out the TOP 5 REASONS, that I have gathered personally, why you should start a YouTube channel.
NUMBER 1: WHY THE HELL NOT
If (A) You love making videos and interacting with others or (B) You have something you want to share with a wide audience, then DEFINITELY start a channel! You don't need fancy equipment to get started ALL YOU NEED IS YOU! Personality goes a long way on YouTube and, honestly, your uniqueness is what will keep an audience coming back. I'll tell you one thing though that is crucial. MAKE SURE YOU ENJOY WHAT YOU'RE DOING! You have to enjoy the process or you'll never stick with it.
NUMBER 2: YOU HAVE SOMETHING TO SHARE
Whether you love making skits, gaming, telling stories, making animations, or vlogging, YouTube is big enough for everyone. No matter who you are or what you do, an audience will love you for you. So if you have something to share that you think others would love to see or even if it's a way for you to genuinely express yourself, GO OUT THERE AND MAKE IT HAPPEN!
NUMBER 3: WANTING TO CONNECT WITH LIKE MINDED PEOPLE
If there is any place on the internet where you can find a large number of people with the EXACT same interests as you. It's YouTube. Not only can you spend hours on there watching videos of ALL KINDS, you can scroll down to the comments (avoid trolls and bullies) and connect with people that are watching the exact same thing as you and feel the same way about it. I ABSOLUTELY LOVE THIS ABOUT YOUTUBE! I have found so many great channels (and especially people) that I can connect with from all different parts of the country (world). I love interacting with my audience and getting to know so many different people from all walks of life!
NUMBER 4: YOU CAN MAKE SOME CASH FLOW
I personally do not believe I will ever make it big enough on YouTube to ever make any income off of it, but that's not my drive to do what I do either. If you are one of those that make it very well, you can make a substantial amount of money being, ultimately, an entrepreneur. As I said before though, you have to love doing YouTube. It is a very large job if you put in 100 percent and you can burnout quickly if you don't do it right. I'll be leaving links at the bottom of this article of YouTube Motivators that keep me moving and educated in the process.
FINALLY, NUMBER 5: MAKE A CHANNEL BECAUSE YOU WANT TO
Becoming a YouTuber and making videos is a lot harder than you might think. It takes a lot of time, patience, and dedication. You want quantity AND quality. BOTH of those things are not easy to mingle. If you are doing this because you WANT to, NOT just for some get rich quick thing then you'll go far on here. Just remember that all YouTubers worked their way up, and it took A LOT of time to get there. Just be generous and interactive with everyone. After all, becoming a great YouTuber is a marathon not a sprint.
I hope you all enjoyed this article. I am mainly a short story writer here on vocal, but I will be implementing my YouTubing journey and my new college journey through Psychology, also. So I hope to see you all back here to check out what's coming next. Thank you all so much! Bye!
(Two Motivational YouTuber's Links Down Below👇👇)
Bio:
My name is Jessica Briggs, and I am an amateur writer, photographer, YouTuber, and new college student. I live in Oregon and can't imagine living anywhere other than the Northwest. Here's a link to my new gaming channel DOWN BELOW: JeezBee Gaming❤
Reader insights
Be the first to share your insights about this piece.
Add your insights