The Queens Gambit
Review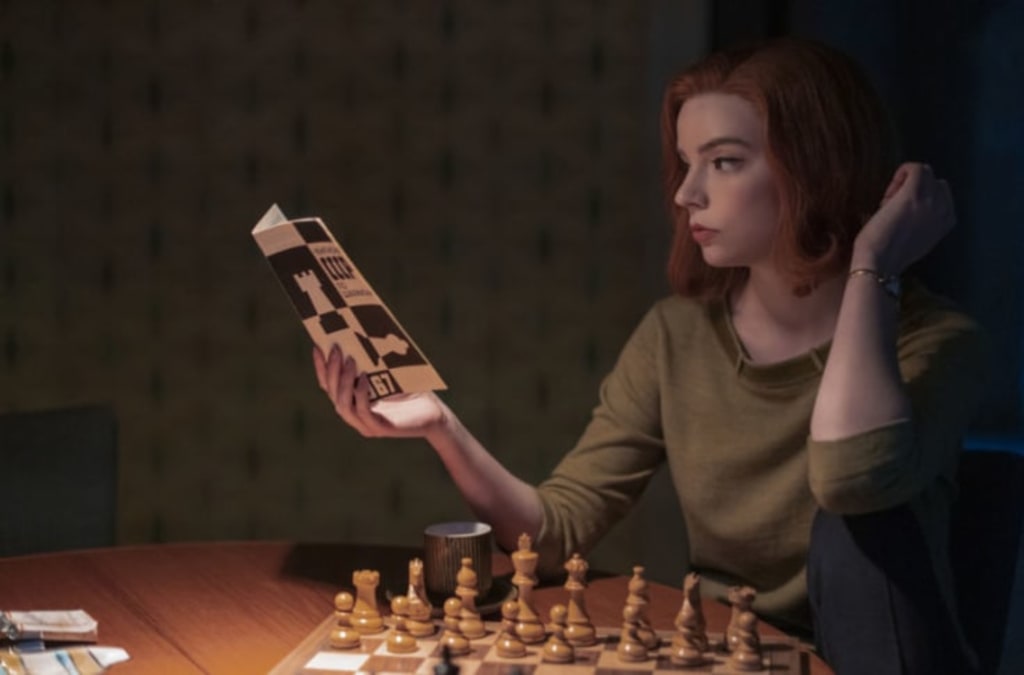 Checkmate.
Anya Taylor-Jay is simply stunning as Beth Harmon in The Queens Gambit. This new Netflix original is a must-see. The game of Chess has been brought to life by an orphaned Beth Harmon, played by Anya Taylor-Jay, in this new Netflix original, The Queens Gambit.
If you haven't played chess before you don't need to worry. This Netflix series is based more so on the experiences of a young, orphaned, drug-addicted girl who happens to be a gifted chess player.
Based on a 1983 novel written by author Walter Tevis, you'll find yourself wondering if this series is based on a true story. Unfortunately, the novel is fictional. Although parts are drawn from real-life chess matches. It is said parts are based on real-life chess champion Bobby Fischer. Although Bobby himself did not think much of anything of women in the chess world.
Tevis on the other hand, an amateur chess player, struggled with addiction at a young age. Tevis told the New York Times in 1983 "that he wanted the Queen's Gambit to be a tribute to brainy women." We see Beth's struggles with equality throughout the series. As a woman in a man's world, it does not take Beth long to conquer and dominate the chess world and receive the respect she so rightfully deserves.
Beth gets sent to an orphanage at a very young age. There she meets a man, a janitor, Mr. Shaibel, who introduces her to the game of chess. Besides the game of chess, The Queens Gambit, which is also a chess move, portrays the struggles women faced in the 1950s and 60s, drug addiction, love, betrayal and friendship.
Young, beautiful, intelligent, socially awkward, and exquisite, Beth becomes addicted to tranquilizers at a young age. We see Beth's struggles with addiction throughout the series.
At the age of 16, Beth gets adopted from the orphanage. The adoption plays out to be yet another father leaving her and a new, lonely mother looking for love and companionship which she finds in Beth. Alma Wheatley, Beth's new adopted mother, played by Marielle Heller, gives an impeccable performance as Beth's new mother.
The two appear to be a match made in heaven. Alma, struggling with her own addictions and shortcoming welcomes and accepts Beth for who she is. Beth also accepts her mother with all her vices and the two share a companionship both women so desperately needed.
Flashbacks of Beth's early childhood days before the orphanage are seen throughout the entire series. We see how traumatic life has been for Beth. The struggles she faced and faces at such a young age, it's a wonder that a young girl can amount to anything after the cards she was dealt, yet she triumphs. A true inspiration.
Beth has plenty of romantic soothers throughout the series. Harry Beltik played by Harry Melling, Benny Watts, played by Thomas Brodie-Sangster play integral roles not only as Beth's part-time lovers but also they become true friends to beth.
The acting is simply remarkable in this new Netflix series. You can feel the anguish, the excitement, the triumph in each chess move as Beth slays chess champion after chess champion. The writing, the cast, the clothes, the settings all come together so perfectly you will find yourself rooting for fictional Beth Harmon and all she stands for.
"Chess isn't always competitive. Chess can also be beautiful. It was the board I noticed first. It's an entire world of just 64 squares. I feel safe in it. I can control it. I can dominate it. And it's predictable, so if I get hurt, I only have myself to blame." - Beth Harmon
If you're looking for something new to binge on Netflix I highly recommend The Queens Gambit. With each episode averaging around an hour, you'll find the time fly by at each engaging second. Anya Taylor-Jay kills it as "Beth Harmon" and brings life and excitement back to the game of chess.
Checkmate!