The Power of Storytelling in Children's Media
Prince Zuko: looking better than you in a ponytail and serving up some life lessons since 2005.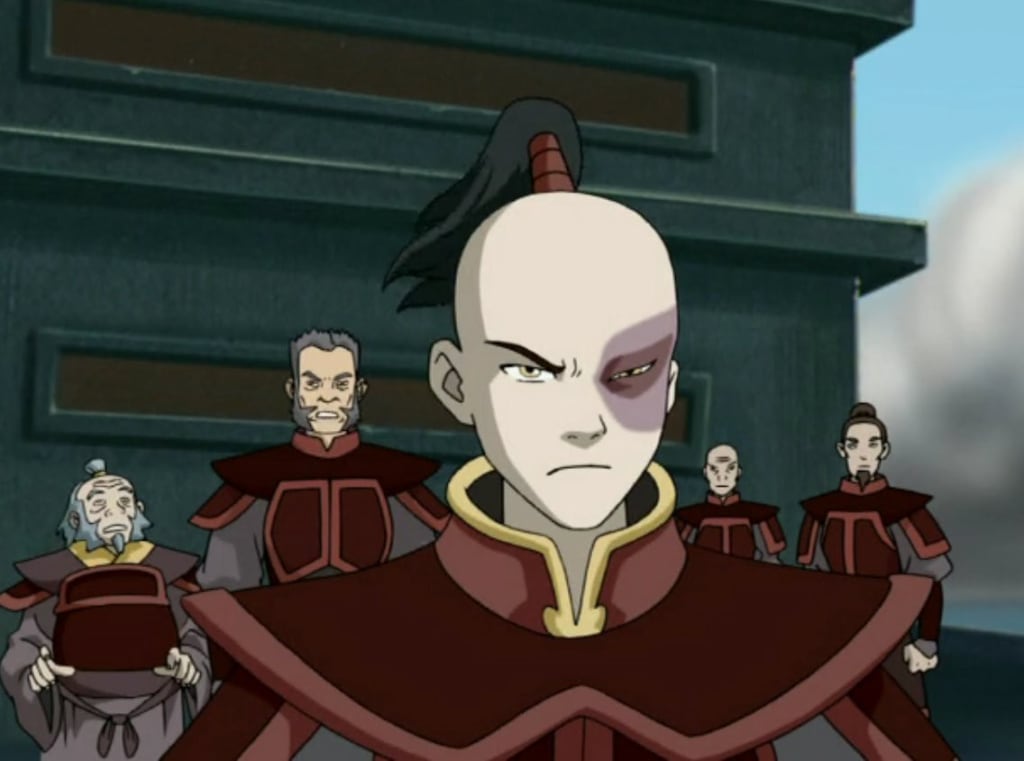 Image: Nickelodeon
I remember waking up early on Saturday morning to watch cartoons — Sonic X, to be specific — and eagerly anticipating every fight scene. It didn't matter what episode played, the heroes, or the plot, I was enamored. This continued into my Disney Channel days, tuning in and tuning out, looking to be entertained, without a thought spared of the show after the episode was over. Everything was formulated to entertain children, not to grow them. That is, until Avatar: The Last Airbender came along. (Avatar spoilers ahead: read with caution!)
When I started watching Avatar, it was the first show I had watched where the episodic sequence became important. It was the first time my thought process was deemed mature enough to follow a story longer than 20 minutes. Unfortunately, I began watching in the third season, so I didn't get to live all the hype as it happened. However, this made me go to the library and check out the first season of Avatar, beginning a life-changing journey.
Characters Can Change, Often For The Better
While this may not appear incredibly important, this was the first time I had gone to ponder media outside of its consumption. While other shows merely served an entertainment purpose, Avatar wanted to teach. To teach kindness, patience, perseverance.
Aang is a child with many flaws, but he learns and he grows throughout the series. He matures and he holds true to his ideals of all life is sacred. There is not truly one "right way" and that you don't have to bend to others' will in doing the right thing.
In the opposite vein, Zuko was the object of my attention (as any 12-year-old girl). In all the stories I had read, the bad guy had always been the bad guy. You didn't see how he fell, or his good intentions. Zuko's character is understandable — any child abused by his father and sister would be the product of nature vs. nurture. But for once, Zuko did not have to stay attached to that role. He learns that he, like Aang, does not have to be what other people say he must be. He goes on a quest for redemption to better himself and to receive the forgiveness of his Uncle.
This is incredibly important to showcase to a child because if they see themselves as the bad guy, they know they can change. If they see a friend as the bad guy and the friend apologizes, they know change can be made. Stereotypes presented to children teach them that is how the world works because they see no other option. Adults often forget the impact of media on children, especially those that seem to be unassuming.
Grief and Loss Explored
Avatar pioneered the front of children's' media when it came to touchy topics as well as character development, specifically in regards to death. Any other shows I had watched before this had never really touched on it. Death is a natural part of life, and kids that are not taught about the life cycle, grief, and how to process can feel at a loss if they have not witnessed it in some sort.
For instance, in the third episode of Avatar, Aang, Katara, and Sokka visit Aang's old Air Temple, where they find evidence of the complete genocide of his people. This isn't something you can touch on lightly. Aang has a strong visceral reaction, understandably, to his friends and family's murders. It shows the true evils of the Fire Nation and the vile nature that ran underneath it, not placed as the villain in the series simply because they break into places and steal things like many other shows. Katara comforts Aang during his breakdown, reassuring him that they are with him now. She doesn't diminish his grief, or take away from his pain, but lets him know that she is there and will not leave him. This is a great example to comfort friends with anything from anxiety to their own experiences with loss.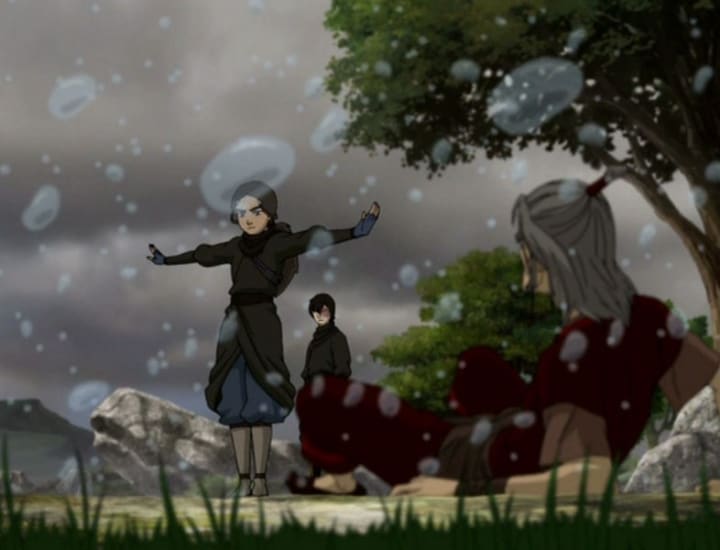 Katara and Sokka deal with similar grief in losing their mother to the fire nation at such a young age. Katara even gets to face her mother's murderer in 3.16, The Southern Raiders. She and Zuko hunt down the man who came to their village to take the only waterbender. Katara's mom lies to save Katara and is never seen again. Katara clearly feels a pang of deep-seated guilt for her mother's death that she had never been able to understand or deal with completely. By going to face him, she takes the next step.
Forgiveness isn't immediate, and not all problems are solved in a 20-minute episode. By refusing to kill her mother's murderer, she begins to understand the moral complexity of taking a life. While not forgiving him, it does bring her to forgive Zuko. While not what your Sunday School might teach, Katara provides a realistic approach to a hard situation that a lot of people can relate to. Not everyone can be Aang, and that's okay. Everyone is different and deals with grief differently.
Nature vs. Nurture
Another important theme in this series is relationships. This one specifically relates to Zuko and his mess of a family. Just because they're your family, does not mean they're kind to you and does not mean you owe them anything. Zuko's father and sister were certifiably crazy and treated Zuko terribly. This isn't okay. The whole nation — the whole world — suffers because of them. He isn't required to stay with them or think they know best. Zuko grows up thinking he will receive love and honor by capturing the Avatar. His worth is dependent on what he can do. That isn't pushing your child for the best, that's abuse, plain and simple. That being said, while familial affection can't be bought, this is what makes Zuko's found family so incredibly important to him.
On a side note, it's worth comparing Zuko's experience to Katara and Sokka's. Though losing their mother, they have nothing but good memories from her and their father. They respect him and he loves and cares for them, trusting them with decisions and supporting them in their endeavors and journeys. They had many positive influences growing up, also including their grandmother and other tribe members.
Uncle Iroh was one of the only positive influences in Zuko's early life other than his mother, who mysteriously disappeared when he was young. Uncle Iroh does not demand anything of Zuko. He does not have to prove himself to Iroh as he would to his father. Iroh loves and cares for Zuko unconditionally, regardless of his flaws. Iroh and Ozai are set up as foils — one, the righteous heir, the kind father, the one who learns from his mistakes, the other a usurper, abuser, and outright cold individual. Iroh knows the loss of a son is irreparable, and you can see the care he takes with Zuko. Iroh is the fatherly example that's important to note — Zuko does not owe him anything. However, Zuko loves him and respects him. He begins to understand the relationship more in the third season, accepting his mistakes and vowing to make up for them.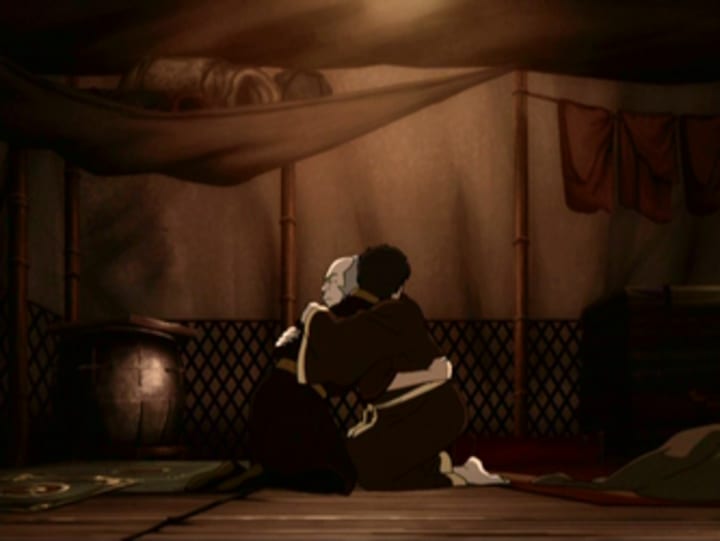 When Zuko finally returns to Iroh to apologize for his wrongdoings, their exchange goes like this:
Zuko: How can you forgive me so easily?! I thought you would be furious with me!
Iroh: I was never angry with you. I was sad because I was afraid you'd lost your way.
Zuko: I did lose my way.
Iroh: But you found it again! And you did it by yourself! And I'm so happy you found your way here.
Zuko learns and grows as any teenager would. Iroh giving him the space to grow is what Zuko has always needed, and a great example to children with how parent-child relationships should work. Iroh's main concern regarding Zuko is his well-being, and verbally assures Zuko of his honor. For once in his life, Zuko felt like he did not have to earn his place or affection. He did it by existing because he is well-loved and will continue to be well-loved with his found family.
Avatar paved the way for children's media by teaching us that children deserve the attention that adult media gets. They deserve good storytelling, character arcs, and hard topics. Just because they're children doesn't mean they can't learn and grow from their experiences. Children and social benefit as a result of it! Avatar was a godsend and opened the doors for Netflix and other animation studios to begin funding children's TV that helps children learn. Whether this is She-Ra, and teaching kids inclusivity and more about your found family, or The Dragon Prince and learning to do what's right vs. what others tell you is right, all of it is incredibly welcome. Challenge your kids to watch shows to learn as well as enjoy. These kinds of shows are great because adults often like to watch them too! Build that bond and involve the kids. Teach them that they too can make choices that save the world. They'll be the adults one day, and they will be all the better for what they learned when they were young.
Ah, the sacred tradition of the Saturday morning cartoon. Regardless of with whom you speak, almost everyone will have fond memories of watching their favorite cartoons with less-than-healthy breakfasts in hand. The Saturday morning cartoon phenomenon is where most children were introduced to superheroes. Before the technological prowess of CGI could really do them justice, the world of animation was the best and only place to catch solid superhero action. Sadly, the Saturday morning cartoon is no more. Instead, we've got 24-hour cartoon channels like Disney XD and Cartoon Network. But in tribute to the fallen Saturday morning block, which featured some of the best superhero cartoons ever made, we've hand-picked some of our favorites to help you binge watch and deny obtaining adult responsibility.

I think it's more than fair to say that the major zombie craze that took over the world has just about died out by now. Although zombies, just like any other film trend, were subject to some absolute brutalization in the hands of filmmakers who didn't seem to know what they were doing, the classic horror monster proved to be a terrifying creature in the hands of those who understood its powers. Throughout the mid 2000s and the early years of the 2010s, we were treated to hundreds of zombie movies. Understandably, it's hard to separate the wheat from the chaff.

Portrayals of what life may be like after a world catastrophe have always been present in art. However, after the creation of nuclear weapons, the possibilities for the end of the world likely became much more interesting to writers and creators. After all, it's much easier to think about the apocalypse when one wrong conversation between world leaders could lead to a nuclear end for the rest of us. Such appears to have been the case in entertainment for the past 20 years, where various post apocalyptic TV shows, movies, comic books, and novels appear every few months. Below is a list of some of our favorite post apocalyptic TV shows.

There's something remarkable about fan theories. I doubt that when an author puts his pen to paper, he is conscious of what a potential fanbase may add to the story. Indeed, many argue that fan theories are pointless, simply because they do not derive from the original writer. However, fan theories became widely accepted after the release of an infamous essay known as "Man of Steel, Woman of Kleenex." This essay details the sexual life of popular DC Comics character Superman.

Sylvester Stallone is the godfather of contemporary action films. What makes him so cool is that he really is an action star. Hardcore through and through, the best Stallone movies portray anti-heroes on the verge of redemption. With salvation in sight, Stallone's embattled heroes must fight for an ideal, sacrifice something important, and risk their lives so that we may live vicariously through them. I am not talking about The Expendables Stallone, whom I thoroughly enjoyed as he led me through a nostalgic tour of my childhood heroes. I refer to the man I first remember seeing in Nighthawks. That movie was amazing. It featured the Bionic Woman herself, Lindsay Wagner. On tap as villain was the badass Nexus-6, Rutger Hauer, and riding shotgun to the hero was Lando Calrissian. Fiercely filmed stunts on the Roosevelt Island Tram hugging the Queensboro Bridge—with no green screen trickery—helped establish Sylvester Stallone as more than just a one-hit wonder with his Best Picture winner, Rocky. One year later, he solidified his role as the most important action movie star with the creation of First Blood, and the coolest badass character the world had ever seen—Rambo.

It is rumored that Bruce Lee was reincarnated as Chuck Norris's beard. Perhaps that's why Bruce Lee is so aptly nicknamed "The Little Phoenix." Or maybe it's because he's a kung-fu master. Yeah, that sounds about right. Getting his start as a child actor in Hong Kong, Bruce Lee eventually made his way to the United States and opened up several martial arts schools. He was devoted to the art of teaching and was successful. He gained recognition as an actor when he starred in The Green Hornet in 1966. From there, he and his family moved back to Hong Kong where he worked on a number of films. Bruce Lee set the standard as a kung-fu god which others strive to reach. Even after his death, Lee is known as the master of martial arts.