The Most Powerful Find Is That Of Knowledge
"Knowledge is Power"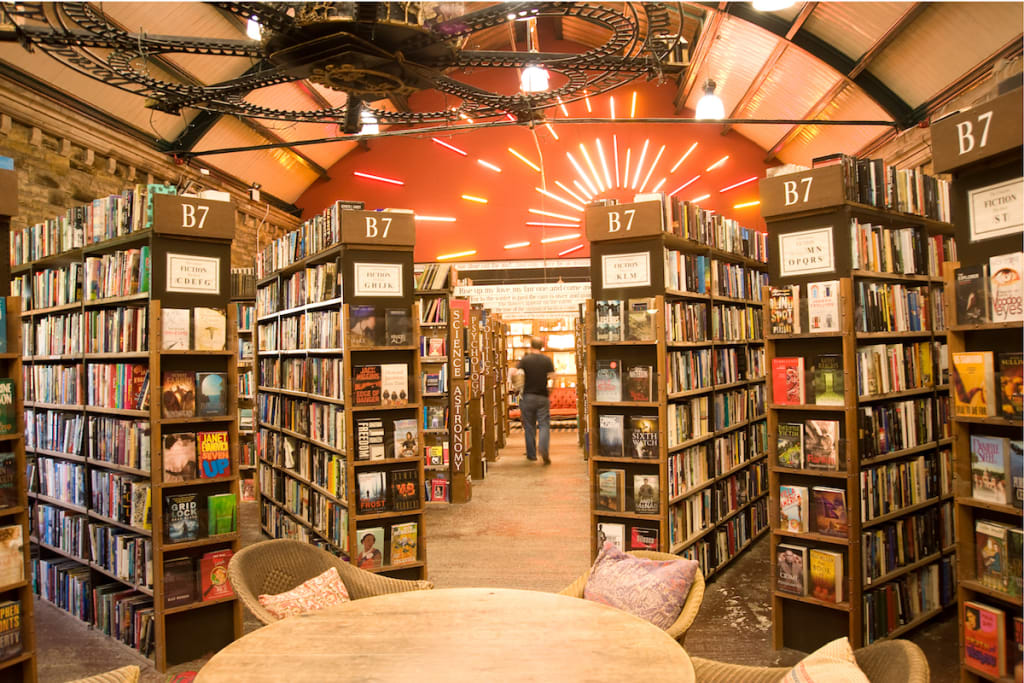 Barter Books
Shopping. What I find so inimitably fascinating about shopping is how you don't always leave a shop with what you intended to go in for. What are treasures to one can be obsolete objects to another, but whether you come out with your intended buy or an unexpected profit it's just another reminder of how this world is wildly full of surprises.
What makes a find a 'thrift find' or not is within the eye of the beholder. A thrift find is simply gaining a bargain from a purchase or being resourceful with your money. For me, a thrift find is acquiring something – whether a physical object, a subscription or experience - and coming away with more than what you paid, which to me, isn't just financially but also spiritually, psychologically or intellectually.
For me, the biggest thrift find is very simply – a book.
Books – Why they're a thrift find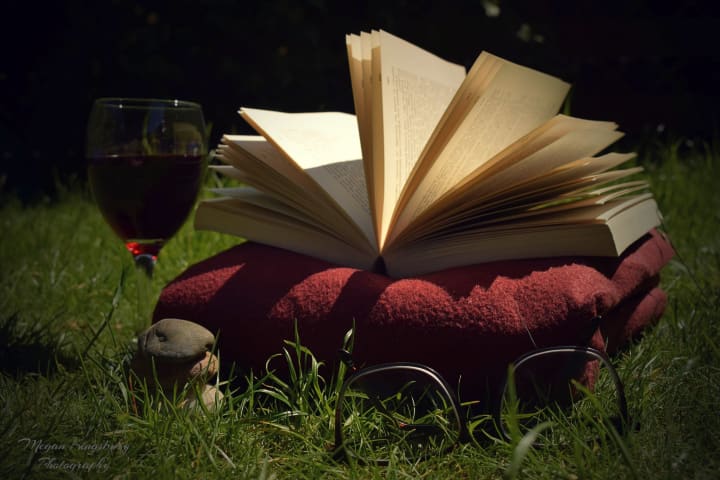 What you come away with when you buy a book is more than a simple decorative object with sentimental value, it's more than a new fashion trend, it's more than a big house or a fancy new car. What you come away with is wisdom and knowledge.
-
Pay £1 for the first Harry Potter book from your local charity shop and you have spent a meagre pound on an entire fictional world of wondrous adventures, life opportunities, happiness and different levels of knowledge. Believe me, you can even learn more about politics from Harry Potter than from your high school teacher or a non-fiction book that you can't make heads or tails of.
Pay £3 for a second-hand Agatha Christie book you could become the next greatest crime writer.
Pay £5 for Outliers The Story of Success by Malcom Gladwell and that fiver becomes a psychological folder of know-hows and an archive of stepping stones to become successful.
Pay £12 for The Jedi Path and you unlock knowledge that may seem useless to some but can give you keys to unique knowledge and even – especially in The Jedi Path – sword fighting training.
Pay £20 on Read This If You Want To Take Great Photos by Henry Carrol and you open doors and unlock knowledge to becoming a successful photographer.
-
Books are a wealth of fictional and non-fictional knowledge.
Books can bring all sort of emotions that heal you and journey you away from the sometimes heavy weight of life.
Books, to me, are irrefutably one of the best thrift finds of my life. I didn't have to pay much to become wealthy in knowledge and health and live hundreds more lifetimes than so many other people.
-
Sometimes if you buy a good book the words inside can bring you wealth, and that fiver you spent seems so meagre when you are sitting in the office of your multimillion corporation.
Sometimes if you buy a good book you can discover that what you are facing in life is not unusual, that in fact there are people out there who are struggling through the same things as you.
Sometimes if you buy a good book you simply have the knowledge so you can live your life the way you want to.
Sometimes if you buy a good book you can be transported into realms that defy the laws of your own world and you journey far away from a place that you may want to escape from.
-
It's a multifaceted knowledge and power that you can chose where to specialise.
And what's even more magical still about the power of books isn't just the stories and expertise within the written words but the journeys that the physical book has been on. When you go into a charity shop, or buy a second-hand book, you aren't just purchasing the author's work but the physical journey and hundreds of tales that the bound cover and pages have been through. That is exactly why books in a second-hand shop is the best thrift find of them all.
When the books are put on the shelves in these second-hand shops they are valued by their age, physical state and length of time since publication. The tattier the book and the older the title is what brings the value down to a seller, but the value up to a reader. Which means that you can pay a meagre £2 for someone else's neglect or spring clean and gain so many treasures.
"Power is knowledge. Knowledge shared is power multiplied" – Robert Boyce
If you have read Sun Tzu's book The Art of War you will understand where Boyce comes from when he refers to knowledge as power. Even Sun Tzu himself says:
"The supreme art of war is to subdue the enemy without fighting"
To win is to do so without fighting. It's knowledge that wins a fight, it's knowledge that will bring down your enemies or soar you to greater heights.
And that book you buy that gains you this special knowledge you can then pass on to others who could use it to enhance their lives. In turn your £2 purchase can become generations' worth of power.
It's hard to deny that books can be thrift finds. What you get out of books is infinitely more powerful than a simple money bargain. It's knowledge.
My Thrift Find and Me
I own, alone, close to 400 books, most of which I have read. I have general non-fiction, non-fiction about works of fiction, biographies, crime novels, fantasy, manga, stage and screen plays, classic literature… it goes on. Yeah, I am a bit fanatic when it comes to books, but here's the interesting thing – most of them are bought second-hand.
I won't lie and say that they're all great bargains. I think that the manga I bought was probably my heftiest purchase as it breaks your bank just to learn what happens to the characters for ten consecutive minutes of their story – and you can never find it cheap. In addition I am a sucker for spending hours of my life at my local Waterstones.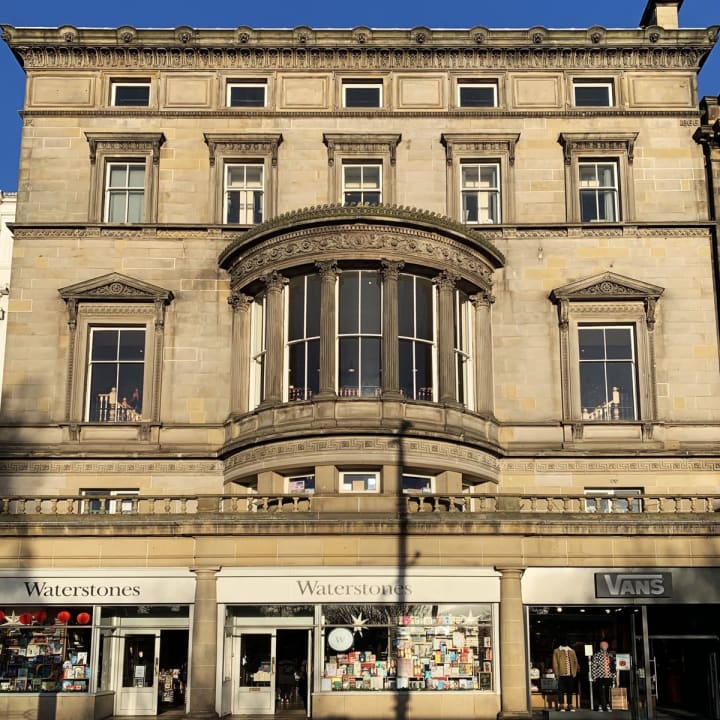 It's a listed Victorian building with three levels, a coffee shop at the top (with a view of the Edinburgh castle), the young adult section in the middle (most visited with my friends) and the ground-breaking works of literature on the first floor (to lure people in). The middle floor is also used for book signings. I've met John and Carole Barrowman for their book Conjuror and Anthony Daniels for his book I am C-3PO. So I do splurge from time to time on full priced books, especially as they have a 'once you've bought 10 books you get £10 to spend in store with their membership scheme. I know, I fall for it every time.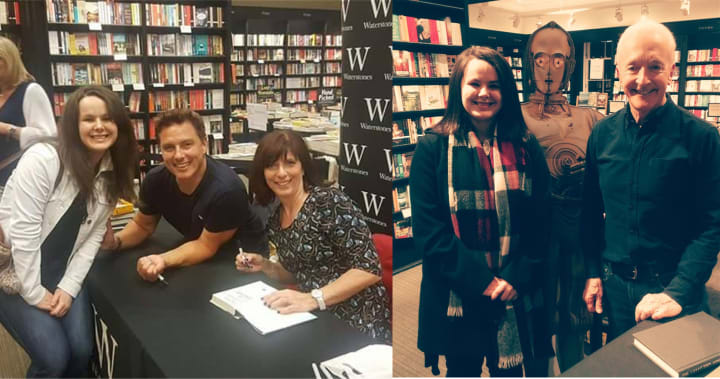 My Treasure Finding Bookstores
I think now you've got a very good understanding of why I think books are a thrift find. So, where are my top three favourite 'treasure finding' bookstores?
3. Oxfam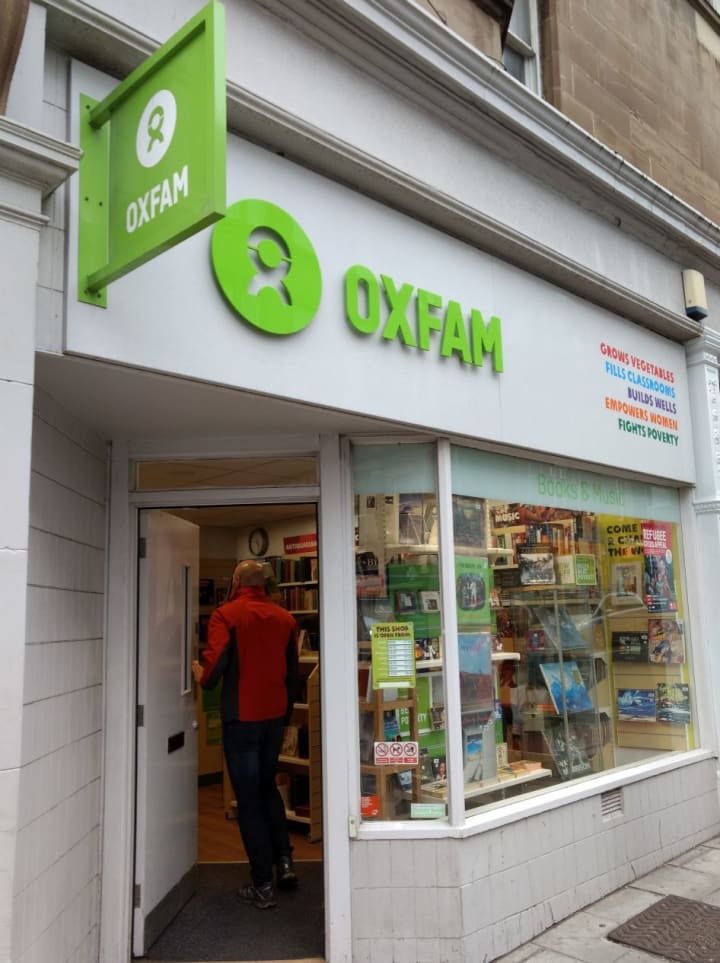 This charity shop recently opened a bookstore separate to it's main shop. I love this shop in particular because most of their books are actually kept in pretty good nick, and the way they are displayed isn't like a car boot sale or a stall. That's a pet peeve of mine because so many people just chuck books in a box haphazardly without considering the physical damage it's doing. Even though it's not a relaxing place to sit and read the people are always so friendly and their range of books are usually an interesting selection so it's fun to just even window shop. I found a book collection of Enid Blyton's The Wishing Chair in Oxfam Books which I recognised as my mum's childhood favourite. Spent £2 on it and it made my mum's day.
2. Blackwells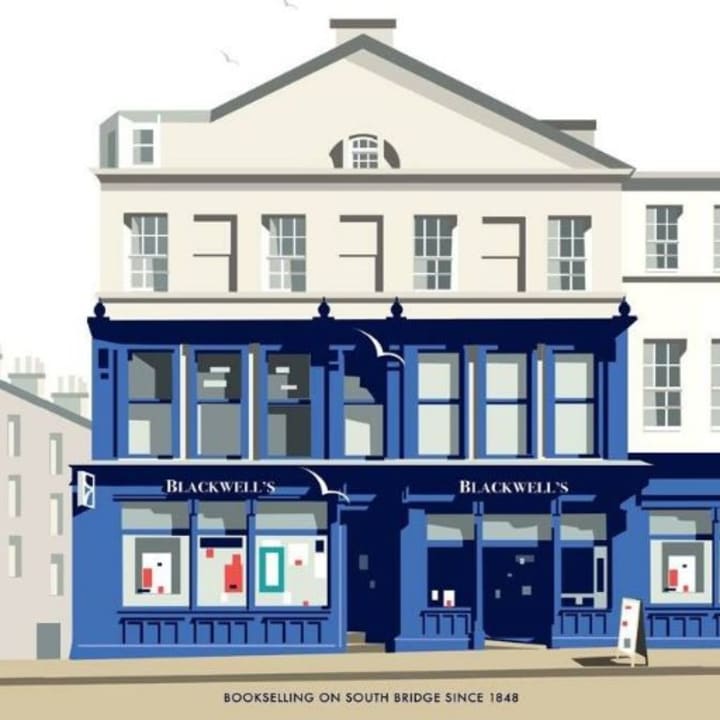 What I love about Blackwells is how diverse it is. They have their full priced books and merch which is uniquely selected and then with their second-hand books they have a lot of hidden gems; exclusive works and books that would have taken a lot of digging into history to find. It's a bit like walking down a muggle street only to walk straight into Flourish and Blotts from Harry Potter's Diagon Alley. It's also a bit like an affordable Waterstones.
1. Barter Books
Probably the most unique bookstore I have every visited – I would call it a thrift find in itself. Barter Books used to be a train station until it was converted into one of the most magnificent second-hand bookstores in Britain. The inside is a bookworm's dream. It's got rows and rows of just one category of books, and the best part is that every single book in that store is second-hand and unique. I spent a solid 3/4 hours there in one go and would have stayed longer if it wasn't for their closing hours. There's gorgeous seating in the centre where you can sit and read at your own leisure and their café – Station Buffet – before being discovered was a hidden room that had been left derelict since the last train left the station nearly half a century ago. The shop just goes on for miles. Don't believe me? Look at the floor plan and see the book categories on their website – it's one of the most gorgeous bookstores on the planet, and it alone is a thrift find.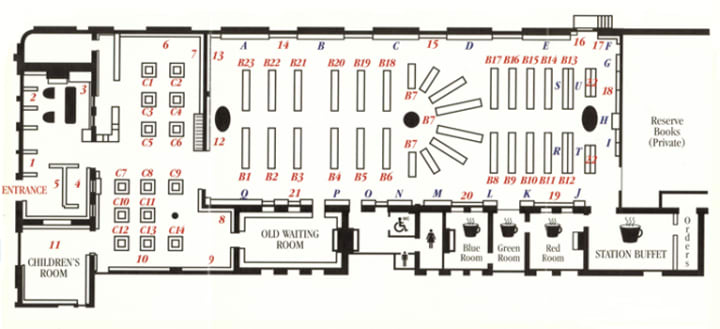 My Thrift Book Finds
This was probably one of the most difficult tasks I have had to do, but I narrowed down my books to my top five thrift finds amongst them. Yikes.
Outliers the Story of Success by Malcom Gladwell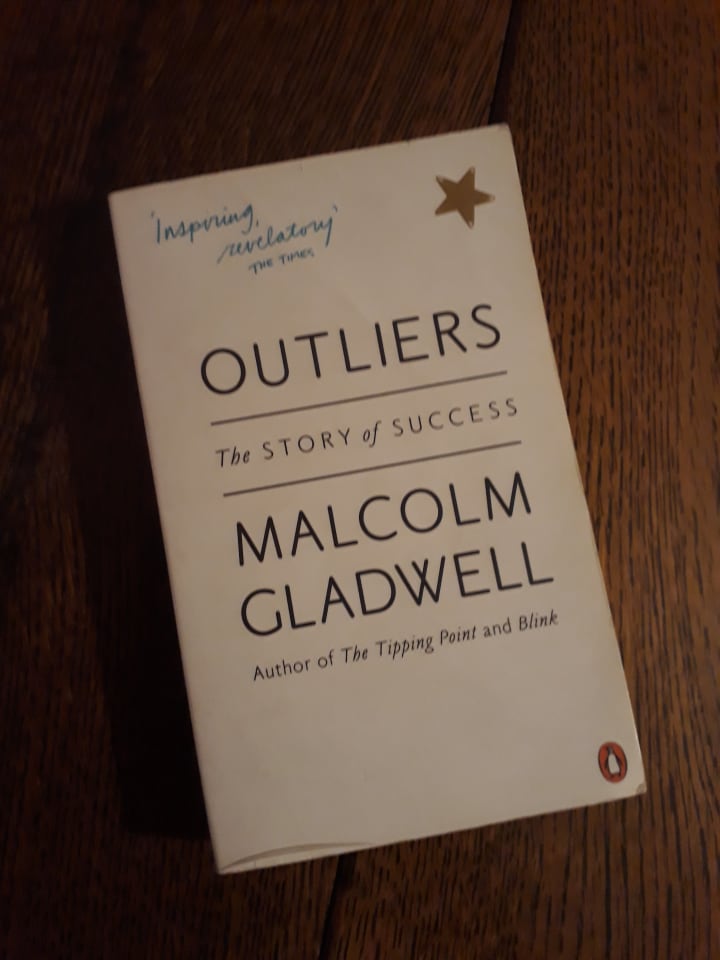 A real gem, Outliers is a fantastic book full of inspirational advice, support and aid to becoming successful in which ever field you are working towards. Gladwell's 'story of success' is comprehensive to multiple different goals and aspirations. I spent £5, second-hand, and it has been one of the best book purchases. It uses a lot of entrepreneurial mindsets and applies it to everyday goals so that you can see even mundane tasks or journeys have potential to become great.
"Malcom Gladwell looks at everyone from rock stars to professional athletes, software billionaires to scientific geniuses, to show that the story of success is far more surprising than we could ever have imagined. He reveals that it's as much about where we're from and what we do, as who we are – and that no one, not even a genius, ever makes it alone"
This is my best thrift book find – I paid a meagre fiver and gained the knowledge to potential success.
The Art of Voice Acting: Fourth Edition by James R. Alburger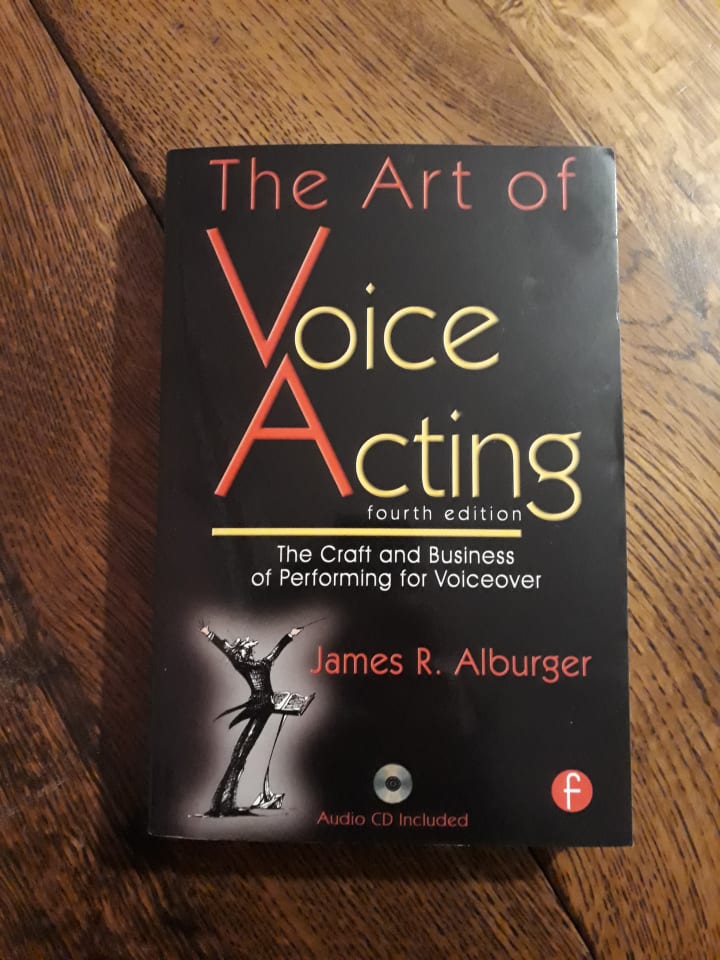 For the career in which I wish to pursue, this book has become my gospel. Now, in all honesty I didn't actually buy it, I got it as a birthday gift – from request – but what was paid was £30 and I have unlocked knowledge and in turn the confidence to move forward up the path that I have always wanted to pursue but never knew how. I have learnt how to find the right course to study and which equipment I should get to create my home studio. In fact, the book references Outliers The Story of Success a couple of times which for me is proof enough that both have been very worthwhile and hugely profitable purchases. The Art of Voice Acting has become one of my all time favourite books. The insight is remarkable and for once the writer really brings you and your life into the story instead of rambling on and on about their life and their success without making you feel involved. It's all about me and how I can become the best version of myself. It's like for the first time a book believes in me.
Doctor Who The Writer's Tale: The Untold Story of the BBC Series and
Doctor Who The Writer's Tale: The Final Chapter by Russel T Davis and Benjamin Cook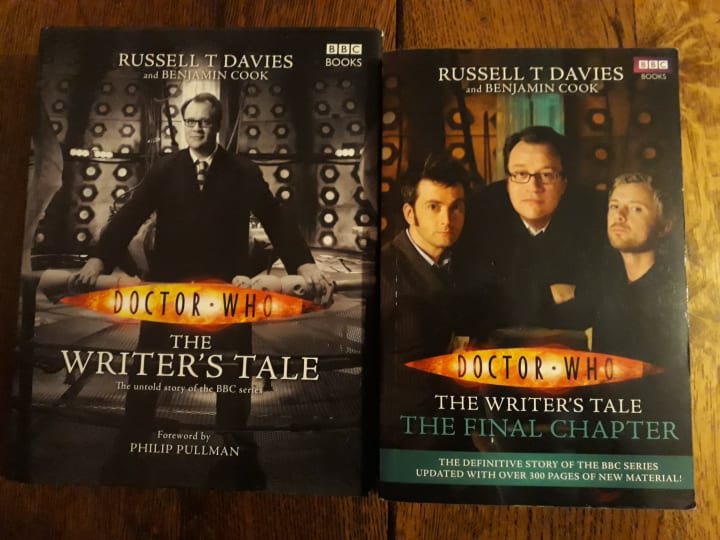 You know how everyone has some form of idol or inspiration within their industry? One of my writing idols is by far Russel T Davis. I always wondered how he managed to make me feel so many emotions just within a 20 minute episode, and without fail I was near to tears for almost every single episode that followed – whether it was tears of sadness or joy. What was it about him that brought to life two of the best Doctors within Doctor Who? I discovered that there was no better way to learn from the master than to read these two incredible books. Two books filled with pages and pages and pages of Davis' emails corresponding ideas and developments of individual episodes and full arcs of the Doctor Who series. What better way to learn the workings and mindset of one of the greatest TV writers than from within his emails filled with his thinking process and developments. This knowledge, to a writer, is gold dust. I can't remember exactly what I paid, it was undeniably second hand as one of the book's spine has been precariously bent several times (and that is a pet peeve of mine for when I get new books), but whatever the price, it could not cover the wealth of knowledge and wisdom that has come from that one purchase.
Letter to My Younger Self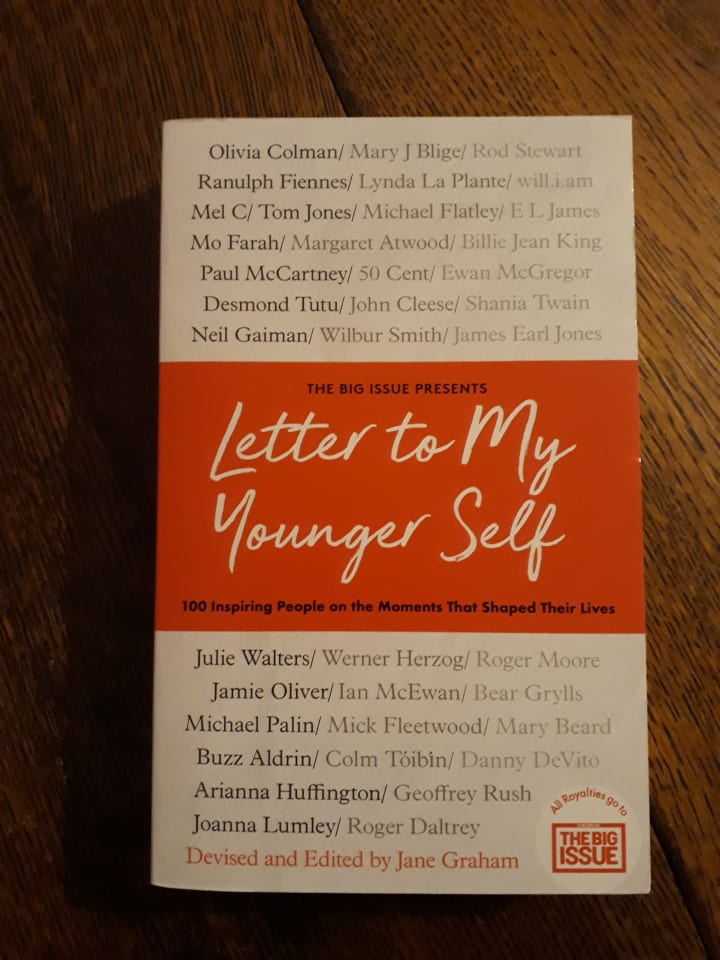 I didn't buy this second-hand, but believe me I didn't pay the full £12.99 for it either. The Works - book and art supply store - is full of classic books that are priced well below what I believe they are worth. Which is a great bargain for bookworms like myself, but for the writers – I do feel for them. I paid £4 for this book. Where did that money go? Not to The Works, but to The Big Issue. The Big Issue is an award winning magazine who offer employment opportunities to people in poverty, supporting charity foundations that will help end poverty. So my money was going to a good cause.
"Over 10 years ago, The Big Issue began to ask some of the best-known most interesting and most successful figures in entertainment, politics, food, sport and business to give advice, offer hope and share a few jokes with their younger selves."
Your probably thinking about now that I really have a theme. Yeah, you know what maybe my thrift finds do have a personal theme, doesn't everyone's? My thrift books will probably be exceptionally different to my mum's or my friend's or even yours.
Olivia Coleman
Mo Farah
Paul McCartney
Ewan McGregor
Neil Gaiman
Julie Walters
Danny De Vito
Olivia Newton-John
Tim Peake
To name but a few of the well-known people who have written to their younger selves in this book. I don't think that you need to be ambitious to find this book profitable in knowledge. The book is chaptered out into sections that each of these famous people have spoken most about. Some being creativity, self-belief, family, friendship, courage, fate, ageing and fulfilment. Again, another fantastic treasure trove of successful famous people's thoughts shared to their selves of a time where they weren't famous and successful – a place in which so many people need that breath of confidence to never give up. This book is a profit in inspiration, hope and mental health.
Hickory Dickory Dock by Agatha Christie and
The Scarlet Imposter by Dennis Wheatley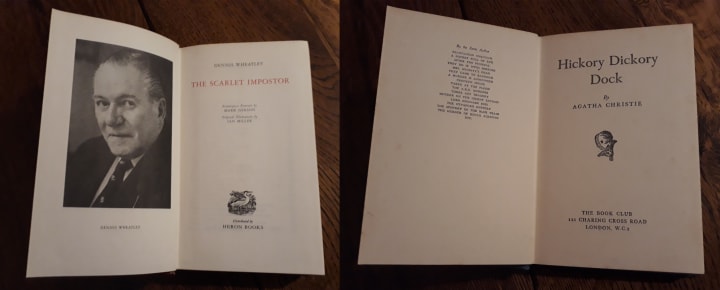 The grandparent books of my collection. The 'most' second-hand-esk books I own. Both printed in the 1950s you can smell and feel the fragile history and stories that these two books would tell if they could talk. Even my Scarlet Imposter is physically falling apart. I am a real sucker for a gripping crime novel or play, I am even more so intrigued by the crime novels that are set in a time before I was born. How did people discover who the scarlet imposter was or who committed the thievery that leads to the death of Celia in a time before DNA tests and technology? It's all psychological and thought provoking.
These two are in the top of my thrift finds for a couple of reasons. For one, even though I could have easily bought these two books at a bookstore as they are common fictional tales, these books in particular – purchased at Barter Books – have got a history that not many others of their title share. Both of the books were published very close to the original publication dates, which makes them one of the first of their title to be released. This puts a sentimental and historical value on them as well. Secondly, and this is just a personal thing. Buying the books in their original state, from a bookstore of similar calibre of age, whilst the stories are set at those same eras brings so much more realism to the worlds inside the pages and connects you deeper to those times. The thrift find here is the uniqueness and quality of these old books that tell more stories than what is just written.
Books are a thrift find
I strongly believe that no matter the genre, no matter the age and no matter the physical state that books are by far one of the best thrift finds out there and to find one that empowers you in a way that gives you, personally, a wealth of knowledge isn't hard at all.
You can get a thrift find by discovering what you have purchased is in fact an original painting worth millions of pounds. You can get a thrift find by buying something with sentimental or historical value. But you can buy a book and receive the best profit of them all – knowledge and power. You don't need to find a rare ring in order to make a profit, you just need a good book that will guide you in the right direction to make that financial, psychological, physical or emotional profit yourself.
Best part? Books are multifaceted. Books are for all.