The Magnificent 7 Reasons to be Excited About This Western Remake!
I am actually really excited about this remake, and here's why you should be too.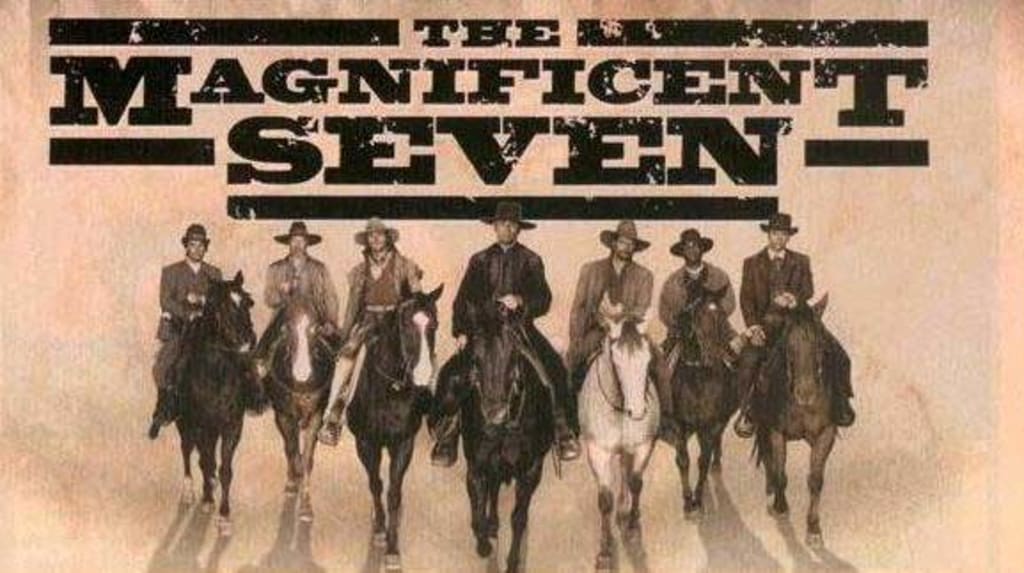 Magnificent 7 reboot: not necessarily a disaster
The Magnificent Seven is a film that has always been a favorite of mine. I remember watching it for the first time, solely out of boredom. I had just finished watching a couple other westerns Young Guns and Tombstone and someone told me to check out Magnificent Seven and that I'd most likely enjoy it.
I was hesitant at first because, for one I didn't know a single actor in this movie: Yul Brynner, Eli Wallach, Steve McQueen, Charles Bronson & James Coburn to name a few. And two, I hadn't ever watched a movie created before the early 1980s so I had a fear that I would be bored because of a lack of action and plot.
Yet all my hesitation was washed away as I met Yul Brynner and his character, Chris Larabee Adams. I watched as he assembled 6 other gunfighters in order to assist a small Mexican farming village fend off a group of bandits set to take everything from the villagers. The men stood for honor, justice and above all courage under fire. The Magnificent Seven stood out as a bright spot because it focused on a group of fighters who, against overwhelming odds, remained steadfast in their fight to protect each other and the village itself. It was like nothing I had seen before.
Then months ago I started hearing rumors about the Magnificent Seven Remake, and I was upset. I wanted nothing to do with it. I felt as though it would tarnish my memories of watching the original film all those years ago. It was a classic film that shouldn't be recreated. I may still be cynical about rebooting classic movies like this, but the more I read about what's coming, the more my mind is being changed. I am actually really excited about this remake, and here's why you should be too.
1. Antoine Fuqua is at the helm
Antoine Fuqua is best known for his award-winning film, Training Day. He has since made several breathtaking films including: The Replacement Killers, King Arthur, Shooter, Olympus Has Fallen, The Equalizer & Southpaw. He holds few punches when it comes to creating his films, whether that be in regards to violence or broaching political elements.
2. Denzel Washington is set to lead the film
If it's a Fuqua film, then it's a safe bet that Denzel isn't far away. Denzel and Fuqua have partnered on two films previously, Training Day, which won Denzel an Academy Award, and The Equalizer. It's not far-fetched to imagine that these two will pull another brilliant film together, especially something like this.
3. It's not like recent Westerns
The 'western' is a special breed of film. Once the backbone of American cinema, the genre overall tends only to return in a skewed form, sometimes successfully; think True Grit or Django Unchained, yet the more common western is an amalgamation of genres such as Cowboys & Aliens, The Warrior's Way or The Dead and the Damned. Either way, the western genre that was so prevalent 50 years ago seems to have disappeared. This remake is set to return, in a sense, to the roots of a western and see these 7 face both diversity that would have been prevalent at the time and still remain true to the Old West. [source: Vanity Fair]
4. The main villain is played by an unassuming actor
Peter Sarsgaard is set to play the main villain in The Magnificent Seven. Peter often takes supporting roles in many of his films but this has led him to some great villainous roles: John Lotter in Boys Don't Cry, and Hector Hammond in Green Lantern. His soft, strangely ominous voice, baby face, and his often bizarre, unstable characters have led to comparisons to John Malkovich (another incredible villainous actor).
5. Diversity is key
This kind of plays along with the fact that this film isn't like other recent westerns. This remake will bring to light the diversity of the time in many ways including in the films cast so far: Denzel Washington, Chris Pratt, Ethan Hawke, Wagner Moura, Jason Momoa & Byung-Hun Lee. Some would fear that the film isn't going to have any historical accuracy, but I believe in Fuqua's vision and that he has a brilliant plan to tie it all together.
6. The story will be solid
Originally written by Nic Pizzolatto, an award winning novelist & short-story teller who had several works published before going into screenwriting, Nic's story is sure to take queues and structures from some of his influencing authors like: Alan Moore, Grant Morrison, Stephen King and William Faulkner. The original story has been touched up by John Lee Hancock, another respected writer/director responsible for The Blind Side, The Alamo & Saving Mr. Banks.
7. The score was composed by one of the best
Antoine Fuqua has made many friends over the years, and one of his close friends, the late James Horner decided to write the score based solely on the screenplay and was going to give it as a gift. Sadly, James died in a plane crash before he could give it to his friend, but his team flew out to meet with Fuqua to give him the last piece of music that James wrote. James is widely known for the incredible scores in Titanic, Aliens, Apollo 13, Avatar & The Amazing Spiderman. This makes me truly excited for the ambiance of the film.
About the Creator
Husband. Father. Gamer. Cinema Lover. Mix it all together, and there I am. I love all things pop-culture and coffee; but coffee is the best.
Reader insights
Be the first to share your insights about this piece.
Add your insights