The Legacy of 'Bridesmaids' 10 Years Later
10 years after the release of Bridesmaids the movie remains a game changing hit.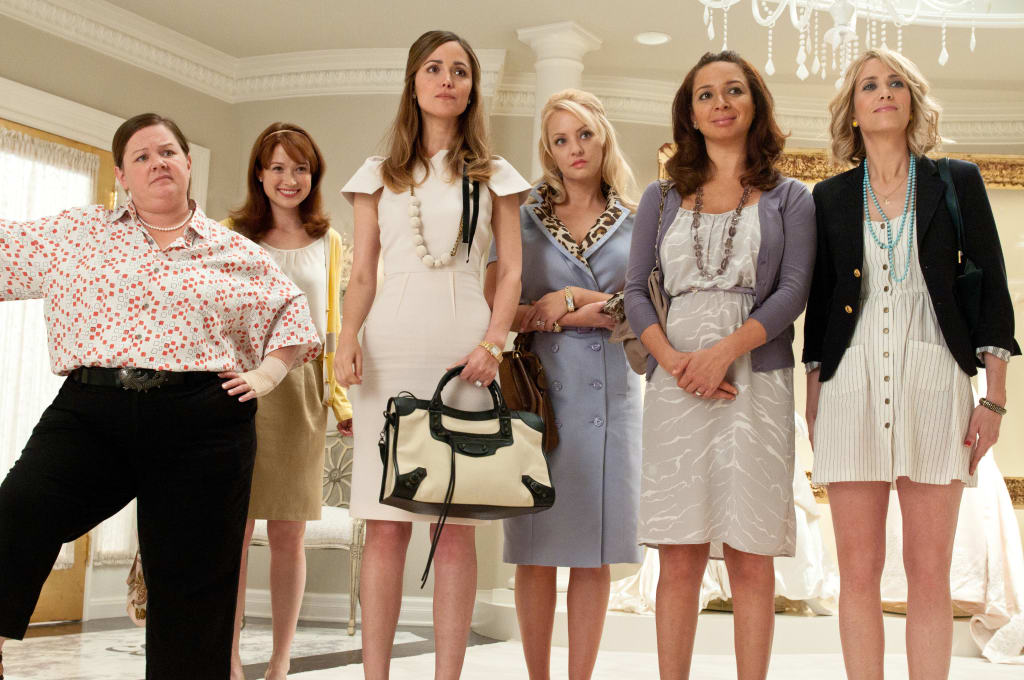 It's hard to believe but Bridesmaids arrived in theaters a decade ago. Released on April 28th, 2011, the raunchy, female-centric comedy was an immediate phenomenon. The film shot Kristen Wiig to immediate stardom and turned director Paul Feig into an A-list, in-demand, talent behind the camera. 10 years later, Bridesmaids remains a cultural touchstone. Kristen Wiig is now starring in blockbuster comic book movies, Wonder Woman 1984, and co-star Melissa McCarthy has become one of the biggest stars in the world.
Here's a review looking back on Bridesmaids.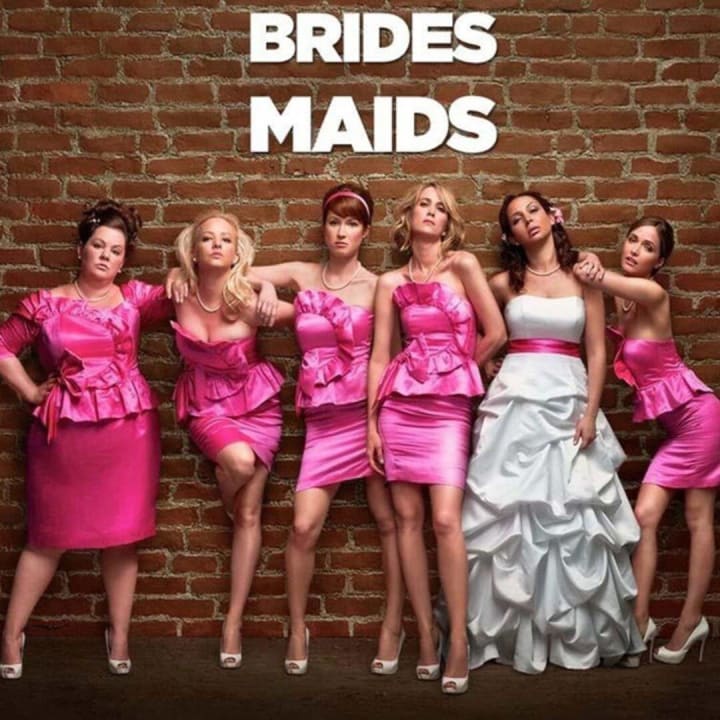 As she showed each week on Saturday Night Live, Kristen Wiig mastered the comedy of humiliation. Wiig proved on television every week to be a natural at making herself the subject of comic humiliation. That talent truly came into view in the now beloved comedy Bridesmaids, which Wiig not only starred in but also co-wrote alongside Annie Mumolo. Wiig's talent for making herself the butt of a big joke while still remaining a sympathetic figure is the heart of the success of Bridesmaids.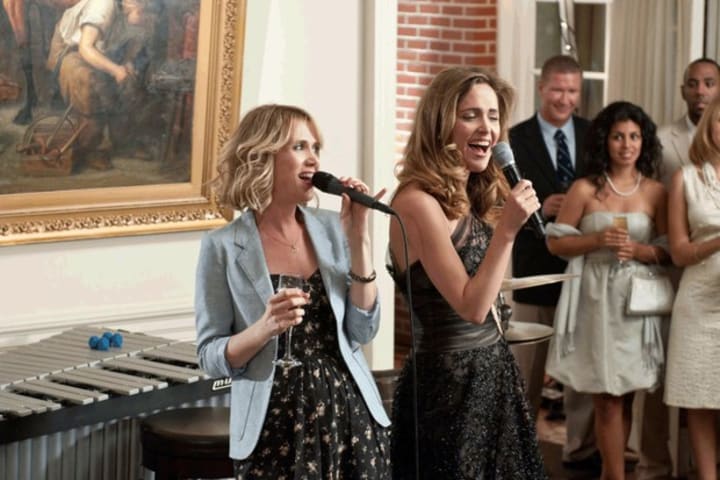 A perfect example of Wiig's talent for comic humiliation comes from her character, Annie's relationship with the very handsome Ted (Jon Hamm) , a complete jerk. Boyfriend definitely isn't the word to describe what Ted is to Annie; his title for their relationship contains a four letter word and would be inappropriate to include here. At once, Wiig makes Annie pathetic for putting up with Ted, and wonderfully sympathetic as she tries to leave after one of their trysts and gets caught in another very funny, cringe inducing embarrassment.
Yet, Annie keeps coming back to this jerk because after the economy led to her shuttering her cake business she needed something she could do and be good at and she chose meaningless, at times comic, sex. There to support Annie is her best friend Lillian (Maya Rudolph) who, in classic best friend fashion, condemns Annie for the random hook ups but is ready with a high five like a teenager celebrating her friend getting some.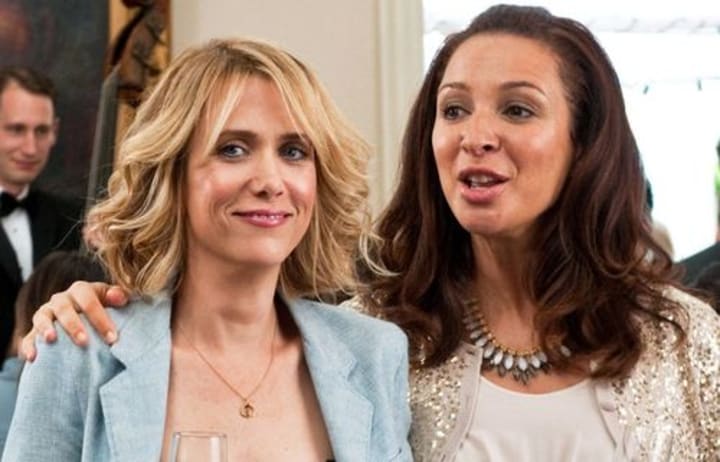 The dynamic between Annie and Lillian, friends since very young childhood, changes when Lillian gets engaged and asks Annie to be her Maid of Honor, a role that is much more complicated than it seems. Making Annie's Maid of Honor duties especially tough are her fellow bridesmaids, especially Helen (Rose Byrne). Helen feels that she should have been Maid of Honor and becomes highly competitive for the role of Lillian's BFF by throwing extravagant parties and offering to pay for everything including a trip to Las Vegas for the Bridal Shower.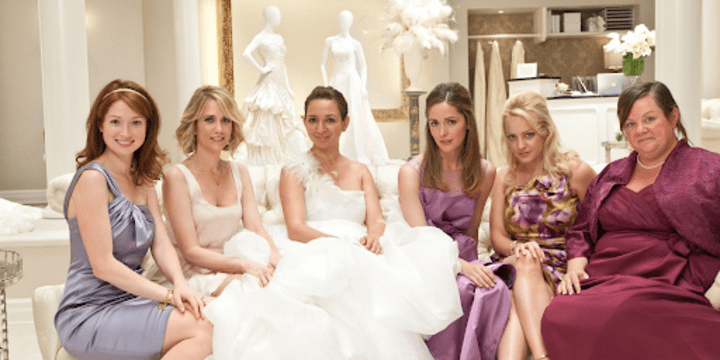 Less stressful but still troubling is Rita (Wendy McClendon Covey, Reno 911) a mother of three monstrous boys who is not afraid to bash family life, even in front of the soon to be married Lillian. Less troubling but irksome is Newlywed Becca (Ellie Kemper) who's cute expressions of marital bliss are gag inducingly naive and adorable. And then there is Megan, the grooms' sister, played by Melissa McCarthy, Megan is a hyper aggressive man eater who's more confident than anyone really should be.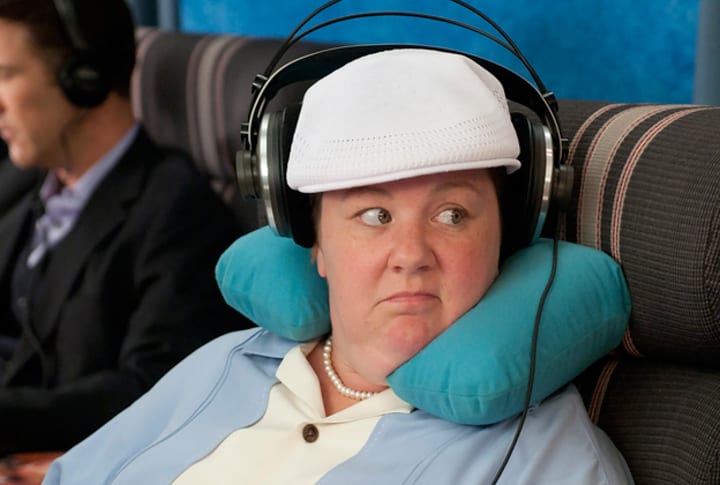 Bridesmaids was a breakout role for McCarthy whose comic energy is off the charts. Where Wiig's Annie is funny because she is constantly the subject of embarrassment and humiliation, McCarthy's Megan is shameless and incapable of embarrassment. It's McCarthy completely off the leash, a raging comic Id who has zero compunction about going after everything she wants. McCarthy gets big laughs every time she's onscreen and it is no wonder that this scene stealing performance launched McCarthy into superstardom.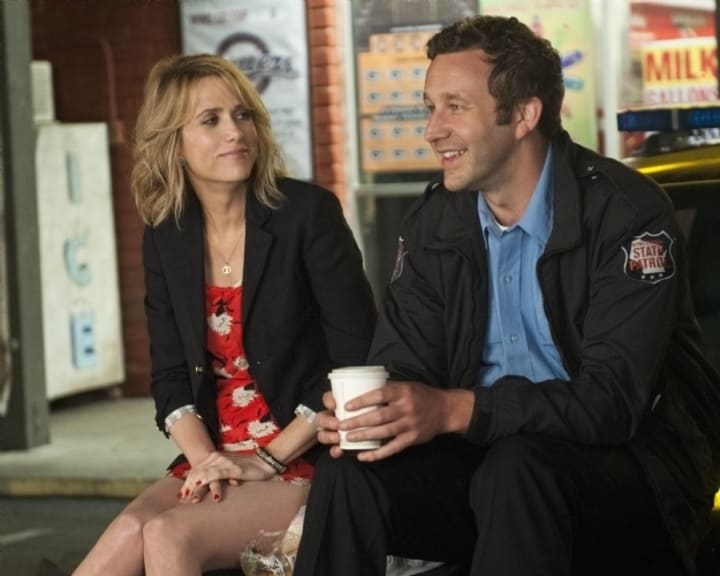 This unusual group of women works unintentionally yet in concert to drive poor Annie over the edge with their pre-wedding demands. Meanwhile, Annie finds brief respite in a flirtation with a cop played by the brilliant Chris O'Dowd who, at the time, was best known for the excellent British TV series The I.T Crowd. Wiig and O'Dowd have better than expected romantic and comic chemistry and their sweetness is a pitch perfect counterpoint to both Jon Hamm's jerk character and the raunchy zaniness of the wedding party.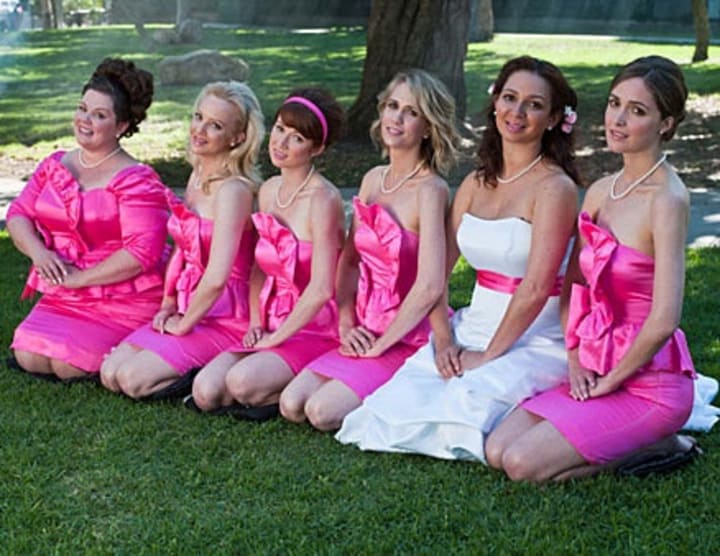 In many ways, Bridesmaids was more of an idea than it was a movie. Annie's struggles as the maid of honor are really just excuses for this terrific cast to riff on whatever beat they found that they wanted to play in a particular scene. At times Bridesmaids plays as if director Paul Feig simply pointed the camera and let this incredible cast of improv veterans find the funny wherever the scene takes them. That's not the case of course. In fact, the secret success of Bridesmaids is attributable to Feig's clever editing choices and his smart ability to know when to let a joke linger and when to get on with the story.
In the hands of a less talented cast the riffing of Bridesmaids could grow tedious but five of the six leading ladies in Bridesmaids found their big break on the Improv stage. Wiig, McCarthy, Rudolph and Mclendon-Covey are former members of L.A's The Groundlings, while Ellie Kemper was formerly with the Upright Citizens Brigade. The impeccable timing and wit of this cast make the many riffs in Bridesmaids feel perfectly suited to the story being told, never overshadowing the story, always making it better . Rose Byrne meanwhile, brings an actorly quality to Bridesmaids that is the perfect counterpoint to the zany, over the top, improv riffing. The difference in her energy versus that of Wiig immediately sets the two characters at odds and sets the tone of their rivalry that slowly becomes a friendship.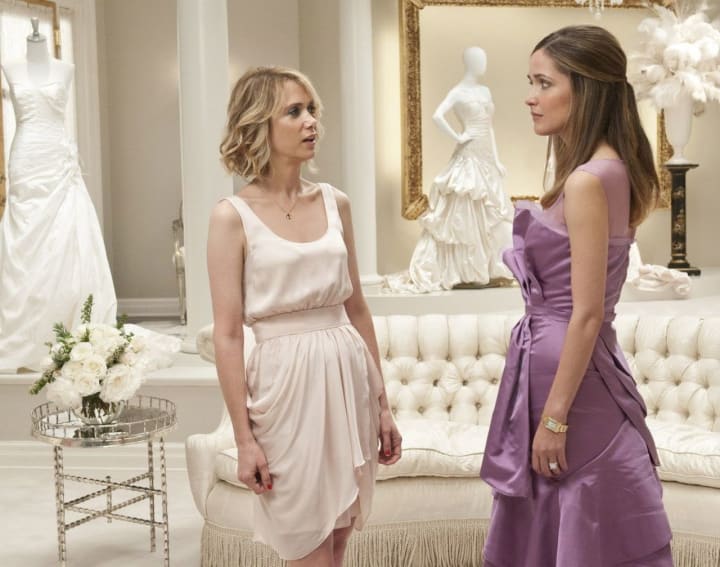 Bridesmaids could have been improved with a little tightening up in the editing; at over two hours long the film is a tad bloated. That's a minor quibble however thanks to the large number of big, big laughs delivered by Kristen Wiig, Melissa McCarthy and the rest of the very talented ladies of Bridesmaids. That Wiig and McCarthy have only become bigger stars while the remaining cast have settled into being among the top supporting players in the business, renders Bridesmaids as a flashpoint in the shifting balance of the comedy world from one dominated by men to one where the comic landscape is now a wonderfully diverse space.
10 years later Bridesmaids can be credited for setting the stage for today when diverse voices of American comedy have become the norm. The laughs from the big screen are now all around and women are some of the most outstanding voices in the comedy world. Kristen Wiig recently released her latest comedy, alongside writing partner Annie Mumolo, Barb and Star Go to Vista Del Mar and while the movie hasn't gotten much traction due to the ongoing pandemic limiting moviegoing audiences, the film is yet another example of the diversity of the comedy genre and a space where Wiig and others can explore more unusual comic concepts such as the bizarre Barb and Star.
Another example of the legacy of Bridesmaids can be found in the Netflix original movie Thunder Force which brings the women of comedy into the Superhero sphere. I wasn't a big fan of Thunder Force, it's certainly not in the comedy class of Bridesmaids, but it's another example of Melissa McCarthy's continuing star power which began with Bridesmaids and the continuing growth and diversity in casting and comic voices across many genres. I may not have loved Thunder Force but it's success is another in a series of signposts in the growing diversity of comedy that began with Bridesmaids.

Sean Patrick
I have been a film critic for nearly 20 years and worked professionally, as a member of the Broadcast Film Critics Association for the past 9 years. My favorite movie of all time is The Big Lebowski because it always feels new.
See all posts by Sean Patrick →