The Iconography of Bogart and Bacall
An image and a line of dialogue created an iconic association that lasted for decades.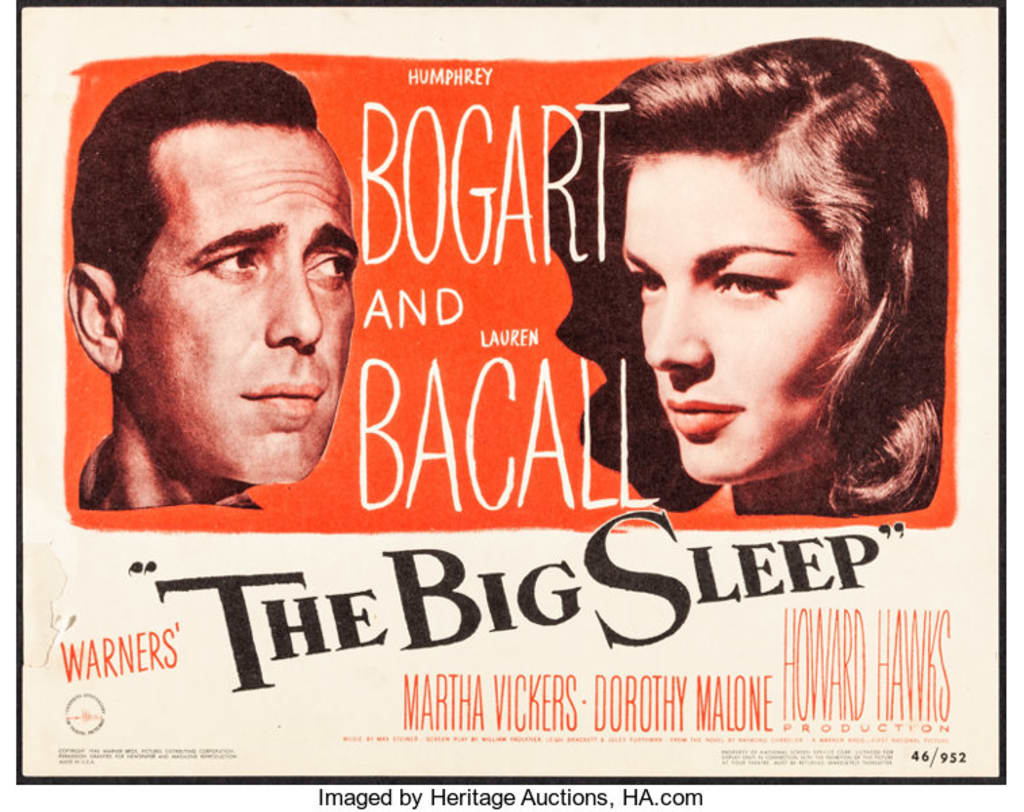 The Big Sleep is the classic on this week's Everyone's a Critic Movie Review Podcast.
We haven't passed the title card and I am hooked by The Big Sleep. So massive and singular were Bogart and Bacall that Director Howard Hawks flashes up a silhouette of Bogart lighting Bacall's cigarette and he knows that we know what we are seeing. This duo is so iconic that something as simple as a man lighting a woman's cigarette is a recognizable image, a signifier of Bogart and Bacall's couples aesthetic.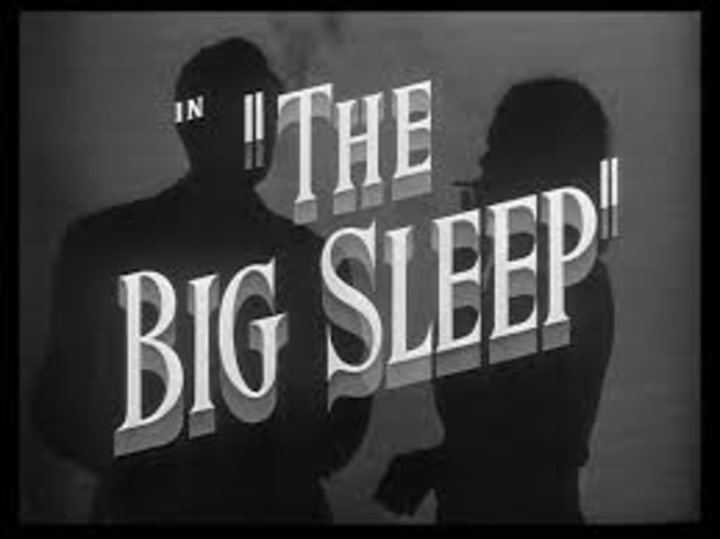 This image somehow managed to take hold in American popular culture so deeply that you'd imagine the history between the duo was years deep when The Big Sleep was made. You would be mistaken in that notion. Bogart and Bacall had worked together only once before The Big Sleep. It was on Bacall's first film, To Have and Have Not, also directed by Howard Hawks. It is perhaps some of Hawks' own myth-making that creates this moment, but nevertheless, he was right about the duo becoming iconic, even after a mere two years.
Bogart and Bacall met on the set of the 1944 movie, To have and Have Not. Bacall was 19 and Bogart was 47. It was, by most accounts, a scandalous affair, but one that they both weathered incredibly well. They didn't hide, they didn't run, they confronted the world head on and unlike some couples, they managed to become icons in spite of the harsh judgement of the times and those that would condemn their relationship by the standards of today.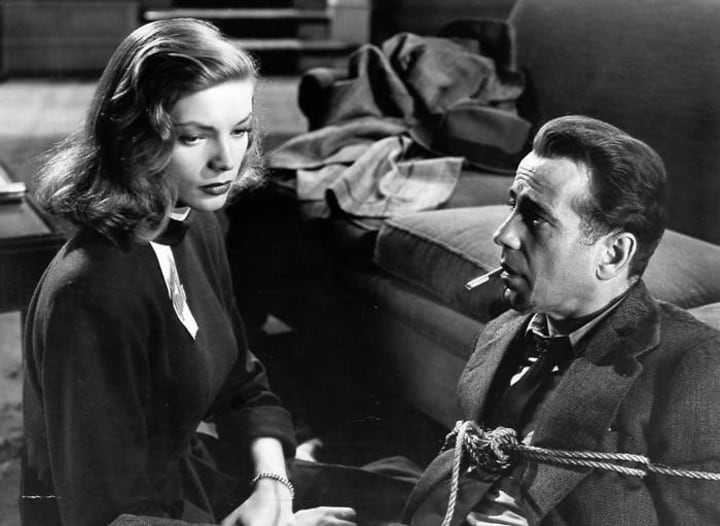 The duo were married in 1945 and would remain married until Bogart's death in 1957. The on screen chemistry of Bogart and Bacall is one of those magical, Hollywood, once in a lifetime moments. Bogart first lit Bacall's cigarette in To Have and Have Not and it was rumored, quite dubiously, that a millions of women of Bacall's age took up smoking. There is no attribution of this 'fact' to any objective study, but it works to illustrate just how much the public fell for Bogart and Bacall that many would believe the myth.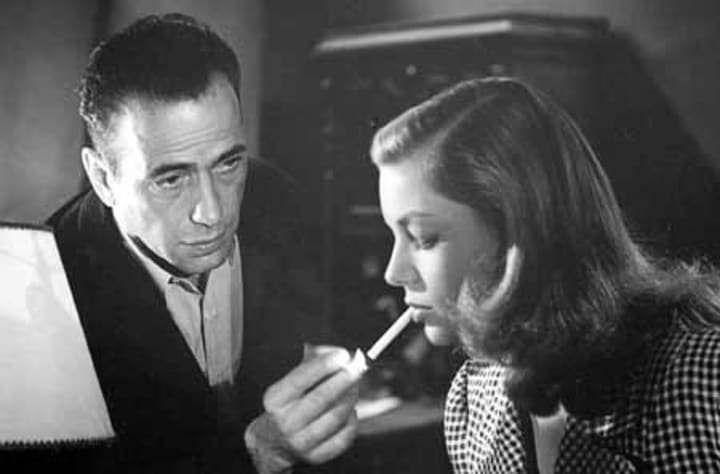 "Anyone got a match?" One modest, undistinguished, line of dialogue laid upon a piece of paper via typeset, was responsible for creating an image so indelible that Howard Hawks knew that he could evoke its essence and excite audiences about The Big Sleep. In the two years between To Have and Have Not, the myth of Bogart and Bacall became bigger than the movie that brought them together. That's not a knock on To Have and Have Not, it's a testament to the power and glory of To Have and Have Not that it birthed such a legend.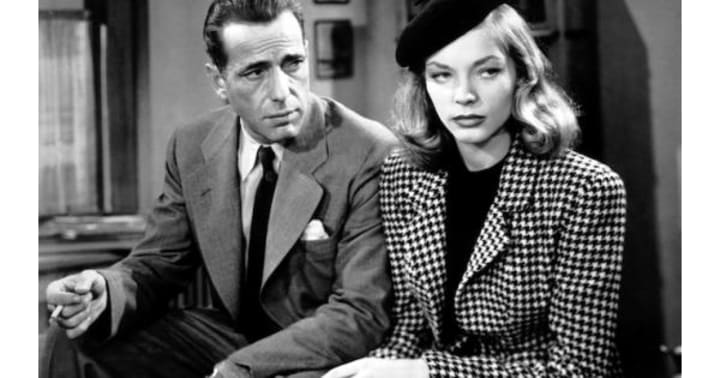 The delivery of the line and the context of the delivery of the line are what made the iconic moment. Bacall is effortlessly sultry and Bogart is effortlessly cool. If no one told you Bacall was only 19 at the time you'd have a hard time believing it. She has the elegance and carriage of a much more experienced woman. Her eyes are gorgeous, hooded, and filled with well earned wisdom beyond her years.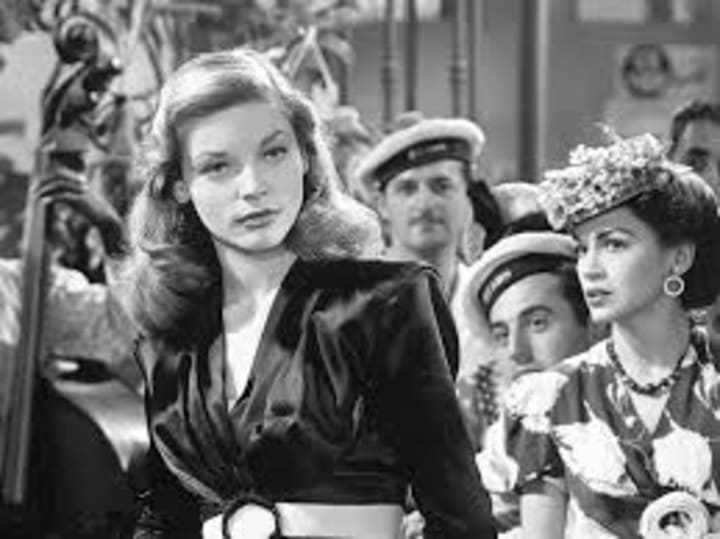 Bogart's act is detached and macho until it isn't, he wants to assert himself and his masculinity but we know Bogart, and we fully expect this woman to crack that veneer, if only a little bit. If cool is Bogart's superpower, Bacall is his kryptonite. She's a weapon in human form, the physical embodiment of Bogart's weaknesses. She's everything he wants that may, for once, be unattainable. It's exciting to see such a confident and assured man crumble in the face of besotted passion.
We will be talking more about the incredible power of Bogart and Bacall on the Everyone's a Critic Movie Podcast, available on all your favorite podcast platforms as well as on YouTube where you can subscribe by clicking here.