'The Girl in the Ice' by Robert Bryndza Review
Looking for a strong female protagonist who takes no sh*t? Read this novel.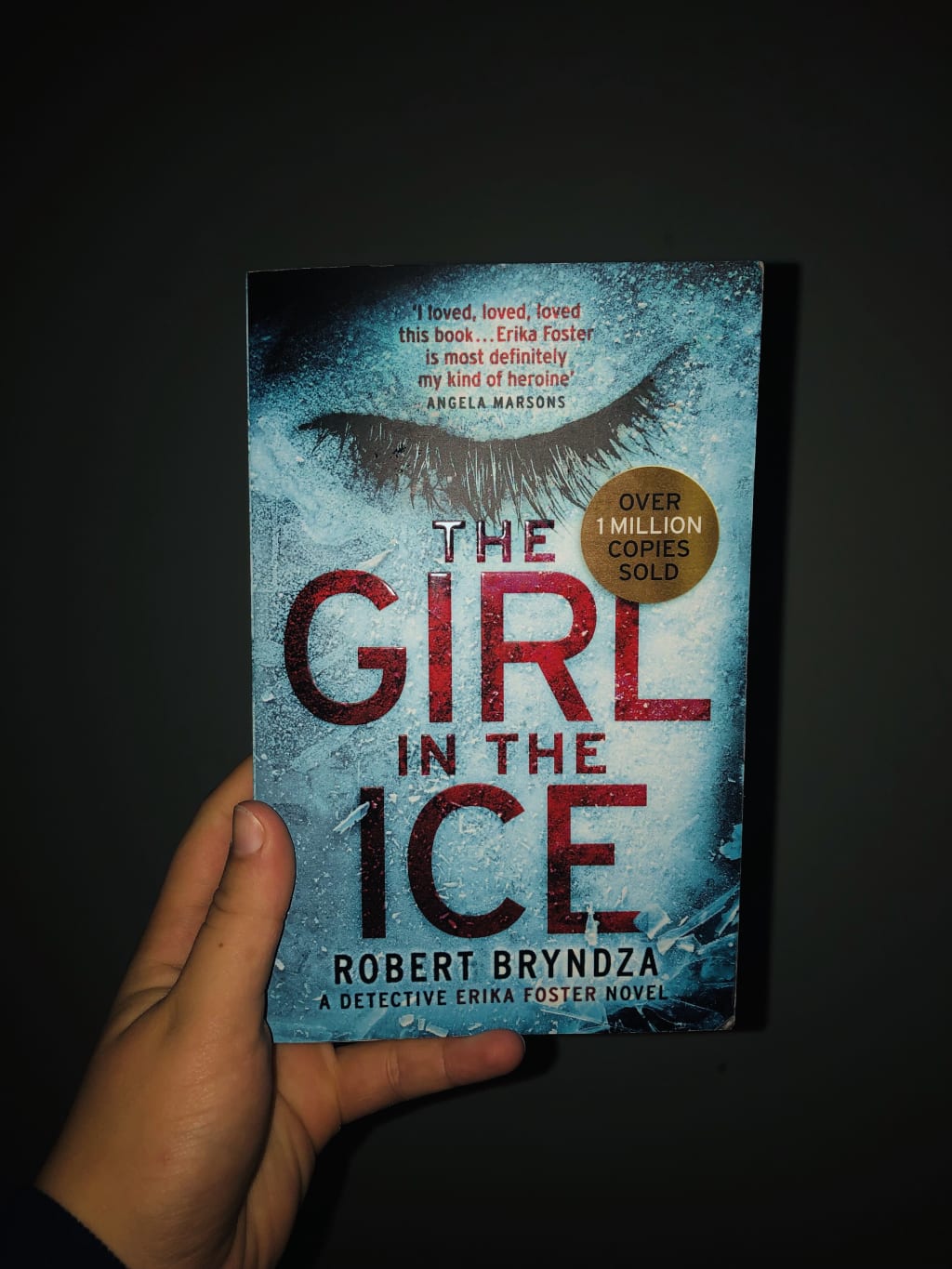 Photo by Me | The Girl in the Ice by Robert Bryndza
I used to commute to Coventry by train, almost every day, for three years, to get my degree. Of course, train stations have WHSmith's; WHSmith's has books. I had finished early from university one day, so I decided to browse all the new books that WHSmith's had to offer whilst waiting for my train home. They were doing a deal: Buy one book, get one half price. Obviously, I couldn't turn that deal down. Who would? It would be blasphemous to do so! (Well, this was almost two years ago, and the books have been sitting on my shelf gathering dust until I finally forced myself to pick it up and read it.)
One of the books I picked up was The Girl in the Ice by Robert Bryndza. Again, the cool blue tones of the cover and the shiny effect of the title caught my eye. I read the overview and I was hooked in an instant. I have always loved the genre of crime and I believe that behind every crime novel, there is a strong case and main protagonist, who is usually a detective with issues. Always. In the past, the crime novels I have read display a similar pattern: The detective is messed up and has to solve a case, doesn't do it by the books, gets punished for it, but solves the case anyway because the department is failing without them. Romance is rare, but sexual tension is prevalent, which reminded me of Scott and Bailey, a TV show I used to watch on ITV. This novel had all of that, but it wasn't as awkward of a read like the novels I have read in the past.
I read this book in four days. It was a juicy read and I was longing for more after every chapter. The Girl in the Ice circulates the death of a beautiful, young socialite in London. Erika Foster is the detective on the job. She puts her job first, despite everything she is going through in her private life. She follows her heart over her head, which leads her to become the next target…
My Verdict
1. Erika Foster is an incredibly strong female character. She annoyed me, made me empathise with her and made me fist pump the air. In my opinion, she is a brilliant DCI who stopped at nothing to solve the case, even with the amount of disagreements she had had.
2. The case in question was simple: A murder investigation. However, there were lots of different directions that the characters took. This made for the case to become an in-depth and riveting investigation into the lives of the Douglas-Brown family, who were the victim's wealthy family.
3. The settings were applicable to the genre: Police stations, middle and lower class areas of London, dark alleyways, and graveyards. The reader would be able to envision the landscape of London and where the coppers solved the case.
4. Story-line itself was fantastic. It was smooth-sailing, heart-wrenching and exciting. The twist at the end shocked me, however, I felt it was a little bit rushed. Novels know no end, but they must all end somewhere, I must suppose.
5. Issues such as discrimination within the police, class, mental health, and suicide were present, which gave the story a more realistic standpoint. Erika was born in Slovenia, and she is a woman, meaning that she was treated differently and seen has "lower than" other characters in the story.
6. The writing style was descriptive and tasteful, while also smart and melancholy. It had me feeling all types of ways.
Score: 4/5 pens.
I will be sure to read the other novels by Bryndza, so I can delve more into the life of Erika Foster. She is the perfect heroine who takes no sh*t, which a lot of women should look up to.
P.S. I believe there is a moral to this story: No matter what you go through in your private life, do not let it affect your working life. Follow your heart and don't let anyone tell you otherwise (unless you are a police officer, listen to your commanding officer, please).
If you want to see more of this, follow my Instagram page, which is also in my bio! @tiffreadsandreviews
literature
Book reviews and all that nonsense.
Follow my Insta page for aesthetically pleasing photos and mini-reviews! @tiffreadsandreviews