The Giant Mechanical Man - A Movie Review
'The Giant Mechanical Man' is an absolute must-watch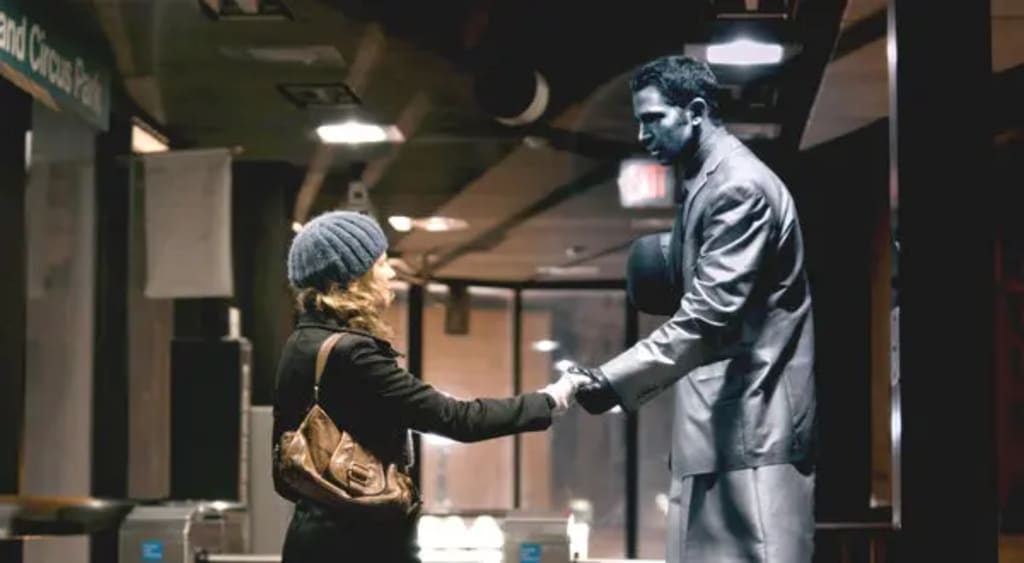 We're all figuring out our lives.
Released in 2012, The Giant Mechanical Man follows the stories of Janice and Tim, two people who feel invisible to the world. Janice decides to quit her job, while Tim reluctantly gives up his passion as a street performer. Their paths converge when they both get jobs at the zoo, where they meet and discover missing pieces in their lives.
The Giant Mechanical Man is an absolute must-watch for anyone experiencing feelings of being lost or uncertain. It's a romantic love story that inspires viewers to find their true calling. Resonating with several audiences, the film is a gentle reminder that you can take as much time as you want to figure life out.
Delivering excellent performances as their characters, Jenna Fischer and Chris Messina developed a heartfelt chemistry. As Janice and Tim spend more time together, they begin to realize that they have a lot in common such as feeling unworthy and lost. Janice and Tim discover their strengths to be better people.
I wonder how much research Messina did for his role because he presented a genuine depiction of street performers. Painting his face silver, wearing grey clothes, and balancing on tall stilts, Tim performs to brighten people's lives so nobody feels left out. Tired of being judged by society, maybe it's time to give it up and act like a normal person (whatever that is).
One of the strengths of The Giant Mechanical Man is its cast. The film includes the talents of Topher Grace, Malin Akerman, Rich Sommer, Lucy Punch, Bob Odenkirk, and Sean Gunn (also known as Kirk in Gilmore Girls).
The supporting cast does an excellent job with their roles. Jill (Akerman) got on my nerves with the insulting comments she remarked to her sister. I didn't think she'd have any development until Janice stood up to her at the end.
One commendable aspect of The Giant Mechanical Man is its positive portrayal of alleviating grudges and avoiding unresolved conflicts. This is a film about finding the right words to advocate for yourself instead of leaving things unaddressed.
The Giant Mechanical Man is a romance and coming-of-age film for adults. Lee Kirk distinguished an important part of relationships. Find someone who sees you. Balancing comedy and drama effectively, the film moves at a natural and steady pace.
As much as I enjoyed the film, it's not without its flaws. It is predictable and slow-paced. I also found it unrealistic that Janice failed to recognize Tim beneath his 'Mechanical Man' makeup considering their numerous encounters on the street. Although it's an endearing conclusion, Janice should have discovered Tim's alternate persona earlier.
The locations and settings were great, taking place in a zoo and around the city. When I was a kid, I loved going to the zoo. The zoo is an exciting place. The Giant Mechanical Man offers a different perspective. As someone who works in the fast-paced concessions field, I know what it's like when you wait on difficult customers.
If it was symbolic, the setup of Janice and Tim's conversations at the water exhibit was filmed intriguingly. Early in the movie, the water level is above their heads but as the movie progresses, the water recedes, emphasizing their growing sense of empowerment as they regain control of their lives.
The Giant Mechanical Man is a true-to-life love story. We can make changes if we believe in ourselves. It had a few cliches but this is a sweet film. The Giant Mechanical Man is worth checking out. Go watch this film if you need a smile.
About the Creator
Writing has been my passion since I was 11 years old. I love creating stories from fiction, poetry, fanfiction. I enjoy writing movie reviews. I would love to become a creative writing teacher and leave the world inspiring minds.
Reader insights
Be the first to share your insights about this piece.
Add your insights