The English Teacher - A Movie Review
The English Teacher takes creative twists, assembling a good story.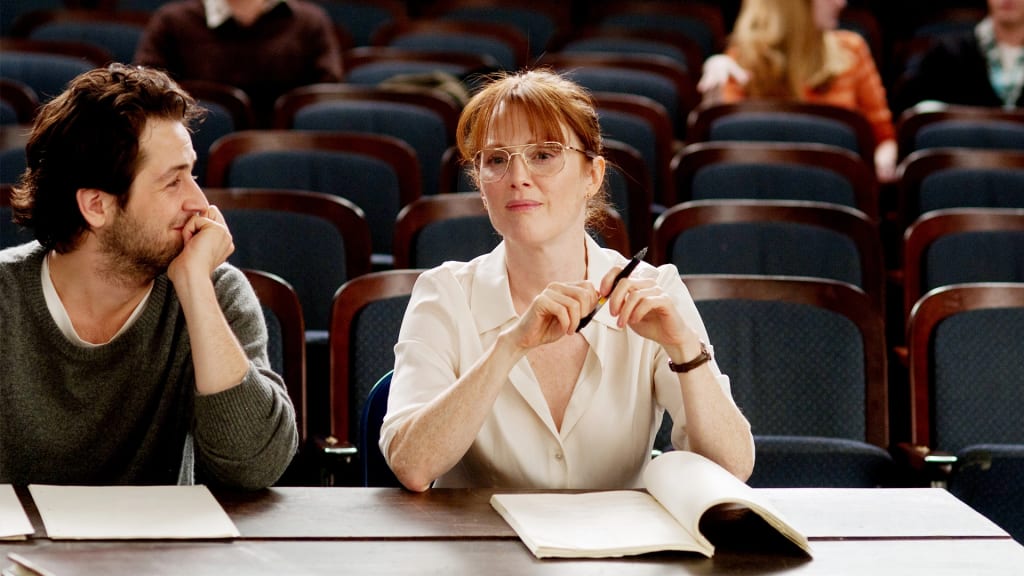 You can't run away from this. The play is going up in a week!
The English Teacher is a 2013 film. A teacher's old student gives her his play to read. Impressed with what he has written, Linda asks the school board to let the theater put it on. Hindering some roadblocks, getting this play on its feet is harder than everyone thinks.
Watching 1 minute of a trailer is the best idea before viewing a movie. You don't want to give too much away. The English Teacher is a charming film. What I love about The English Teacher is that you should never judge a film based on its premise. This film takes creative twists assembling a good story.
Julianne Moore is wonderful as a teacher who encourages her students to be more. She nurtures ideas and opinions. However, Linda has never had her luck in the dating field. That's not all to her character. As the film continues, Linda exhibits strange behavior. Moore was excellent at conducting a humorous meltdown.
People are not as they appear. Michael Angarano was great at all the subtle features of his character. Jason has written a play that hasn't garnered the right attention. Claiming that he is giving up on a play that nobody wants to produce, how much has Jason really tried?
I also enjoyed Greg Kinnear's performance. The whole cast had great chemistry working together. I liked Kinnear and Moore's scenes. Never judge a person by their character or from what others claim about them.
Hands down, Nathan Lane was the right choice as a theater teacher. He had all the best lines and reactions. Lane and Moore worked tremendously together. They were a good comedic duo. I would watch them in another movie.
More credits include Lily Collins, Norbert Leo Butz, Jessica Hecht, Charlie Saxton, and Nikki Blonsky who was Tracey Turnblad in Hairspray. Fiona Shaw narrates the story. They had sharp energy. The whole cast does a great job adding subtle nuances to their characters. We all have two sides, sometimes unexpected.
This film is good at comedy. That's the best part about it. It's original. I liked the little visuals that appeared on the screen to symbolize what Linda was thinking. Actors do a good job attributing to the tone, particularly Butz and Hecht in their respective parts.
I love movies that take an unexpected turn. Craig Zisk took a risk with that. The English Teacher would have been boring if it was the same old feel-good film with a lesson about theater. Of course, it does supply that but not without a few dark elements thrown into the rink. It tests audiences.
I liked all the montages involving the theater process. Editors worked in nifty camera tricks and edits. I'm not sure if the narration fits in with the tone of the film but it was still quirky.
The English Teacher offers viewers never to give up on their dreams. Continue to exercise your passions. This is a film for all writers and theater enthusiasts. We all make mistakes.
Over time we come to learn from our mistakes and make an effort to change. You should never listen to others' opinions about a person because you don't know anything about them.
This film deserves more attention. The plot is well-written and comes together nicely in the climax. It also gives rightful portrayals of teachers and passions.
The English Teacher is a good movie if you are looking for something different. It'll make you laugh and I was smiling by the end.
review
About the author
Writing has been my passion since I was 11 years old. I love creating stories from fiction, poetry, fanfiction. I enjoy writing movie reviews. I would love to become a creative writing teacher and leave the world inspiring minds.
Reader insights
Be the first to share your insights about this piece.
Add your insights