The Disappearance of Agatha Christie
The last mystery of Agatha Christie remains unsolved to this day.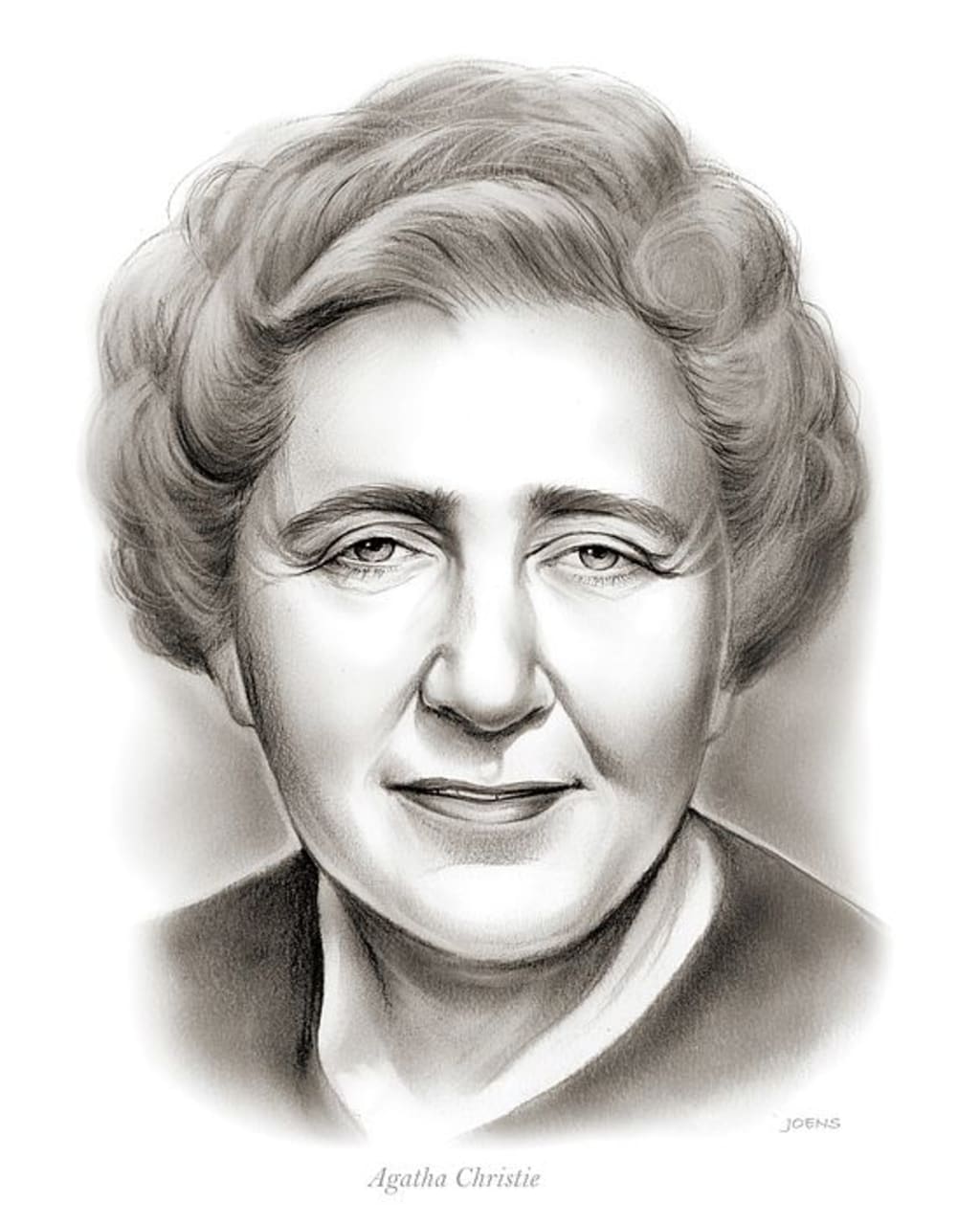 By 1926, Agatha Mary Clarissa Christie had already made a name for herself as a mystery writer. Her first novel, The Mysterious Affair at Styles, featuring Belgian detective Hercule Poirot, had been the first of many to be published to widespread acclaim, alongside numerous short stories. She was married to WWI pilot Archie Christie, had her daughter Rosalind by him, and was looking forward to publishing The Murder of Roger Ackroyd. From every angle, it looked as if she had an ideal life that was only going to get better.
Until, one day, she disappeared.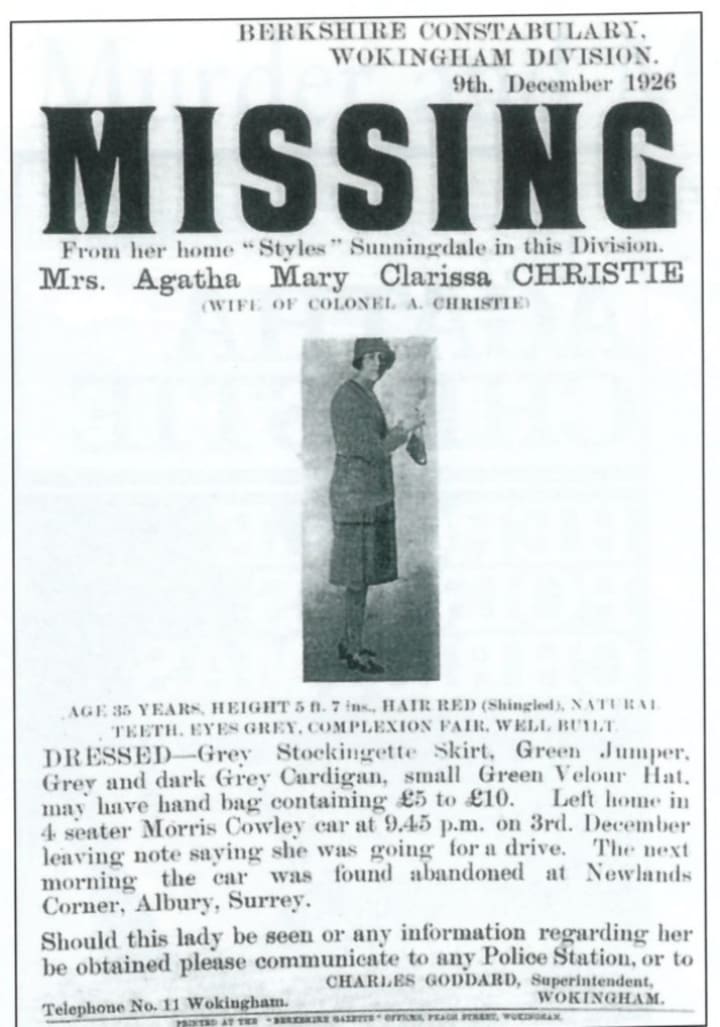 On the evening of December 3rd, Archie asked Agatha for a divorce. He was in love with another woman, Nancy Neele. The couple quarreled fiercely, and Archie left their estate in a huff to spend the weekend with Nancy.
At 9:45 PM, Agatha kissed her daughter good night, left a note for her secretary saying that she was going to Yorkshire, got into her car, and drove away.
The following day, her car was found crashed by a lake not far from her home. It contained an expired driver's license and spare clothes, but there was no sign of Agatha. It was as if she had vanished into thin air.
Under pressure from Home Secretary William Joynson-Hicks, the police were turned out in full force. 15,000 volunteers scoured the countryside. The lake was dredged. Fellow mystery writers Sir Arthur Conan Doyle and Dorothy L. Sayers were asked to weigh in. Even airplanes were used in the search. It was the largest manhunt ever conducted.
During this time, vague and disturbing letters Agatha had sent before disappearing were delivered. One sent to her brother-in-law said she was going on holiday. Another was sent to the police, saying she feared for her life.
Suspicion fell upon Archie, the cheating husband, of having murdered his wife so he could run away with Nancy.
Meanwhile, newspapers around the world were shouting the story from the rooftops. Christie's name was blared across the front page of The Daily Mirror, The Daily Herald, and even The New York Times. Was it suicide? Murder? Everyone was talking about the vanishing mystery novelist. Some papers even offered rewards.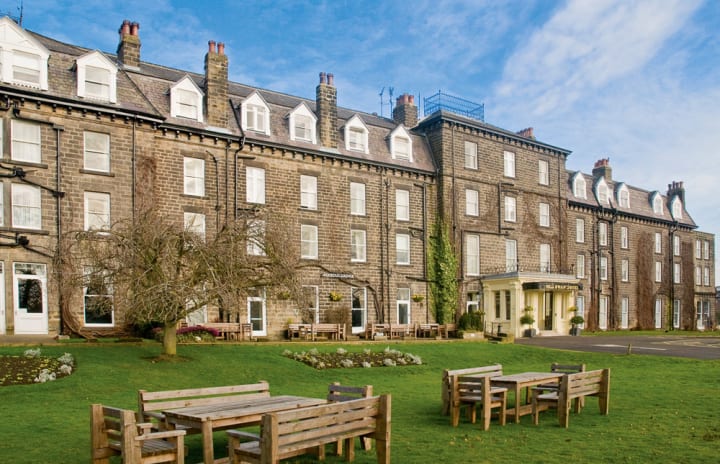 Eleven days passed.
Then, at the Swan Hydro Hotel in Harrogate, a local banjo player named Bob Tappin recognized one of the guests as none other than Agatha Christie.
The police were quickly informed, and her husband came to pick her up.
It turned out that, while driving away from her home, Agatha had crashed and her car, abandoned all her possessions, and in the space of 24 hours had traveled hundreds of miles to the spa hotel in Harrogate.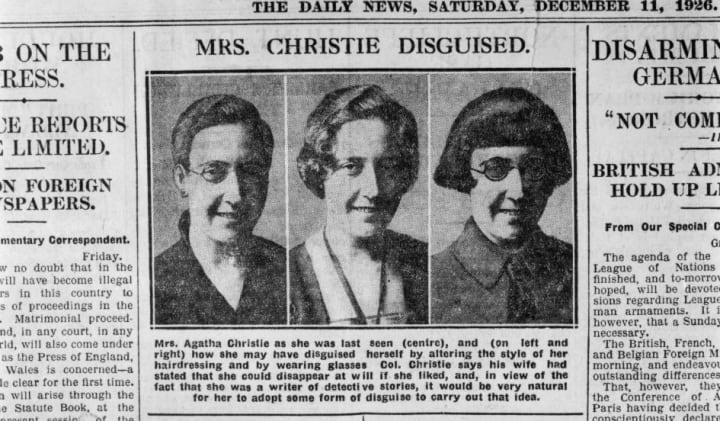 She checked into the Swan Hydro, in disguise, using the name Teresa Neele, "a perfectly happy woman who... had just come from South Africa." And there she stayed for days, as though on holiday, while the nation had an aneurysm over her disappearance.
When questioned, she said she didn't remember how she got to Harrogate and hadn't recognized herself in any of the newspapers. She claimed to have walked around "in a dreamlike state." When her husband came to pick her up, she didn't even recognize him at first, and thought he was her brother.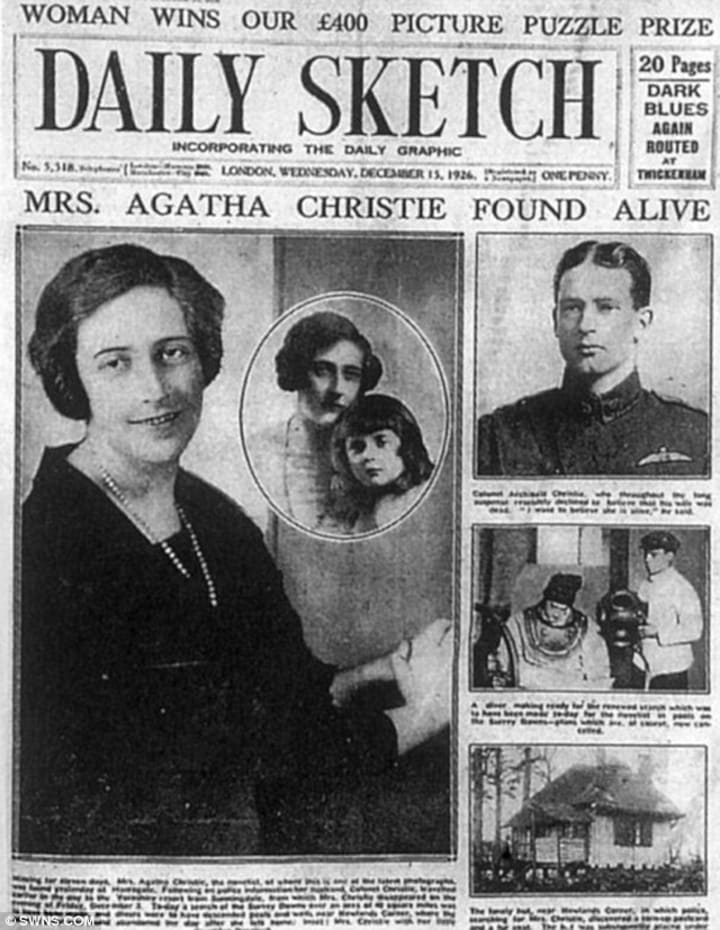 Though everyone was glad she was safe, her explanation left many questions unanswered.
How had she come to be in Harrogate?
If she had amnesia, why did she use her husband's mistress' surname as her own?
How could she not recognize her own face in the newspapers?
Some called it an act of revenge against her cheating husband. Others called it a publicity stunt for her next novel—the headlines had certainly made her more famous than ever before. Still others called it a bout of temporary amnesia brought on by stress or the car crash.
Whatever the explanation was, Agatha never revealed it. She never even spoke of the incident again. She divorced Archie in 1928 and went back to her writing.
Many works of fiction have been inspired by this incident, and speculation continues to abound among modern Christie fans. It could be that the truth has already been guessed, but with no proof, the mystery of the "Eleven Missing Days" remains unsolved.
And thus, history's most prolific mystery writer continues to mystify the world.