'The Commuter' Provides Slick Action, Suspenseful Plot, and Amazing Special Effects
Liam Neeson's back with his very particular set of skills...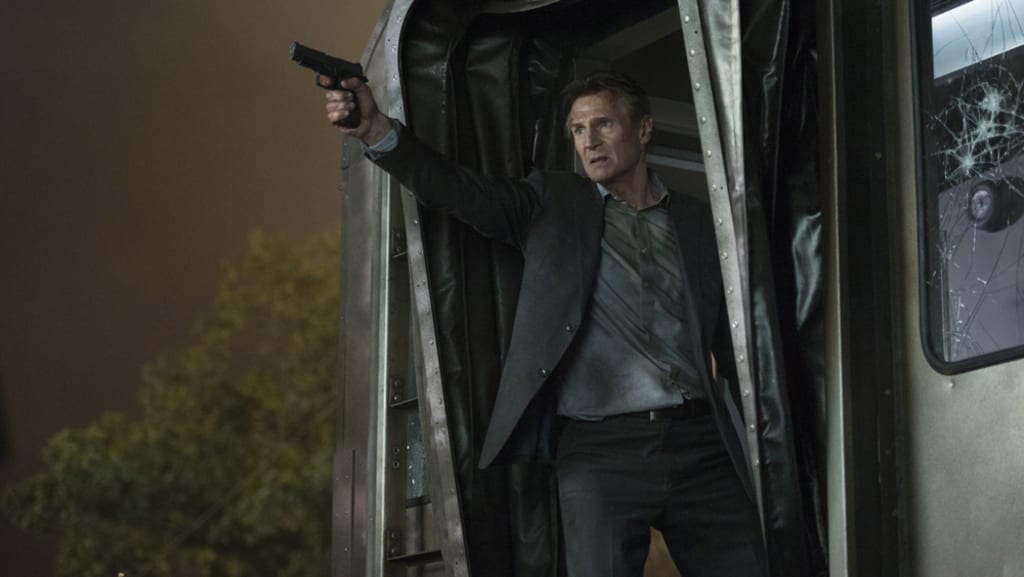 He doesn't know who you are. He doesn't know what you want. If you are looking for ransom, he can tell you he doesn't have it. But what he does have is a very particular set of skills. Skills that he has acquired over a long career, and if you mess with Liam Neeson's family, he will look for you, he will find you, and he will kill you.
You saw Liam Neeson as Bryan Mills in Taken, and as Qui-Gon Jinn in the Star Wars movie you wished didn't exist.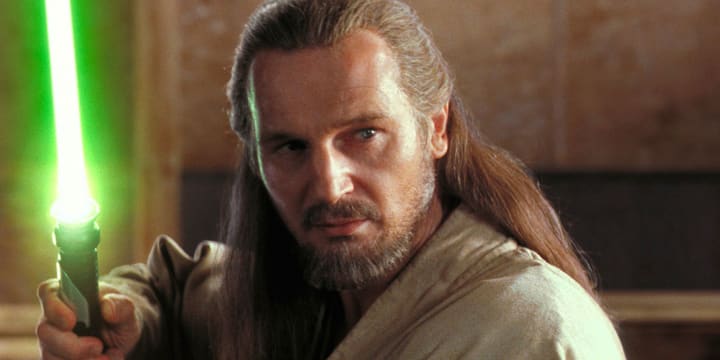 But in the 2018 film, The Commuter, he's not a lightsaber-wielding Jedi, nor is he the retired CIA operative he was in Taken, but he still has a very particular set of skills when it comes to dealing with bad guys threatening his family.
I watched The Commuter the day after watching Star Wars: The Last Jedi, and I'll be reviewing this movie, as well.
And just by the way, I should be punished for saying "very particular set of skills" THREE TIMES in the article so far, including the subtitle.
I watched the full-length trailer for The Commuter and I thought it looked pretty good. It was almost like Die Hard on a Train, but with the badass from Taken as the star, and when I saw that Stephen King had endorsed the movie, I KNEW I'd be hooked.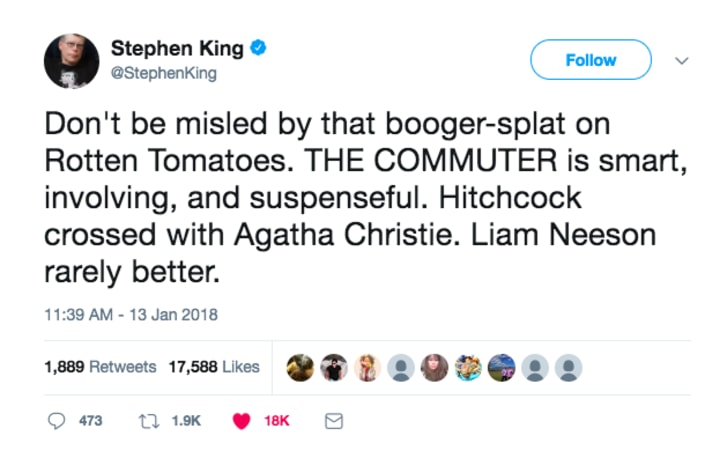 So, let's start with the beginning: Michael MacCauley (Neeson) is an insurance salesman who wakes up every day to the same routine. He wakes up at the same time, speaks with his wife and son, and rides the New York train to work.
We see him repeat this routine about three times at the beginning until a day in late August when he gets laid off of his job and is too afraid to tell his wife, and on the way back home on the train, he meets a mysterious stranger who calls herself Joanna (Vera Farmiga).
She tells Michael that she is a behaviorist, and she tells him that one person on this train doesn't belong; if Michael found the person, he would receive $100,000. And before leaving, she poses a final question: "What kind of person are you?"
Michael finds the money in the bathroom and takes it, but when someone hands him his wife's wedding ring and he witnesses one of his fellow commuters get pushed in front of a moving bus, he realizes the situation he's in, and now has to find the person he needs.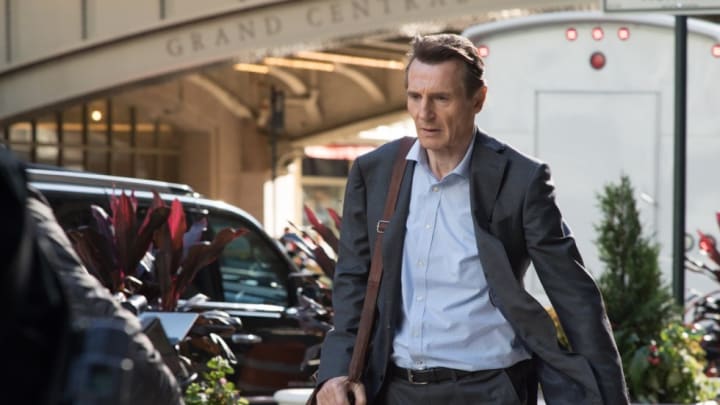 This was, overall, a pretty good movie. One thing you should know about me, though, is that I'm not always very critical of movies and I hold my own opinions.
So, people may have loved Ocean's Eleven, but I thought it was unwatchable, and people didn't like Now You See Me 2, but I loved it. But when it comes to Toy Story, Die Hard, and Back to the Future, I can tell that those were great movies.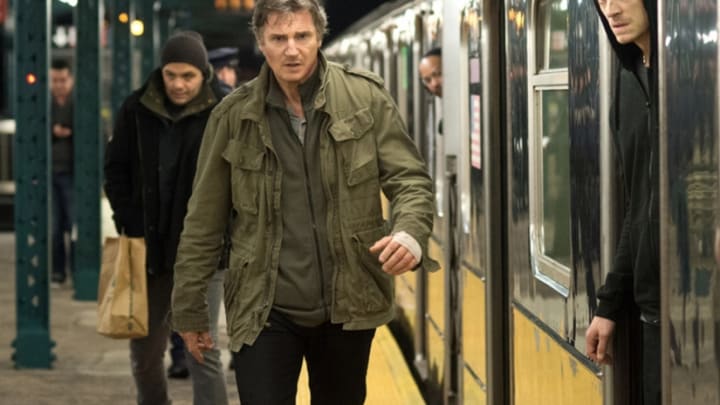 The story was okay. It was good at being suspenseful and keeping the audience on their feet. It had enough twists to keep the audience guessing until the end.
I really liked the action of the movie and I liked how, like Speed, it was a fast-paced movie with passengers in a vehicle being threatened by an outside force. And it was, overall, a pretty well-made movie.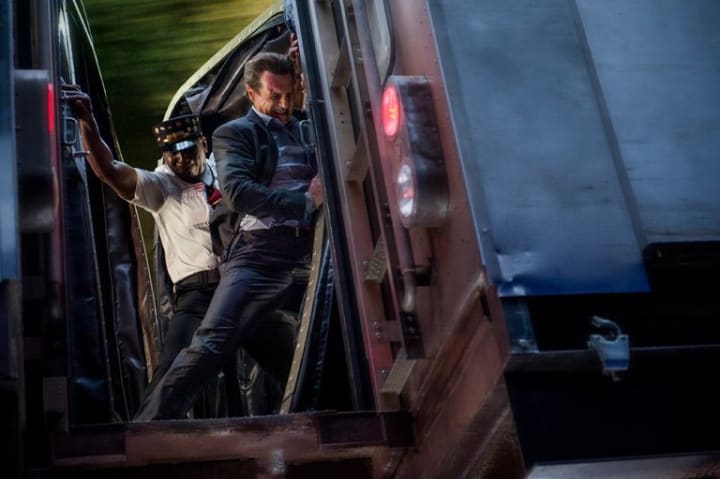 I do think it was a minor disappointment that Neeson's character didn't kill anyone with a gun or in physical combat the way he did in Taken. He does kill someone in the movie, but he doesn't exactly do it with his bare hands.
As a thriller, it's a pretty good movie. It wasn't great, though. It had some flaws and plot holes. For example, it was glossed over how Joanna was able to call Michael on the train through his borrowed phones. How could she have gotten the phone numbers of the passengers?
There is a pretty nice plot twist that I think made the movie an enjoyable watch. I mean, I saw it coming, but the movie doesn't necessarily make it obvious. I was just silently analyzing, and I correctly guessed the twist.
But here's another criticism: Michael MacCauley doesn't kill the main villain. You have Liam Neeson in a movie, and you don't have HIM kill the antagonist of the film? But besides all that, it's a great story that has a pretty nice ending.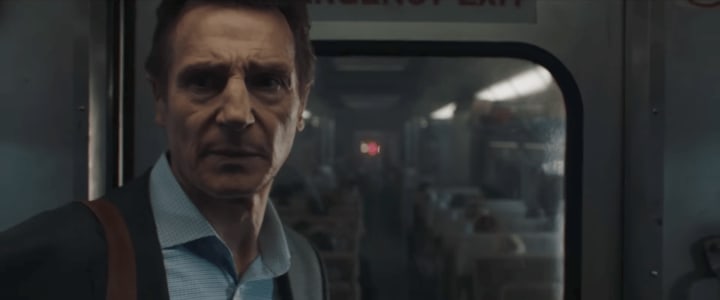 And I think it's awesome how Neeson is 65 but has only become a well-known action star recently. I'm proud to share his birthday (June 7th).
I would definitely recommend that you go watch this movie if you like thrillers, action, and suspense. Have fun at the theaters.
movie
Film critic. Lover of Pixar, Harry Potter, Star Wars, Marvel, DC, Back to the Future, and Lord of the Rings.
For business inquiries: [email protected]