The Best Horror Comics
"Lock & Key," "Wytches," and "Colder" top the list of the some of scariest comics available for your reading pleasure.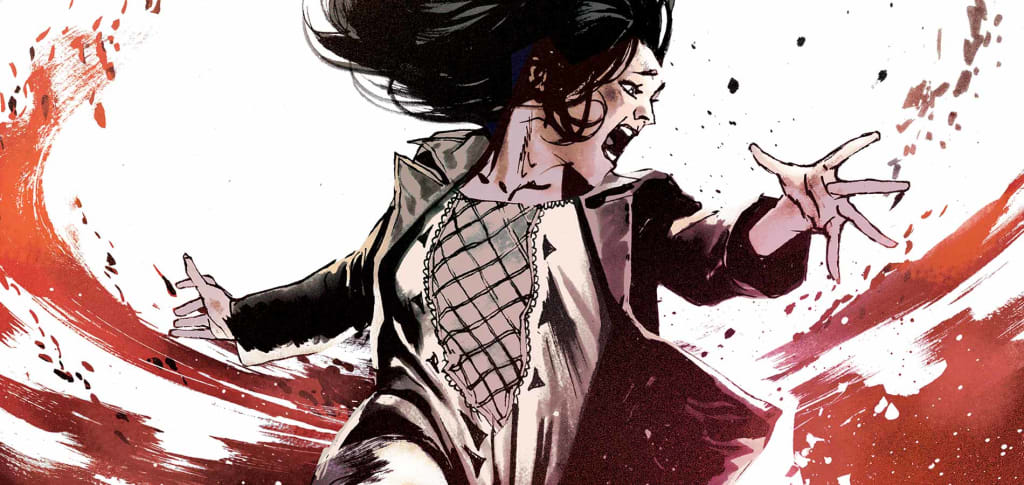 Halloween represents different things for different people, but there's one thing everybody likes, and that's a good old-fashioned ghost story.
Comic books have been around for decades, and as a medium, were once inundated with horror options. You could easily find a variety of strange fiction, creepy characters, and wicked evils lurking in-between paneled pages. That is, of course, until superheroes took over everything. Now don't get me wrong, I love reading about superheroes fighting the good fight as much as anybody, but comics are so much more than that! In fact, if you're looking for something particularly creepy and terrifying to read this Halloween season, comic books might just be the perfect thing.
With that being said, finding a comic book tale with the capacity to truly frighten is easier said than done. I'm not talking about the soft, squishy monsters in your classic superhero comics, either. I'm talking about the kind of monsters that keep you up at night. Getting a writer and an artist to have the skills to win your affection, generate emotions, and then hold them hostage until the last page, is a huge task. However, the following comics live up to just that and are perfect for any late-night Halloween reading plans you may have.
American Vampire tells two stories: the "present day" story arc written by Scott Snyder, which takes place in 1925 Hollywood, California; alongside Stephen King who is in charge of the "past" story arc, set in the dying days of the Old West.
Scotty Snyder and Rafael Albuquergue are hell bent on taking back vampires from the people who made them romantic fodder for YA novels. Their glorious depictions of murderous predators from beyond the grave are in no way reminiscent of modern day vampire interpretations. And in my humble opinion, that's a good thing. These vamps aren't pretty, they don't fall in love with teenage girls, and are often portrayed with heavy trails of blood behind them.
The intersecting storylines of Pearl and Skinner Sweet are inundated with violence and death, but you can't look away. There are few horror comics as richly detailed and heavily fleshed out as American Vampire. If you think vampires aren't your thing, you might want to give this a try.
When the asylum Declan Smith was in burns down in 1941, he manages to survive in a catatonic state in which he never ages. Fast forward to present day, where nurse Reese has taken him home to observe (as one normally does) and to help keep her company (because nothing beats off loneliness like the semi-dead). What Reese doesn't know is that Declan is linked with supernatural being Nimble Jack, who feeds off of the insanity of humans. You still with me?
The insanity of the basic storyline only lends itself to the creepiness of its characters. Nimble Jack is scary and charming, very similar to that of the Joker. And much like the Joker, the book itself plays on themes of insanity and crafts a story so hypnotic it's hard to put down.
Artist Juan Ferreyra paints a gruesome backdrop, clearly evident by the cover of the book. The mixture of realistic themes alongside wickedly fictional storylines, weave a tail that sticks with you, whether you want it to or not.
You can't have a list of creepy comics and not include Neil Gaiman. While by far not the best in The Sandman series, with a story as complicated and tricky as this, I always think it's best to start at the beginning.
You can easily tell that volume 1 is a prelude to "actual" series, being that the plot is fairly straightforward. With that being said, the story is still unlike anything else. The overarching synopsis surrounds Morpheus Lord of the Dreamworld who has been imprisoned by a sorcerer for several years. He goes in search of powerful objects so that he may once again exercise full power over his realm.
If that isn't enough, the tail also weaves in a contemporary British horror story of drug abuse, a mystic decent into hell featuring an epic duel with demons, and a ghastly ordeal of an escaped madman in possession of the Dreamlord's weapons.
While at times a bit much, no horror genre is complete without stories.
In the same sense as American Vampire, Wytches is not what you think. Alongside an interesting premise, Scott Snyder has some tremendous ideas about traditional witches, witch-hunts, and what it means to go looking for trouble. And while Snyder deserves plenty of credit for the story itself, artist Jock solidifies the creep factor, by painting truly horrifying, frantic, images that leave you constantly on edge.
An interesting story about sacrifice, penance, the dual sides of human nature, and the evil that is inherent in all of us. Except for the slightly contrived ending (which I saw a mile away), and a few too many conveniences and tropes (characters conveniently leaving out secrets in regular conversation in order to keep readers in the dark, for one), the story is a solid one in my opinion.
Yes, that Archie. Now before you roll your eyes and move on to a more gory and undead filled option, hear me out. Archie Comics has always been know for their child-friendly comic books, but with the appearance of their Afterlife series, they were able to veer off into more adult concepts.
In a nutshell, it's about a zombie outbreak hitting the wholesome town of Riverdale. In the traditional Archie sense, you would expect this to be played out with laughs, but the creative team behind Afterlife plays it straight and that's why it works.
Afterlife with Archie is a smorgasbord of pop-culture goodness. You have the revered Riverdale cast, drawn by Francavilla in his inimitable pulpy design sense that gives it a feel of the classic Universal monster movies, along with dialogue by Aguirre-Sacasa that's clearly reminiscent of neo-modern slasher flicks like the Scream series. The comic is scary, dark, and is on par with the best works of horror being produced today. Archie fan or not, this one earns a high recommendation.
Highly regarded as one of the very best horror comics out there, Joe Hill (pen name for Joe Hillstrom King, son of horror master Stephen King) and artist Gabriel Rodriguez, have crafted a unique horror series in the vein of House of Mystery and H. P. Lovecraft that has garnered critical acclaim and numerous awards.
Locke & Key focuses on an unassuming Massachusetts-based estate called Keyhouse, which is populated by several doors and keys that lead to all sorts of spine-tingling ends — not the least of which is a magical doorway that, once crossed, instantly rips your soul from your body.
The Locke family goes through a horrific series of events after moving into their old family estate, starting when the patriarch is murdered. While the Locke children are featured throughout the series, other events are seen in flashback, through the eyes of the person who murdered their father, and several other characters interlocking into an engaging and terrifying story that hasn't been seen since Neil Gaiman in Sandman
These elements, combined with a fantastically sympathetic cast, make Locke & Key a must-read for terror junkies.
Having seen the 1994 cult classic starring the late Brandon Lee, reading the source material for The Crow is a completely different experience. Written and drawn by James O'Barr, the story is even more jarring knowing that it's based on a tragedy from his own life.
With its hard boiled revenge story and black-and-white illustrations of bloody violence, at its heart, the book is really a tragic love story combined with hunting down killers with the aide of a supernatural crow (nothing weird there).
A truly violent but moving tale of an avenging angel trying to regain his true love and in over twenty years, it's still as striking as ever.
Unlike many of the other stories listed here, Through the Woods isn't gory or graphic, it's unsettling. Presented in five short stories, each one contains a spooky and frightening plot sure to keep you on edge. An air of suspense lingers in the air and no matter how scary the story or the characters might appear, there's almost no possibility of being able to put it down.
With each story being fairly short, it's hard not to linger over the beautiful and grotesque artwork. The writing is simplistic, yet chilling and undoubtedly some of the best twisted fairytales you'll ever come across. This is a must-read for any fan of the strange and disturbing.
Preacher is one of the most graphically violent, profane, and sexually pervasive comics I've ever come across. But damn, it's a great story.
Jesse Custer, a reluctant redneck minister in a tiny Texas town, gets endowed with the Word of God after bonding to an entity that escaped Heaven. Then he hooks up with Tulip, his gun-toting ex-girlfriend, and Cassidy, a 90-something year old Irish vampire who likes whiskey as much as he likes blood. The three join forces on a quest to find God and kick his ass for his neglect of humanity as they fight an international religious conspiracy and the toughest supernatural killer ever seen in all of creation.
It's really easy to get caught up in the shocking stuff that happens in Preacher. But look past the shock value, and you'll find a comic classic with almost limitless ambition and wildly original story to tell.
comics
list
review
Book nerd and lover of all things cheese flavored. Highly skilled at Google and considers coffee medicinal.
Receive stories by Alysha DePerna in

your feed