'The Bachelorette' Season 13 Star Rachel Lindsay and Bryan Abasolo Marry
The only African-American star of 'The Bachelorette' wed in a destination wedding.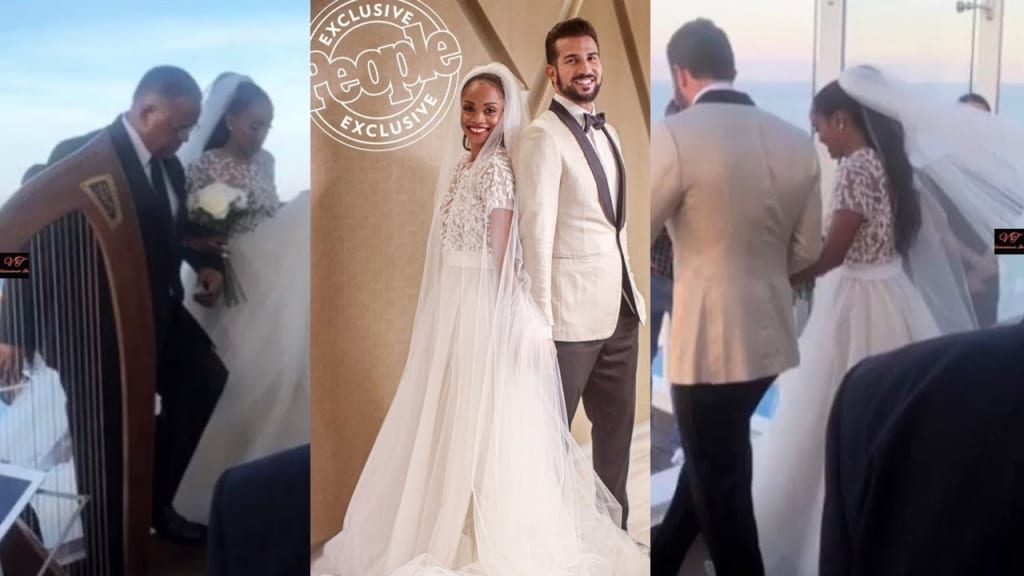 The Bachelorette Season 13 star Rachel Lindsay and Bryan Abasolo got married on Saturday, August 24, 2019. They had been engaged since 2017 when Lindsay offered Abasolo her last rose on The Bachelorette season 13 finale. Abasolo proposed with a 3-carat Neil Lane engagement ring.
Lindsay, a 34-year-old Dallas attorney, and Abasolo, a 39-year old Miami chiropractor, exchanged personal handwritten vows at the Royalton Suites Cancún in Mexico, according to People magazine.
The couple's wedding planner said Rachel was the epitome of elegance and grace as she walked down the aisle towards Bryan in a Randi Rahm gown. Rachel chose Randi Rahm because she wore many of her dresses on the reality show when she was wooed by 31 suitors. She had confidence that the designer was the perfect person to capture the essence of her in a wedding dress.
Rachel said she wanted to wear something that would bring a tear to Bryan's eye because he usually sees her being strong and wearing a pantsuit. She wanted to display a softer side on her wedding day. Bryan wore a custom Musika tux and so did his groomsman.
About the Wedding
Other couples from The Bachelor and The Bachelorette had their weddings televised to share the experience with their fans. Lindsay and Abasolo wanted a private wedding. It has been so private that they have not posted anything on social media about it yet.
When Rachel's season ended, she said she was still in the television mode and wanted her wedding to be televised. She admitted that as time passed, she and Bryan got to know each other better. Then they both decided they wanted something more normal and agreed they would have their wedding their own way without any involvement from The Bachelorette franchise.
The destination wedding was very small with a few Bachelor Nation alums in attendance including Kristina Schulman, Astrid Loch, and Bibiana Julian.
The wedding guests sat in white chairs as they looked out on the beach in Cancún, Mexico. The ceremony was very brief, and the decor was minimal with white drapery overhead and a white aisle runner with green leaves.
Rachel's Two Wedding Bands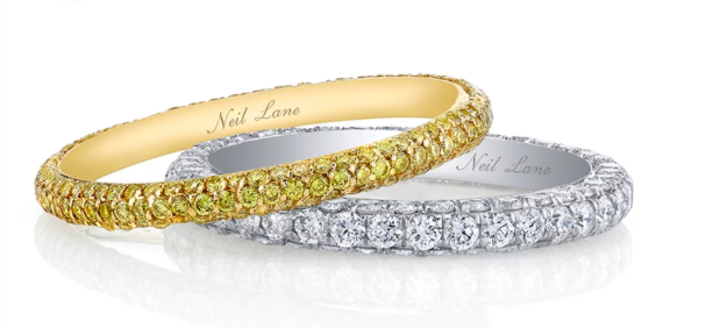 After they became engaged, the couple lived together in Dallas, Rachel's hometown, before relocating to Miami where Bryan lives. They traveled from Miami to Los Angeles a few weeks before their wedding to meet with Neil Lane, the jeweler for the Bachelor franchise.
Rachel could not decide between two very beautiful wedding bands. So, she selected both of them. Lane had no problem designing two different rings for Rachel. In this case, Rachel got what Rachel wanted.
Lane said he had never designed two bands for the same bride. He ended up designing a traditional white diamond eternity band with 108 small round diamonds that matched Rachel's traditional, pear-shaped diamond engagement ring. The second band is an 18-carat yellow gold band with 165 small yellow diamonds. The new bride will wear her white band on some days and the yellow one on other days, and then sometimes she will wear both bands at the same time.
Abasolo chose just one classic wedding band that is handmade in platinum.
Reactions from the Couple
Before the wedding, Rachel said she felt great. She was excited to make her life with Bryan official. She stated she couldn't wait to call Bryan her husband. She added that they couldn't wait to share their special day with their family and friends.
Bryan indicated that there was so much planning for the wedding that it hadn't hit him weeks before the wedding. He was thinking that on the day of the wedding, they would have the time of their lives as they celebrated their love for each other with their loved ones.
Now that they are married, people are wondering when the babies will come. Rachel wants four children, but Bryan wants three. Bryan suggested to Rachel that they should have one first to see how that goes. Rachel didn't hesitate to respond. She said, "I still want four." She might get them just like she got the two wedding bands.