The Artist or the Art?
When scandal-plagued artists come under fire, should their work still matter?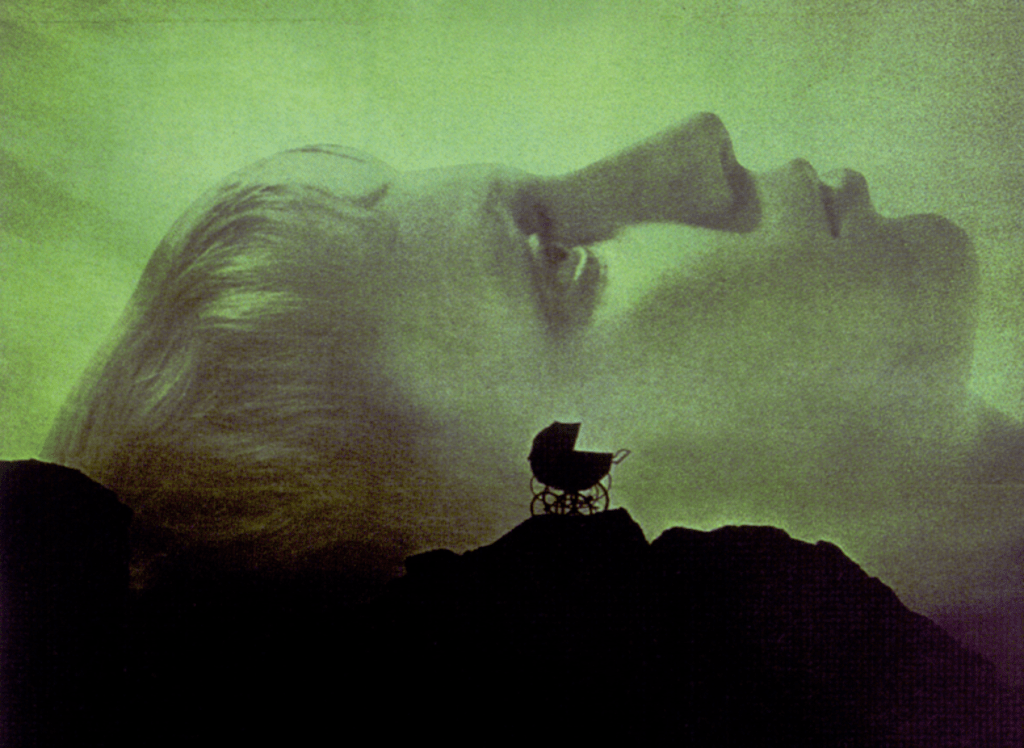 Poster art for Roman Polanski's "Rosemary's Baby" (1968)
In 1977, 44-year-old director Roman Polanski was accused of raping a 13-year-old girl. The charges included rape by use of drugs, perversion, sodomy, lewd and lascivious act upon a child under 14, and furnishing a controlled substance to a minor. Polanski pled "not guilty" to all charges, then later accepted a plea deal in exhange for a lesser charge. When he learned he was likely going to be imprisoned and face deportation, he fled to France the following February, where he has been ever since.
He continued his career, going on to receive multiple Oscar nominations and winning Best Director for "The Pianist" in 2003.
As he remains free in France, the industry that made him has continued to honor him … until, it appears, the era of #MeToo.
Woody Allen still makes movies, but he has become a veritable pariah to many, especially in the U.S. Rowan Farrow, his (alleged) son with ex-wife Mia Farrow, is long-estranged from Woody due to the director's relationship with Soon-Yi Previn, the adopted daughter of Mia and ex-husband Andre Previn.
Soon-Yi and Woody are said to have begun dating when Soon-Yi was a minor.
Many of Allen's films are considered cinematic classics, although today his career is being largely reassessed.
But isn't one's art separate from the artist?
Should it be?
After all, though he was not formally found "guilty," despite HBO's explosive "Finding Neverland" documentary on Michael Jackson and his alleged pedophilia, relatively few radio stations around the globe stopped playing his music.
Conversely, the World Fantasy Award dropped H.P. Lovecraft as their award image over an outcry from fans and fellow writers.
As for Bill Cosby? He made it to prison for his rape-related charges.
In response to Eddie Murphy's quip on his "SNL" return — "If you told me 30 years ago that I'd be this boring stay-at-home housedad and Bill Cosby would be in jail, even I woulda took that bet." Then, imitating Cosby, he added, "Who is America's dad now?" — Bill Cosby's publicist responded on Instagram:
https://www.google.com/amp/s/m.huffpost.com/us/entry/us_5e001be8e4b0843d35fdedea/amp
In fairness, Cosby was found guilty of his charges. But in general, what does all this say about the artist? What does it say about purveyors of the artist's efforts?
To me, it says this entire controversy is incredibly inconsistent.
***
I recently posted the following on Facebook: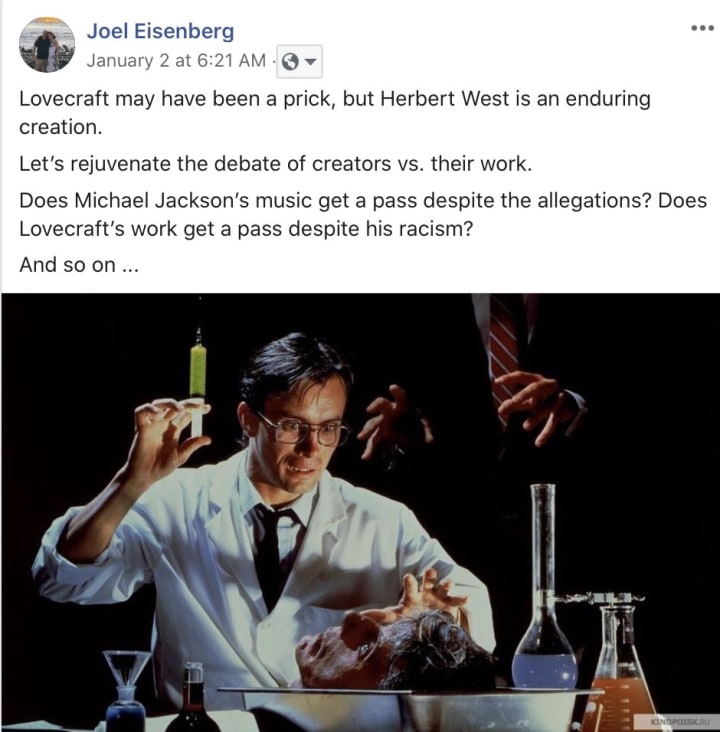 The responses came quickly:
This is a difficult question, but I think there is a difference between a poor writer who didn't actually hurt anyone, and someone who did hurt people.
Lovecraft was scared of anyone that wasn't like him. He also wrote about inbred hill people ("The Lurking Fear") and degenerate Europeans ("The Rats in the Walls"). Plus he was kinda crazy.
What I've noticed is people give a pass to art that speaks to them. I let go of Michael Jackson and Woody Allen pretty easily, but I still hold onto the work of Chuck Berry, Mel Gibson, Frank Miller, and Polanski.
I see a difference between someone with repugnant attitudes and words, and someone who did actual harm to people.
Very, very few people in this world are as simple as Good and Evil. A normally good person can have horrible thoughts and actions … and a person with reprehensible ideas about race and sex can stop and help a child crying on the side of the road.
Would you read the work of a morally disagreeable artist if he was still alive … or is it easier to have these kinds of philosophical debates after the artist is dead?
People still read the works of Machievelli, de Sade, and Nietzche, enjoy the art of Gauguin, and there are all these operas by some Wagner guy …
I love Woody Allen's films and books but don't care to hear anything about his personal life.
To me, H.P. Lovecraft was of a time when racist ideology was not only accepted, but was a common belief.
As you continue to read some of these comments, consider that we all have skeletons in our closets. If your consumers knew some of your more questionable secrets, would you be in the same position as some of the artists heretofore mentioned?
To further responses …
"Pretty Young Thing" by Michael Jackson. I can't listen to it.
The reason "Huckleberry Finn" makes people uneasy today is it is not science fiction. Mark Twain was writing unflinchingly about the society he knew and had grown up in. He wrote in the language of that society and the perspective of its people.
I'm not going to hate Polanski because of something the director once did.
Great art often comes from horrible people. If you subject the history of art to purity tests based upon the lives of that art's creators, you might as well burn down every archive and museum and consign the entire history of human creativity to oblivion.
There is no pedophilia in Michael Jackson's work, whereas Lovecraft's work is full of racism.
How about Lewis Carrol or Poe, both pedophiles? Dickens, a spousal abuser? Richard Wagner, Roald Dahl (and several others too well known to even mention) … rabid anti-Semites?
I see another FB thread in which Isaac Asimov's lifelong tendency to grope women is being called out in the midst of others celebrating what would have been his 100th birthday this month. Must be something in the 2020 air.
Deeper question is whether some creators would be as good 'without' their issues. Lovecraft's xenophobia informs and adds power to the themes of his work, even when it's not explicitly aimed at real races or peoples.
It all comes down to this: Is their work advocating their problem?
In fairness, this post was largely written by my Facebook friends with their above talkback. I've felt this subject matter was well worth exploring, however, and so I've taken these verbatim comments and incorporated them herein.
I wanted to list some real-time perspectives … but I also would like to hear from you. Let me know your thoughts as to this subject. Should art stand alone, or should art be ignored if the artist is ridden by scandal?
Feel free to drop me an email at [email protected]
Thank you for reading.
If you have found this article of value, feel free to recommend, share and follow me here on Vocal, where I publish stories daily on a variety of topics.