The 10th Kingdom
TV miniseries or one very long movie?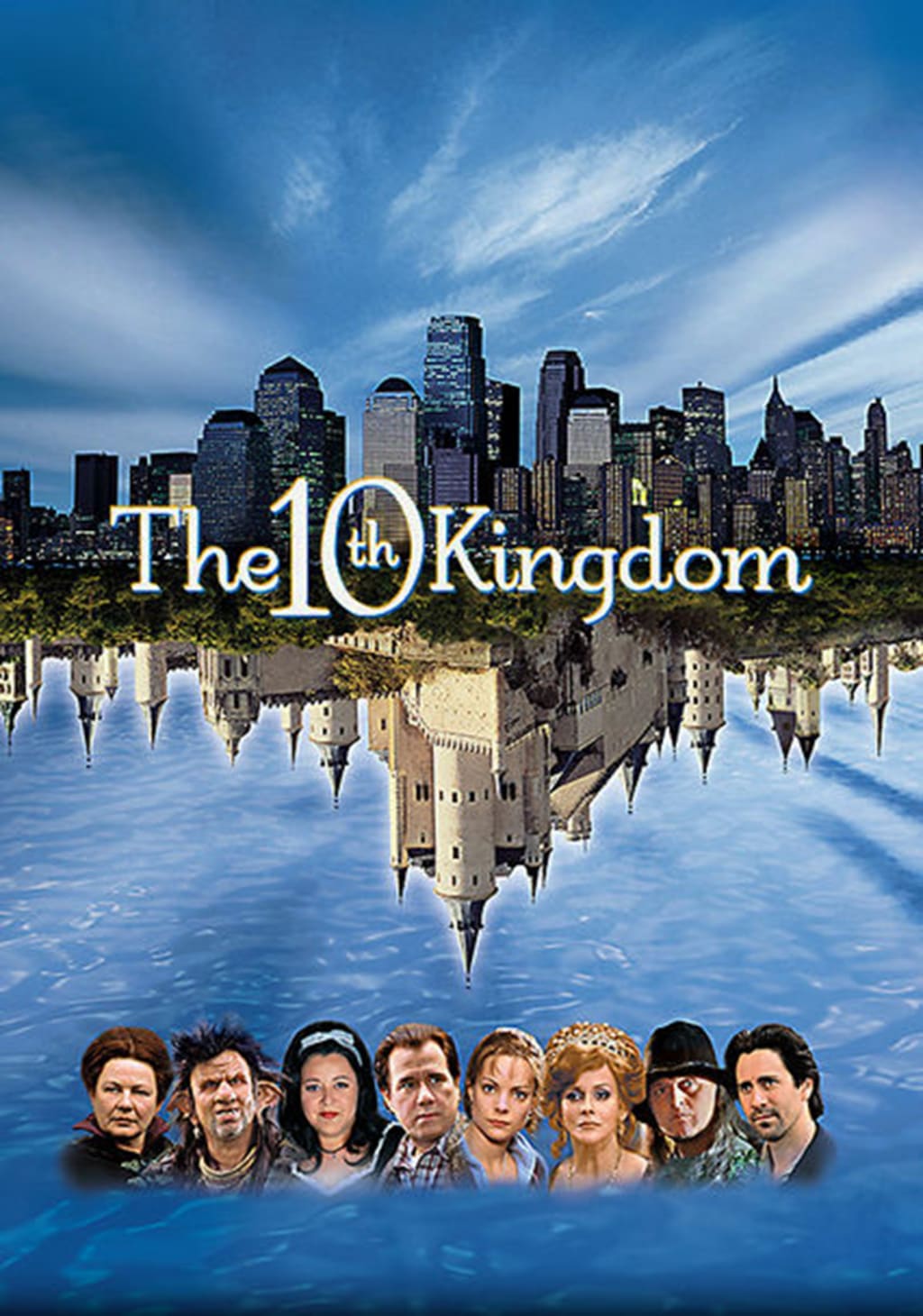 My guilty bingeing habit is definitely The 10th Kingdom. I say "guilty" not because I am ashamed of the content of the show; rather, I feel guilty for how I choose to watch it. The 10th Kingdom was a five-episode miniseries that aired in 2000. I never saw the show when it aired live, but when it released on VHS, my family rented it (back when both VHS tapes and renting videos in an actual store were popular.) We hadn't planned on it being six hours long and certainly hadn't planned on watching for more than two hours, tops, but we became so enthralled in the story, the phenomenal cast of characters, and the imagery that we watched over half the movie in one night. Since my first viewing of The 10th Kingdom, I have added the movie to my own personal library, first as a VHS, then as a DVD, and currently in digital format. When I watch The 10th Kingdom now, I tend to watch the entire seven hours' extended version in one sitting. If you're a fan of fantasy and have seven spare hours (either consecutively or over several days if you're not the binge-watching type), then I suggest you check out The 10th Kingdom for yourself.
The Story
The 10th Kingdom is a modern twist on popular fairytales. Virginia Lewis (Kimberly Williams-Paisley) and her father, Tony (John Larroquette), find themselves entering a magic mirror that leads them from Central Park into the Nine Kingdoms. These kingdoms are the vast lands that were once ruled by Snow White, Rapunzel, Cinderella (who is still alive and over 100 years old), and all the other Great Ladies of history. Virginia and Tony are being led by a dog who is actually Prince Wendell trapped in a dog's body after his evil stepmother, the Queen (Dianne Wiest), cast a spell on him. They are also later accompanied by Wolf (Scott Cohen), a character with whom Virginia did not have a good first encounter (spoiler alert: he tried to eat her grandmother!) This series/movie has everything a fantasy fan dreams of--magic mirrors, burly trolls, mischievous fairies, a big bad wolf (who isn't so big and bad after all), a singing ring, a scary Huntsman, and of course an evil stepmother!
Cast of Characters
The actors and actresses in The Tenth Kingdom are what truly make the movie spectacular. Kimberly Williams-Paisley was the perfect choice for the young woman who feels lost in her own world, who is intelligent and a natural leader, and who is faithfully devoted to those she loves. John Larroquette plays the hopeful buffoon who, despite his well intentions, continuously finds ways to make things harder for the group. His grandiose plans and get-rich schemes always backfire, but they are at the epicenter of the comedic moments of this movie. Daniel Lapaine plays both the voice of the dog, Prince, as well as the role of the dog who is now trapped in Prince Wendell's body. He fulfills both roles with perfection and is a character you can't help but root for. The 10th Kingdom hosts a large cast of phenomenal actors, from Dianne Wiest as the evil Queen, Ed O'Neill as Relish the troll, Ann-Margret's appearance as Cinderella, Warwick Davis (the main character in the movie Willow) as Acorn the dwarf, and many, many more fantastic actors/actresses. Of all the characters that play a central role in this movie, however, by far the most multifaceted is Scott Cohen in his role as Wolf. He goes from a big, bad wolf, to a softhearted sweetie in the blink of an eye. The battle he fights within himself between the "bad wolf" society labeled him and the loyal, loving wolf he wants to be is one of the best character developments I have ever seen in a movie. Whether he's tying up Grandma for a midday meal, confessing his undying love to Virginia, going through his monthly transformation, facing possible death after being accused of the murder of Sally Bo Peep, or making both drastic mistakes and huge sacrifices, Scott Cohen perfectly personifies the character of Wolf.
How to Watch
If you are someone who enjoys modern twists on fairy tales (i.e., Grimm, Once Upon a Time, Enchanted) then I suggest you watch The Tenth Kingdom. I believe it is currently available to stream on Amazon Prime and Pluto TV. The seven hours go by quickly, as every minute is filled to the brim with excitement and plot twists. The ending is both satisfying and open to the possibility of a sequel (as of yet, 21 years later, rumors of a sequel remain just that--unverified rumors). Find a comfortable spot to hunker down for quite a few hours, have plenty of yummy snacks, and be prepared for a storyline, cast of characters, and graphic imagery that will take you on an epic fantasy adventure.
About the Creator
Malia is a stay-at-home mom with a passion for writing. Her novel, Saving Eve, and her children's book, The Christmas Spirit, are both available on Amazon. She enjoys writing in a variety of genres and sharing her imagination with others.
Reader insights
Be the first to share your insights about this piece.
Add your insights