The 10 Most Memorable '90 Day Fiancé' Couples
We saw some of them walk down the aisle, but which couples left the biggest impact on us?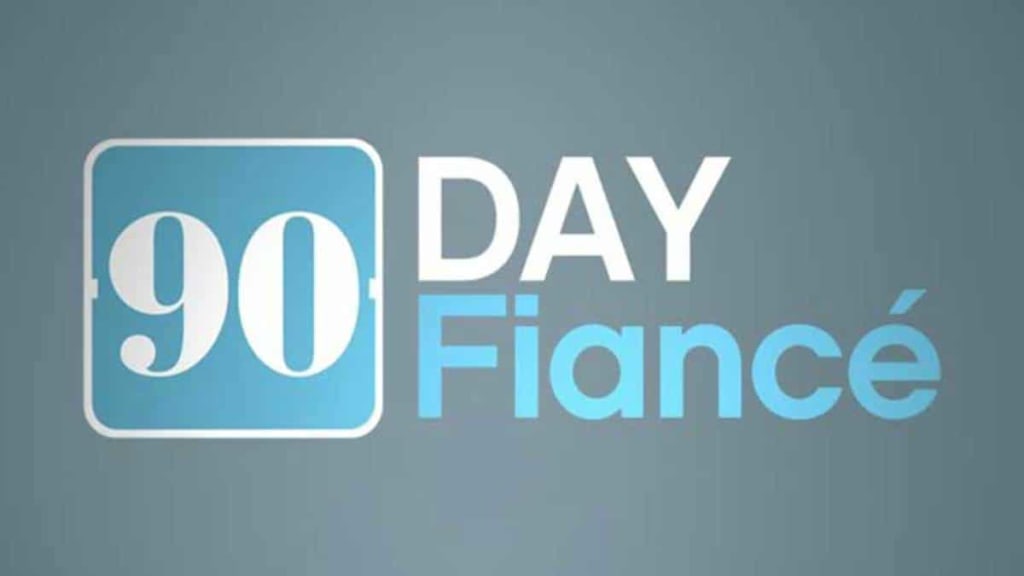 '90 Day Fiancé' [TLC]
First airing in 2014, TLC Network's 90 Day Fiancé has captivated audiences with its portrayal of what happens when an American falls in love with a foreigner - often to someone they've seen in person for 10 days or less. The concept of the show is a simple one, but the events that manifest within the relationships is what has kept viewers coming back season after season.
Many couples and come and gone throughout the show's duration, but very few have "struck gold" with fans. Especially now that 90 Day Fiancé has several spin-offs, finding memorable couples is important for the duration of the show itself and for the fanbase. I know for me personally, there have been a lot of couples who were hit or miss, but even with the good and bad it's fun to focus on what makes certain couples so memorable.
With this list, let's take a look at the 10 most memorable couples from 90 Day Fiancé. Who are your favorites?
10. David & Annie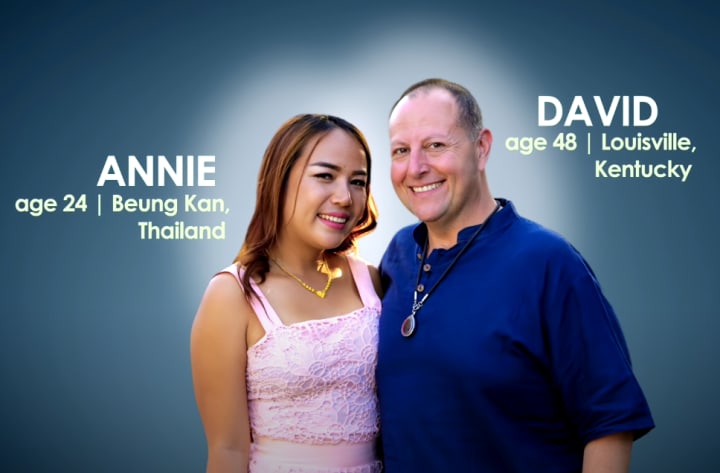 After losing everything in a divorce, David jetted off to Thailand to try and forge a new life. While visiting a karaoke bar, he met Annie - a Thai woman half his age. The then 48-year old applied for a K-1 Visa and came to the United States with his soon-to-be bride. That is, after he borrowed money and favors from his friend, Chris, including money to pay Annie's dowry. The pair eventually landed back in his native state of Kentucky where they navigated marriage without the help of Chris.
According to Google, David and Annie have left Kentucky and are living in Arizona. And, yes, they are still married! Their storyline is one of the most memorable due to David's financial struggles, his unforgettable daughter, buying water buffalo, fights, his son being shot in the face, and much more.
9. Loren & Alexei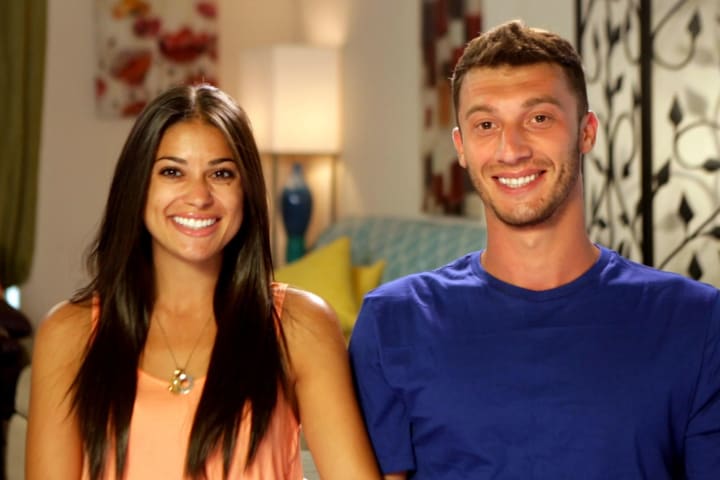 Loren and Alexei are one of those couples that are so perfect for each other it's kind of hard to watch. While on a Jewish birthright trip to Israel, Loren met Alexei while he was working as a medic with her tour group. Despite being denied for a K-1 Visa three times, the couple kept trying until Alexei could come to the United States. The couple had their ups and downs including adjusting to living with her parents, mistrust over bachelor and bachelorette parties, and Alexei struggling to adjust to life in the US without his family.
Despite the struggles and cultural differences, Loren and Alexei have remained married with two sons, Shai and Asher. They've continued to share their story on the TLC Network and have publicly shared health struggles including Loren living with Tourette's Syndrome, pregnancy, and Alexei's fight against COVID-19. The couple has gone through a lot, but their perseverance just makes us want to say "mazel tov!"
8. Jorge & Anfisa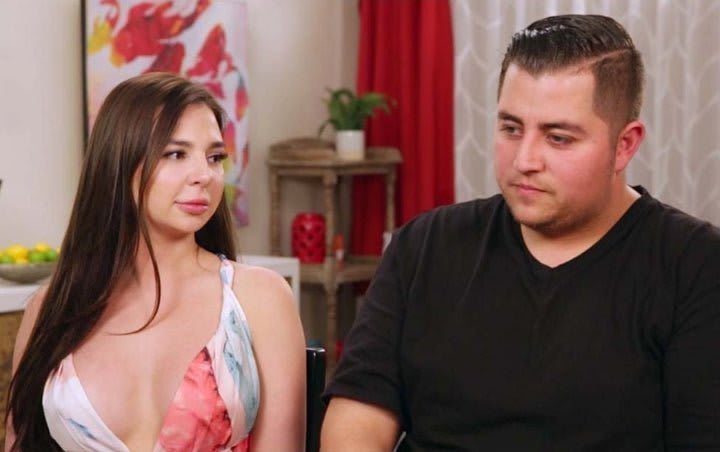 TLC owes a lot of thanks to Jorge and Anfisa for engaging fans in one of the most explosive and terrifying relationships to ever appear on 90 Day Fiancé. When Jorge proposed to his Russian girlfriend, he wasn't completely honest about his situation. Anfisa admitted several times that she was with Jorge primarily because she was led to believe he was incredibly wealthy. When the truth came out that Jorge was in debt and his businesses were failing, Anfisa was less than thrilled and continued to demand expensive, material items. But despite every possible red flag, including trying to go back to Russia, it seemed like they were a match made in heaven. Jorge got a beautiful foreign wife, and Anfisa got an American man willing to put up with her abusive behavior.
The couple separated shortly after their wedding and Anfisa officially filed for divorce in 2020 amidst Jorge's release from prison. That's right, Jorge was sent to prison in 2018 for marijuana possession. Anfisa has moved on and is currently in a new relationship, and it appears that Jorge has moved on too. Since his release from prison, Jorge has found a new relationship and became a father to a baby girl.
7. Kyle & Noon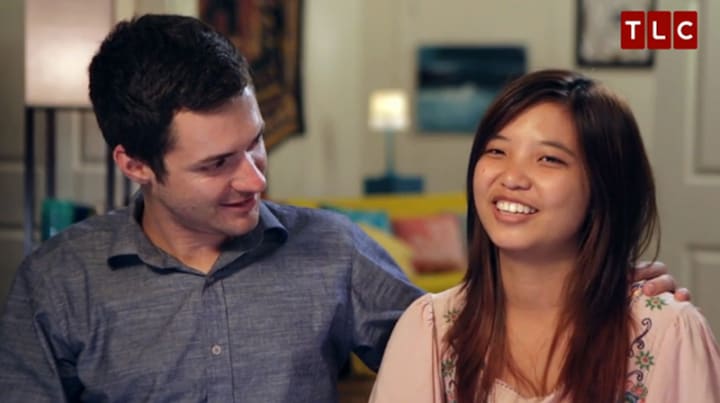 Can we all say couple goals?
Kyle and Noon is perhaps the biggest 90 Day Fiancé success story, and arguably one of the most in love, supportive couples to ever appear on the show. While working as a bartender in New Orleans, Kyle took a trip to Thailand where he met his future wife, Noon. After the K-1 process, Kyle showed his full commitment to his wife as he left New Orleans for Portland to help her acclimate to the United States around a bigger Thai community. The couple even briefly moved to Thailand so she could be with her sick father. Their compromise to do a short enough trip so Noon could keep her green card shows just how much they were willing to sacrifice and compromise for each other.
The couple didn't remain on the TLC Network past one season of 90 Day Fiancé: Happily Ever After? but they have remained active (and adorable) on social media. They have remained in Oregon and appear to be living a low-key, active life together.
6. Mohamed & Danielle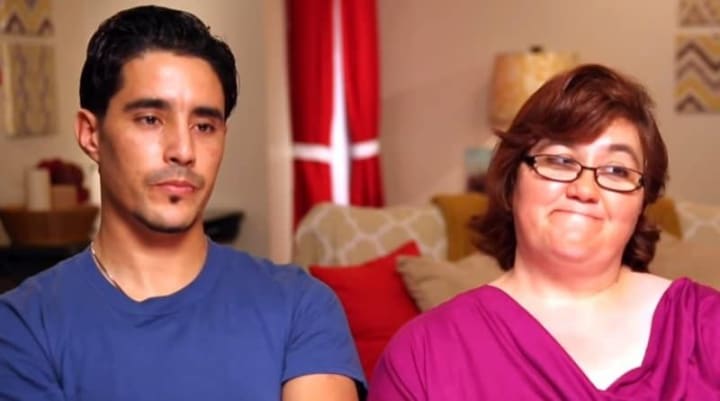 Mohamed and Danielle is arguably the most loveless marriages in the history of 90 Day Fiancé. When Mohamed came to Ohio all the way from Tunisia to marry then 42-year old Danielle, he was immediately met with the bucket of lies that she fed him. A criminal record including fraud and assault was supposedly not on Mohamed's radar when he came on his K-1 Visa, nor was it something that he wanted to deal with.
Almost immediately after the couple married, they separated and went through a very ugly process - including an attempted annulment. Danielle was unable to prove enough to gain an annulment and they divorced in 2016. However, she sued Mohamed in 2017 in on the grounds of fraud and tried (once again) to get him deported back to Tunisia. According to Instagram, Mohamed is still in the United States and working as a truck driver. Danielle insists that they are in communication and are working on being friends.
5. Russ & Paola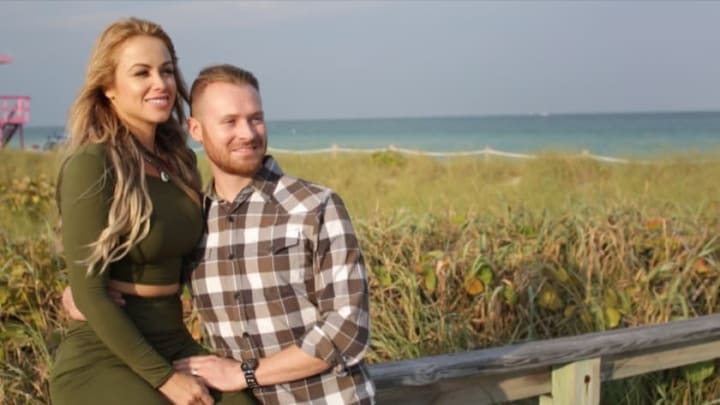 Russ and Paola is one of the original couples that kicked off the 90 Day Fiancé ride back in season 1, and they continued to appear on the show in 90 Day Fiancé: Happily Ever After? Russ met his wife when he was an oil & gas engineer working in Columbia, and quickly began the K-1 process when he moved back to the United States. Paola came and lived in Oklahoma City with her new husband, only to face severe culture shock at the conservative, less than desirable area her husband loved.
Paola showcased how headstrong she was when she left Oklahoma alone to pursue a modeling career in Florida. Russ followed his wife and despite his conservative upbringing, he tried to support his wife and her chosen career path. Even with the ups and downs with cultural differences of their relationship, Russ and Paola are still married today! They have even started a family and have an adorable son named Axel.
4. Josh & Aleksandra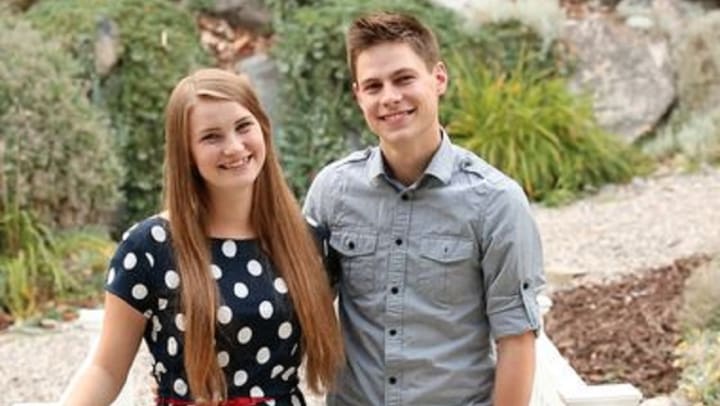 We were introduced to Josh and Aleksandra back in season 3 after the couple met during Josh's mission to the Czech Republic. Josh met the Russian native while serving as a Mormon missionary and quickly began the K-1 Visa process after his service was finished. Josh brought a culture-shocked Aleksandra to his rather large family in the small Mormon town of Rexburg, Idaho.
The couple struggled initially due to Josh's family struggling to accept Aleksandra's past as a partygoer, but the family and their new daughter-in-law came together and it was honestly a cute story to follow. However controversy didn't stay away from the couple as internet rumors surrounded their second child. Fans insist that the baby was not her husband's due to the fact that the child appears to be of mixed race. Despite the rumors, the couple remains married and they even briefly moved to Australia so he could attend medical school. Aleksandra is also a college graduate as she shared she earned with a degree from Brigham Young University in 2020.
3. Colt & Larissa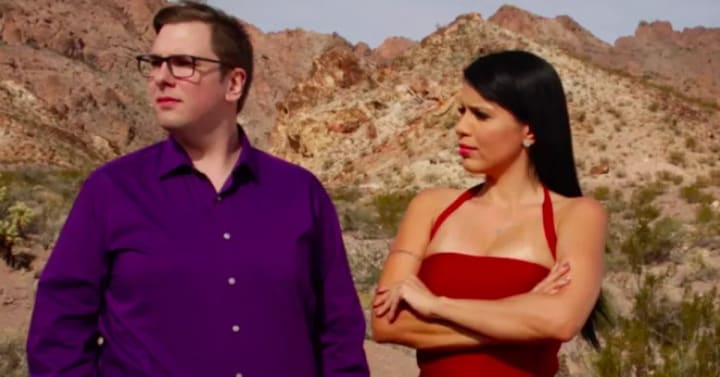 Since appearing on season 6 of 90 Day Fiancé, Colt and Larissa quickly became fan favorites with their memorable fights and quotable commentary. The pair was married for just 6 months after Colt brought Larissa to Las Vegas all the way from Brazil. They also appeared on three seasons of 90 Day Fiancé: Happily Ever After? where we witnessed the course of domestic abuse charges, as well as the uncomfortable meddling from Colt's mother. We loved the drama, but we didn't love how toxic they were for each other.
2. Chantel & Pedro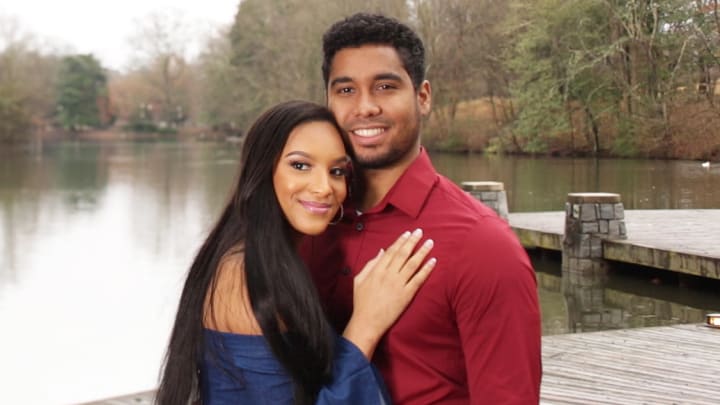 Chantel and Pedro is one of the most explosive of the show's history, and it's mostly due to Pedro's relationship with his wife's family. The relationship started with a lie when Chantel brought Pedro to the United States from Pedro on a student visa so he could learn English. The truth came out just days before the 90 day limit of their K-1 Visa expired, and ever since then Chantel's family meddled in the relationship and came up with multiple theories as to why Pedro married their daughter. These theories include voodoo curses, Pedro's mother setting the pair up so he could send money and items to the Dominican Republic, and just so Pedro could obtain a green card.
Despite the family drama and fights, Chantel and Pedro managed to marry in the United States and renew their vows in the Dominican Republic. As of 2022, the couple appears to still married and have remained in Georgia. Fans were so mesmerized by the storyline of Chantel and Pedro's relationship that TLC even gave them their own spin-off, The Family Chantel.
1. Nicole & Azan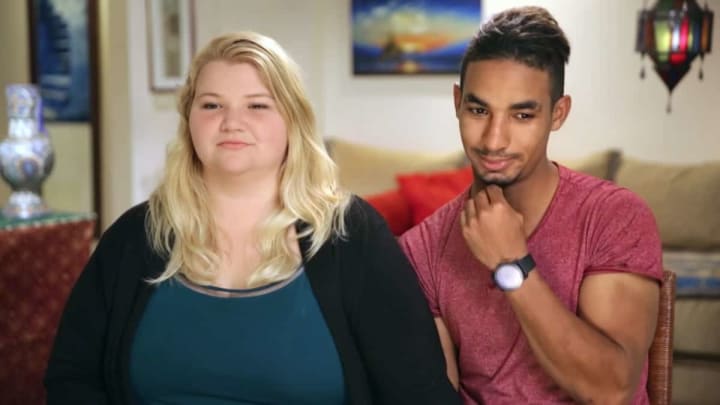 Almost every couple was featured on 90 Day Fiancé once, but Nicole and Azan managed to appear on two seasons of the show, as well as multiple seasons of 90 Day Fiancé: Happily Ever After? Why did they appear on two seasons? Because despite their engagement, Azan never actually came to the United States.
When Nicole and Azan Tefou (aka, Hassan M'Raouni) first appeared on the show, Nicole was about to travel alone to Morocco to meet her online boyfriend for the first time. During Nicole's multiple trips to Morocco, including one with her then 3-year old daughter, viewers witnessed verbal and physical fights, accusations and fallout of infidelity, and a refused K-1 Visa application. What didn't help was Nicole's consistent refusal to respect or accept Azan's Moroccan culture, as well as his Muslim faith.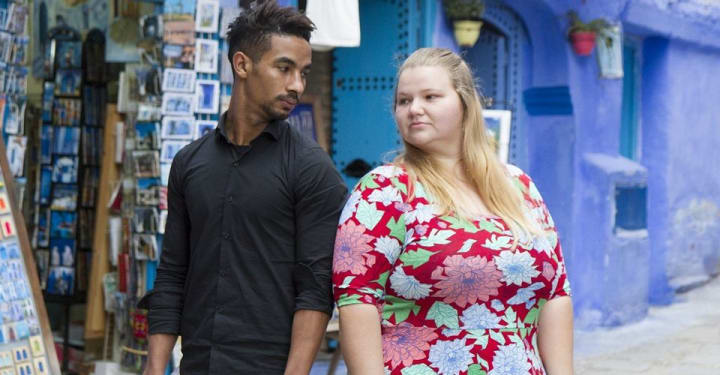 Internet rumors plagued the relationship throughout their duration on the TLC Network. Rumors surfaced that Azan's visa was denied because of a previous relationship he had with a woman from Belarus, along with rumors that he was already married in Morocco when he met Nicole. There was also a lot of people questioning why Nicole sent him so much money, especially after she admitted that he was working in Morocco. Nicole was even stranded in Morocco with Azan at the beginning of the COVID-19 pandemic in 2020 due to travel restrictions. Whatever happened between the pair during quarantine must have been the nail in the coffin as Nicole confirmed via social media that she and Azan had officially split in 2021.
Nicole and Azan remain to be one of the most incompatible couples in the show's history and the couple received criticism even from fellow cast members about making the K-1 Visa process look like a joke. After the split, Nicole has remained in Florida and is trying to launch an online career as a Twitch streamer. Azan remains in Morocco and is an aspiring fitness model.
Honorable Mention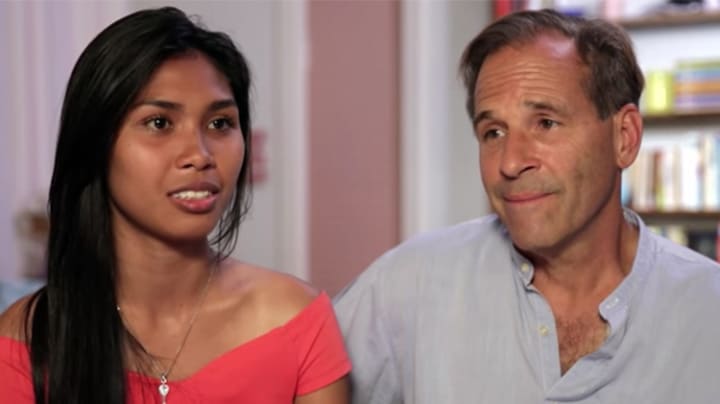 Mark and Nikki appeared on the show back in season 3 and is easily the most creepy of all. When Mark, and then 58-year old man, married a 19-year old from the Philippines, a lot of people were put off by the age difference - including the fact that his daughter was just a year older than his fiancé. What made it worse was the fact that Mark treated Nikki like one of his children and constantly compared her to his ex-wife. His ex was also a young Filipino woman whom he married via the K-1 Visa process. The comparisons didn't end with native country and age, but also with him gifting her the same things he gifted to his ex and giving her his daughter's clothes to wear. Oh, we also can't forget about him forcing her to sign a prenup against legal advice.
There is no confirmation of whether Mark and Nikki are still married, or even if they're still living or in the United States. Nikki's social media has been dormant since 2013 and there have been no updates about the couple since their appearance on the show. This has led to many internet rumors that Nikki is in some sort of trouble, or that Mark has done something to his young wife. All I can say is hopefully things are not as sinister as they seem and Nikki is okay.
tv
About the author
I love movies, music, sci-fi, and art. I'm a certified graphic designer and create my own art. Things that fuel me include equality, respect, and anything weird.