The 10 Most Important Topics Covered By 'Sesame Street'
The show teaches important lessons.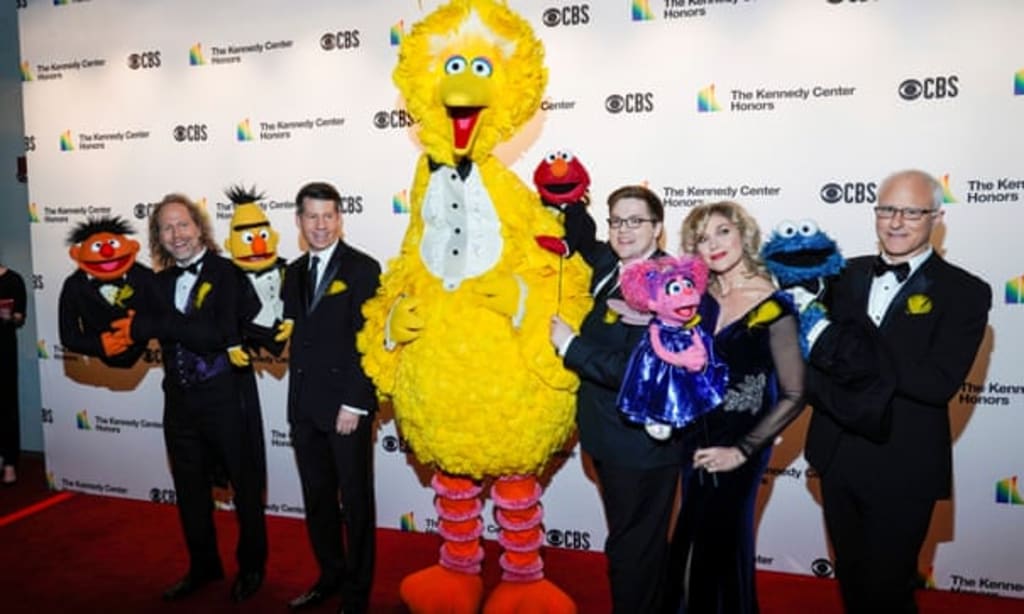 The 'Sesame Street' Muppets and their puppeteers.
It's been a big couple of weeks for classic kids TV show Sesame Street. Days after the death of Caroll Spinney, the man who puppeteered Big Bird for most of the show's fifty-year history, Sesame Street became the first TV show to receive Kennedy Centre Honours.
It's not hard to see why this decision was made. Over the years, Sesame Street has expertly tackled many topics that other children's shows deemed too dark or too difficult to touch.
Here are some of those topics.
1. Divorce
Sesame Street has actually tried discussing the topic of divorce twice. The first attempt used the family of Mr. Snuffleupagus, following Snuffy and his sister Alice through the process of their parents divorce. While the episode was produced, it left children in the test audience confused and distressed, so it was ultimately scrapped.
The show didn't tackle divorce again until much later, this time with the family of Abby Cadabby. This time, rather than taking characters through the divorce as it happened, the divorce of Abby's parents is portrayed as having already happened. Abby explains that although she was sad at the time, she eventually got used to the changes, and knows both of her parents still love her.
Later, Abby's situation was used to introduce the topic of blended families, with the introduction of her Stepfather, Freddy, and Stepbrother, Rudy.
2. Parents in Prison
In a 2013 video released as part of it's Little Children, Big Challenges initiative, Sesame Street dealt with the topic of incarceration, particularly children with incarcerated parents.
The video introduces a new Muppet, Alex, whose Father is in prison. Abby, Rosita, and a new human friend, Sofia, reassuring Alex that he is not alone. The video also includes clips of real life children with jailed parents discussing their feelings on the situation.
3. HIV
In 2002, new character Kami made headlines around the world when she was introduced as the first HIV positive Muppet. Kami is a regular character on Takalani Sesame, the South African version of Sesame Street, where she is used to teach accurate information about HIV to children.
Kami has been brought over to the U.S for multiple events, and has met important personalities such as Bill Clinton, Oprah Winfrey, Desmond Tutu and Laura Bush. In 2003, she was named a UNICEF Champion for Children.
4. Children in Foster Care
In 2019, Sesame Street introduced Elmo's new friend, Karli, in a series of Youtube Videos in the 'Sesame Street in Communities' series. Karli is in the care of Foster Parents, or 'For Now' parents, Clem and Dalia. It is explained that Clem and Dalia are looking after Karli 'for now', as her Mother is having problems.
In a later video, Karli, back in the care of her Mother, is being babysat by Chris while her Mother attends a meeting with others who share her problem. While the 'problem' is never specifically stated, it is heavily implied to be some form of substance abuse. The show has been praised for its sensitive, age appropriate depiction of the topic.
5. Homelessness
In 2018, the show tackled the subject of homelessness. A Muppet named Lily, and her family, have lost their apartment, forcing them to stay with Sofia (the same human friend from the 'Incarceration' video).
A series of videos follows Lily through the stages of being homeless, and her feelings about the situation, with her friends helping and supporting her along the way.
6. Parents in the Military
In 2006, Sesame Street began producing Talk, Listen, Connect, a series of resource videos for Military families.
In the videos, Elmo's Father, Louie, is deployed on Military work. This is explained to Elmo as Louie being away helping people. The videos then move through creating strategies to help children cope while their parent is away, as well as what to expect when they return from deployment.
7. Disability or Permanent injury
The Talk, Listen, Connect series also featured a video on how to help children when a parent is seriously injured.
Rosita's Father, Ricardo, returns from his own military service in a wheelchair. Rosita struggles with the change, missing the days when Ricardo could more easily dance and play with her. Ricardo reassures Rosita that they can find new ways to have fun together, before taking her for a ride on the back of his wheelchair. In later videos, Rosita is shown to have decorated the back of her Father's chair with her drawings, having accepted the new reality.
8. Respecting Emergency Services
While Sesame Street's writers knew they couldn't address the events of 9/11 directly, they decided to subtly discuss the situation through an episode dealing with children's fears.
In the episode, an old fryer catches fire in Hooper's store while Elmo is having lunch with Maria. Maria quickly ushers Elmo out of the store, but he is left traumatised by the experience, afraid of the firefighters and reluctant to return to Hooper's Store. Wanting to help Elmo, one of the firefighters invites him to visit the Firehouse to conquer his fear.
Some of the firefighters featured in the episode were real life 9/11 responders.
9. Autism
In 2015, as part of their new Sesame Street and Autism: See Amazing In All Children initiative, the show introduced Julia, a Muppet with Autism. The character was created by Leslie Kimmelman, who based the character both on her experiences with her own daughter, and research from the autism community.
The show is careful to explain that Julia's experience is not the same as all people with autism. They use phrases like, 'For Julia, Autism is..' or sometimes explaining her habits as 'She just does things in a Julia sort of way'.
In 2018, Julia appeared with the rest of the Sesame Street cast on their float for the Macy's Thanksgiving Day Parade. She wore noise-cancelling headphones so that the loud cheering would not upset her.
10. Death & Grief
After Will Lee, the actor who played the beloved Mr. Hooper, passed away, Sesame Street tackled the difficult subject of explaining death to children. The adults of the street must explain to Big Bird that Mr. Hooper died, and that he cannot come back. While being respectful of Big Bird's feelings, the grown-ups do not sugarcoat the situation.
Sesame Street revisited this subject in the TV special When Families Grieve, this time using the death of Elmo's Uncle Jack. The special delved deeper into the feelings of grief children may experience after a loved one's passing.
Sesame Street continues to teach vital lessons to the children who watch it. It remains as important now as it was when it began just over 50 years ago. Let's hope it keeps teaching for many more years to come.
tv
Passionate About all things Entertainment!
Receive stories by Kristy Anderson in

your feed