Success of the Snyder Cut
why this 4-hour gift to the fans made a difference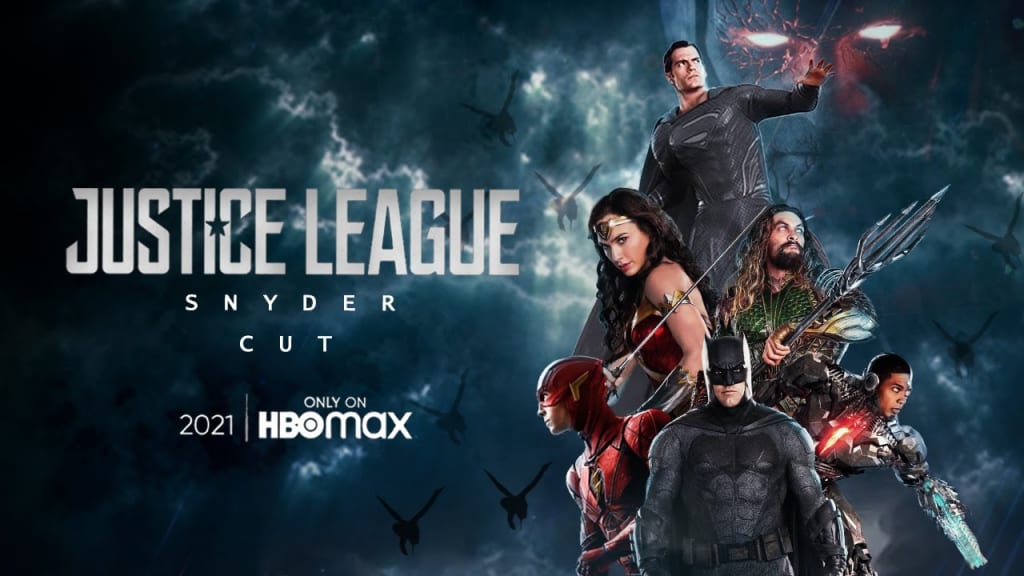 Finally
Fans who waited four years for the Snyder cut of Justice League are finally appeased, and it was well worth the wait. It is thanks to DC fans at all that we ever got Zack Snyder's full vision for this film. In truth, his full vision for the Justice League will never be realized, since it began with Man of Steel and planned to include multiple films in its full telling of the threat of Darkseid and Apokolips. And unfortunately, between Snyder being blocked at turn after turn, and the ranging issues of Warner Brothers and Joss Whedon allegations and Amber Heard, as well as Cavill's and Affleck's departure, it's just simply never going to happen. And it's a shame, even though it's not a surprise, and it's just one more reason why DC live films have so much trouble. (Do yourself a favor and just dive into the DC Animated films if you haven't already.) And do yourself another favor by not reading further if you don't want spoilers.
Still, I'm going to take what I can get. And this 4-hour love project for the fans was everything I needed in the prevailing catastrophe that is the year 2021. As so many reviews have stated, it is a completely different film.
Now don't get me wrong. There were still issues and still things that weren't really corrected from the theatrical cut. Issues with CGI style and the e-x-c-e-s-s-i-v-e slow motion frames definitely remained. And there were some questionable story arc moments, as in when Victor Stone is injured enough to become Cyborg as a result of a car crash—instead of the direct interaction with the Motherbox technology itself in a lab accident while confronting his father. And as in when Barry Allen takes a micro-second opportunity to male gaze at Iris West and touch her hair, before maneuvering her out of the car crash. There was also that really weird and awkward ballad to Aquaman that women in the fishing town begin singing while Bruce is still standing there. And some of the song choices themselves were a bit out of place, to say the least. In my opinion, the one that still best fits the theme was Sigrid's "Everybody Knows" from the theatrical cut.
But while we're on music, can we talk about that amazing vocal melody for the Amazons? I am in love with that and all that we got to see of Themyscira. For a good half hour, I forgot I was watching Justice League and fell into moments out of my favorite historical drama and fantasy war films. And it was all with women. As so many viewers said about the first Wonder Woman film, it took seeing that representation to realize how breathtaking and refreshing it was. And how needed.
As I watched these women fighting and honoring each other, as I watched their immediate and unquestioning sacrifice, and as I watched Queen Hippolyta's grief at such loss that Themyscira had not seen in millennia, it reinforced and reignited everything I'd fallen in love with the first time I saw them. I once again found myself wishing to be in a society like that, and texted a group of my girlfriends to ask them the status of our #MissionThemyscira trip plans.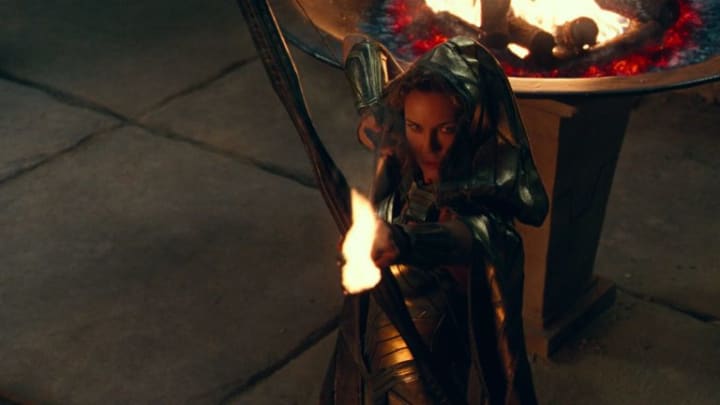 And even the culture itself of Themyscira was amazing to see again—to see other Amazons not fulfilling a combat role on the field, but still supporting and ensuring the survival of their society. And to see the architecture and the clothing that we didn't really get a chance to see in the theatrical Justice League cut was brilliant. Hippolyta's costumes were gorgeous in their design, including the dress we see her in for that brief moment once the Motherboxes are joined and she realizes it. I absolutely loved her older clothing style as Queen alongside General Antiope with her long hair outside its braid when they are in the first battle against Darkseid (not Steppenwolf, like the theatrical cut showed). The intricacies and details of the headpieces and armor were simply astounding. We saw them fight alongside Zeus, Ares, and Artemis in the battle, and that Ares--the one who nearly took off Darkseid's head--is the one we needed to see in Wonder Woman.
Our Justice League characters themselves also got so much more development. Diana's trip under the Greek temple to read the ruins about Darkseid was perfect. The set design and artwork for the murals really demonstrated the gravity of the story, and that image of Darkseid that Diana finally sees with the three joined Motherboxes absolutely did him justice in a way that the theatrical cut did not. Darkseid is the greatest threat the Justice League ever faced in terms of an invading force. And between his larger role himself, and his henchman DeSaad (far more threatening and horrifying than I've ever seen him depicted), and even Steppenwolf's armor development with the adjusting metal links, you could really see the magnitude of the threat they were.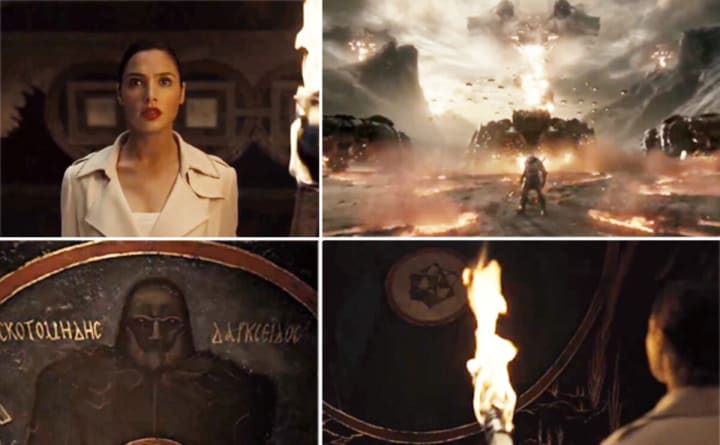 Snyder really understood the relationship with the horror-genre element that raised the bar from 0 to 10 compared to the theatrical cut. Even Steppenwolf himself got more storyline to show his desperation in uniting the Motherboxes and redeeming himself. To face him, this Diana is the true warrior we didn't quite get to see in Wonder Woman or WW84. This Diana decapitates Steppenwolf after Arthur runs him through with his trident. None of them are here to play. The R rating finally gives us the true effect of what they're up against. Watch the final scene below to see (you'll also hear that Themyscira vocal melody I mentioned):
Victor and Barry also got their much-needed character development, and it helped to round them out more as members of the team. (Though, if they'd had their own films before this, it wouldn't have been necessary.) Cyborg's abilities were finally demonstrated and put on scale to show how he can integrate with any form of cybernetic pathway in the universe. "I'm not broken, and I'm not alone," he says when the Motherboxes tempt him.
And we finally got to see Barry's abilities to bend the time continuum and the threat of the Flashpoint Paradox that occurs every time he does it. The massive face plant he takes in the final battle when he's shot and realizes he missed his chance was so important, in part because he was so eager to join the team and make a difference. And then he realizes what he has to do, and we really get a glimpse of his full power—he is faster than Superman, and it takes a need as great as theirs in that moment for him to have to break the time barrier. His unique abilities make him one of the most important members of the Justice League: "Make your own future. Make your own past. It's all right now."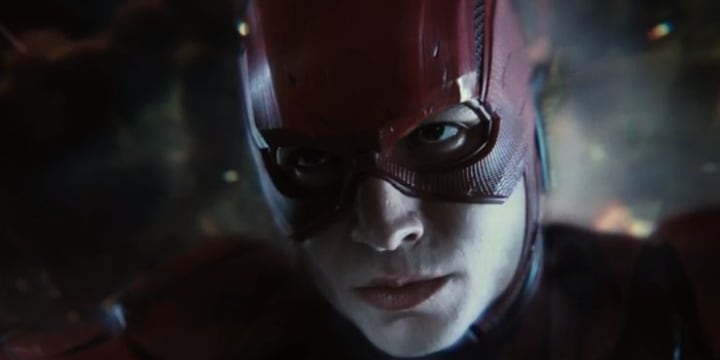 With Arthur, we have more of his hesitation to join Atlantis. Willem Defoe returns as Vulko (looking rather Merlin-ish with his long gray hair not in the manbun he sported in Aquaman) to warn him of what's coming. But it takes a team to convince him. We lose the confession he makes about being afraid when Diana secretly snags his ankle with the Lasso of Hestia, but he remains adamant that resurrecting Superman is a bad idea. When Victor loses his father in an attempt to put a tracer on the last Motherbox and give them a chance, it is Arthur who puts it into perspective, confronting Bruce that it's his fault Dr. Silas Stone is dead. True to a degree, but as if Bruce didn't need any more guilt.
But as we know, it works, and this time, we see Superman correctly returning in that black suit. It would have been interesting to see the longer hair and beard stubble approach as well…just merge Witcher Gerralt but with black hair. I like what I see.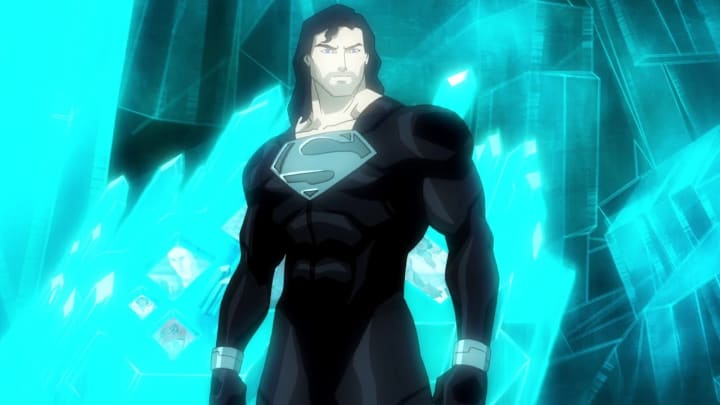 And speaking of team members/not team members, that final scene of the alternate reality corresponds with the one Victor saw just before Barry woke up the Motherbox to resurrect Superman. Diana dead on a flaming pyre with coins on her eyes as Hippolyta and the other captured Amazons look on. A broken Superman with Darkseid putting a creepy hand on his shoulder. The death of Lois Lane that Barry warned Bruce about in a Flashpoint moment during Batman v Superman. Those "Knightmare" scenes show a future of destruction, and incorporating Deathstroke and Joker truly show how much Batman has to handle in order to work with them.
The taunting of the Death in the Family murder of Jason Todd was right one the money (which I still want—talk about places the Batman storyline can and needs to go in: give me Nightwing, give me the Red Hood, give me all the Batchildren). It's just one of the many reminders that represents the dark codependent relationship the Batman and the Clown Prince of Crime truly have. "How many dead eyes can you look into before you die inside yourself?"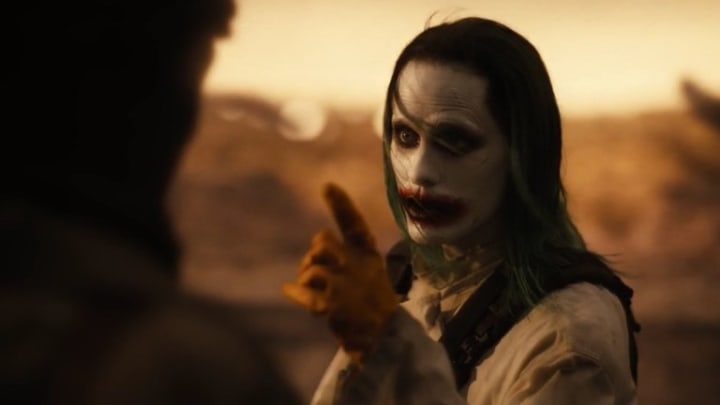 But as for treats, I am still reeling over the footage we got of J'onn Martian Manhunter! What a fan tribute to sneak him in, especially since we're not likely to see him again. But, if people make enough noise, who knows? They made #releasethesnydercut happen. In the end, they're the ones who are going to carry the DCEU forward.
DC fans care about these stories, and they're used to waiting. They're used to disappointment. But they're also used to the power and potential that comes from waiting. As long as fans continue to support these characters and these stories, we will continue seeing them come to life. Maybe not in the way we want. And certainly not in the way we need. But we'll take it. For now.

Bryana Fern
English major who never left college. Lover of Victorian novels, Ravenclaw, and Rivendell. Teaching applications at Hogwarts and Starfleet Academy still pending. Find me on Instagram @coffeenerd.writer and Twitter @bryanafern
See all posts by Bryana Fern →