Stage 284's 'Pippin'is a Magical Performance
Catch the magic of 'Pippin' at Stage 284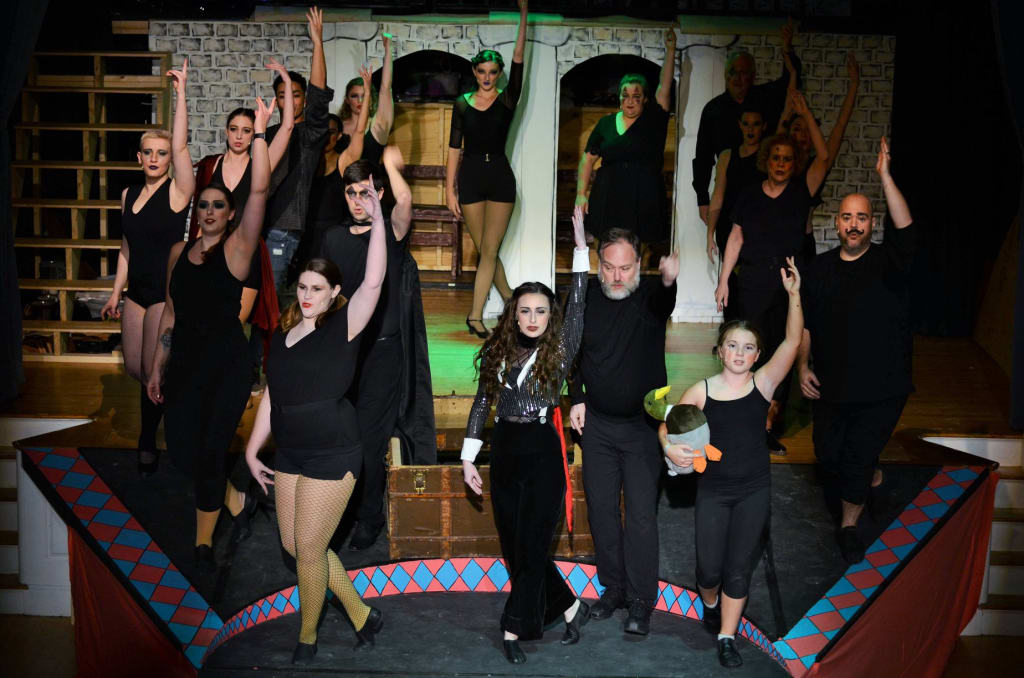 The cast of Stage 284's 'Pippin' Bring Magic to the Stage. Photo credits to Jessica Guest.
We've got magic to do just for you! Join Stage 284 for an incredible time.
Stage 284 presents Pippin. Pippin centers around the magical tale of traveling performers telling the story of a young man looking for his true calling. Pippin struggles to find fulfillment, to be recognized by his father, and wrapping himself in ordeals to find the true meaning of happiness.
The cast of Pippin's outstanding energy brought out a magical performance. I loved watching the ensemble hit the stage with their entertaining opening number 'We've Got Magic to Do'. I could feel the energy of the audience illuminating from excitement as actors roamed throughout the audience giving high-five's or playfully interacting with anyone.
Kendre Scott was terrific as Pippin. I was floored by his outstanding voice, willingness to take challenges and his eager charisma as he dramatically struggles to understand who he is. 'Corner of the Sky' was one of my favorite songs. Scott knew how to make audiences laugh with great comedic delivery and jumping about the stage.
There are a number of talented individuals who brought Pippin to its feet. Gina Ansaldi was absolutely astonishing as the Leading Player who introduces audiences to the story, singing her heart out, and having an incredible optimistic demeanor as she leads her fellow players.
I was also impressed by Hailey Cook as Fastrada who did a remarkable solo dance number. Jo Ann Kaplan was memorable as Pippin's snarky grandmother, Berthe in her number 'No Time at All.' And I adored performances by Alex Asacker and Ruby Poulo in their endearing (and witty) scenes. And be on the lookout for a cute surprise in the second act.
Stage 284's Pippin features many talented individuals. No part in the theater is ever small. The ensemble of Pippin stood out whether delivering a humorous line, playing a floating head (one of the funniest parts) or just having fun. Trust is important within an ensemble and it was conquered. Pippin is a show for all to showcase anyone's creativity. Everyone had the chance to explore their part, bringing out a thoughtful message.
Walking into the auditorium I immediately felt as if I were in a circus. The set is an incredible work of art filled with fun colors, and a stairway leading to an upper deck where many other fun scenes took place. The theater is all about creating a new world. So many creative props were used in the show. Well done to the technical crew for some great lighting effects, funny sounds, and an excellent orchestra.
Songs for Pippin were created by Stephen Schwartz. Other songs include 'Simple Joys', 'Spread a Little Sunshine', and 'Extraordinary.' I enjoyed listening to all the songs, but especially 'We've Got Magic to Do.' Pippin is a show where one can break the fourth wall, interacting with the audience, and bringing out an important message that if we feel lost, we are not alone.
Director Kathleen Tringale brought together an important moral about growing up, trusting yourself, and learning to live in the moment. Life can be hectic. In order to find our true calling, we have to be ourselves and do things that we like to do, instead of forcing ourselves down the wrong path. Tringale did a wonderful job and her hard work shines across the stage.
Catch the magic of Pippin at Stage 284. You don't want to miss out on this incredible show with a great cast. Be aware that there are some adult themes that may not be appropriate for young children. I had a fun time seeing Pippin and watching the magic unfold.