Sengi and Tembo #1
Scout Comics Scoot!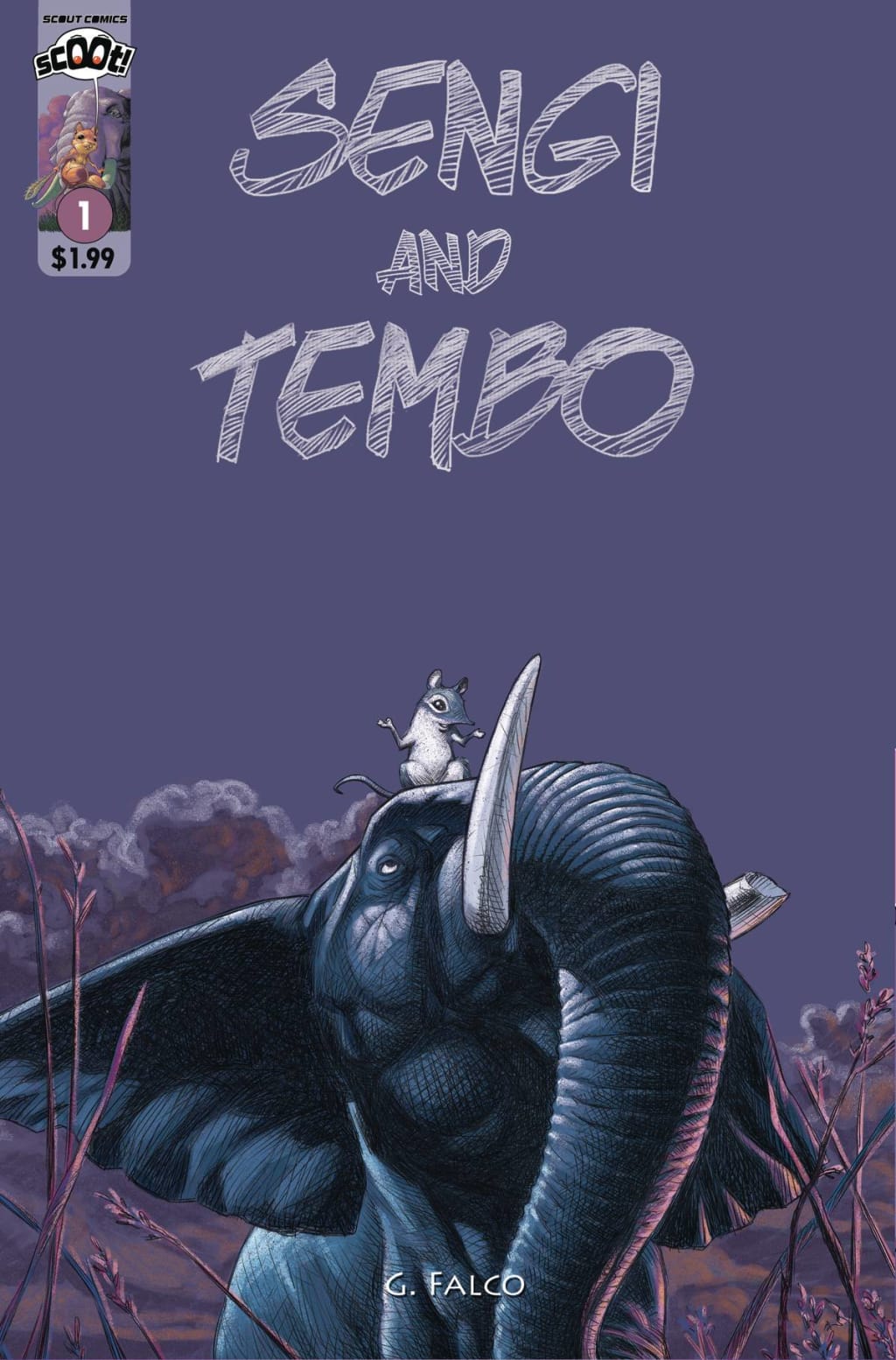 Sengi and Tembo #1
Scout Comics/Scoot! Imprint 2021
Written & Illustrated by Giuseppe Falco
Scoot! Imprint! The African savannah. Sengi, the little mouse, finds himself alone after the death of his mother and must learn to survive. Tembo, the old elephant, feels that his life is coming to an end. So he decides to leave his herd to try to reach the "Land without beginning," a mythical place accessible by a secret passage to the west. For a few days, this pragmatic mouse and even-tempered elephant will join paths. Enjoy the first issue of this title followed by the entire story collected soon after in one volume.
I cannot begin to tell you how I felt when I read this issue. Being of a certain age this reminds me of Where The Wild Things Are, Who, Said Sue, Said Whoo? With a touch of The Jungle Book with Rikki Tikki Tavi and all of those pale in comparison to the reality of what this issue is. As much as I hate to say it this is kind of like something we'd find on Animal Planet or National Geographic as we follow these animals on their daily lives. While I may not be entire sure what the relationship between these two is going to be or to become what I do know is that I know have to know what it's going to be.
I am in love with the way that this is being told. The story & plot development that we see through the sequence of events unfolding as well how the reader learns information is presented in such a way that I don't care if your heart is made of stone or you have a black hole for a soul this is going to reach you. The character development that we see is amazing and as we get to know these characters I want to know more about them. The pacing here is extraordinary to see and as it takes us through the pages revealing the story, the characters and the world in which they live you cannot help but drawn deeper in page by page.
I am loving how we are seeing this being structured and how the layers within the story are unfolding it all manages to beautifully capture life on the Serengeti or some equivalent thereof. How we see everything working together to create the story's ebb & flow is sensational.
The interiors here are so phenomenally gorgeous! The realism of the species that we see is almost chilling and I have to say that the elephants are stunning and Senji being a Rhabdomys, I am guessing on that one but i'll be hornswoggled if it isn't actually one, is just so damn cute and again it just screams out this is accurate. The linework is gorgeous and how the varying weights and techniques are utilised to create the detail work that we see is beyond stupendous. How we see the backgrounds, the trees, fields and so much more, not to mention the skies above it's all just magnificently rendered. The utilisation of the page layouts and how we see the angles and perspective in the panels show a remarkable eye for storytelling. The colour work is divine to behold. How the light sources manage to cast hues and tones within the shadows are incredible. Those hues and tones that we see being utilised to create the shading, highlights and shadow work go above and beyond any and all expectations.
​
I would say that the creativity and imagination on display here is superb but the reality is it is reality that we're seeing. So to see it being brought to life as we are makes this so much more amazing to see. This is the kind of book that I could see the Irwin's promoting for animal rights, conservation, as well teachers' utilising this as a tool in the classroom. Do yourself a favour, get this issue and make sure you order the entire trade for the complete story because this is the ultimate in coffee table books.