Samurai Grandpa: An Independent Comic
A quick look at Samurai Grandpa by Eastin DeVerna and Shawn Daley.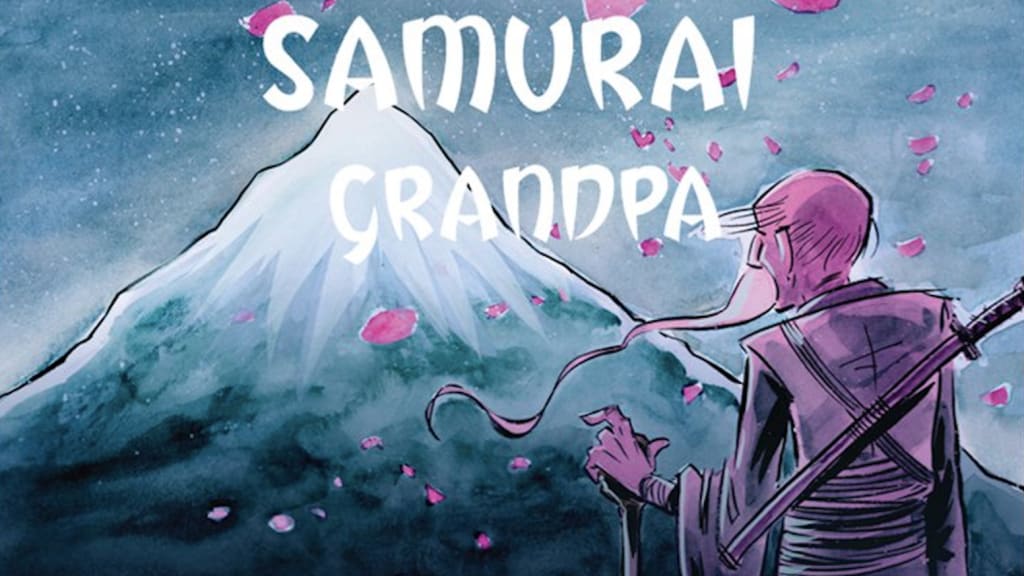 I do not own the art or the character I talk about in this post. They belong to Shawn Daley and Eastin DeVerna. All credit goes to them.
I know I mostly post on articles on topics related to Marvel Comics and DC Comics, but there are independent comics out there that should really get more attention. So this won't be the last post I do on Independent Titles. A couple years ago I went to Toronto Fan-Expo, and met Shawn Daley, whose art I saw and loved. I'd bought a few prints from him and a copy of the first chapter of his book, Terraquill, which I also recommend you guys check out. But do you know how happy I was to see Shawn at Toronto Comic-con at his booth with awesome art and a brand new book he worked on? I was pretty dang happy.
I picked up the comic, and when I read it, I liked it so much I finished it in one sitting. So here is the premise of the story. A man, named Ojichan, was once a samurai, but decided to leave that life behind and spend the rest of his days with his family. But his new life of peace comes to an end when an enemy from his past comes back into Ojichan's life and kidnaps his granddaughter. Ojichan then decides to venture into his past and face enemies that he hoped to forget. The story follows this former Samurai on a journey that teaches him that even in his old age, there is still much for him to learn, and many people for him to meet, and many for him to meet again.
The writing for this title was done by Eastin DeVerna, a comic creator and fellow comic reader based in North Carolina. I am not familiar with any other work that he has done, but his writing for Samurai Grandpa was great, and here's why.
I found that DeVerna's writing was artful in the message or point he wanted to get across at a particular time, and you can see that for yourself within literally the first two pages of the book. Not only that, but the dialogue he writes is great, and evokes so many thoughts and emotions throughout the story. I would love to say how without spoiling any of the story.
The artwork was done by Shawn Daley. Daley is a cartoonist that's based out of Toronto. He does drawing for independent creators, and composes soundtracks for independent game developers (how cool is that?!). He's also got his own book called Terraquill.
I enjoy Shawn's art in general, but the illustrations in this book are so good that you can just stare at them for a while. They really are just great pictures if you were to take the panels on their own without words. Some panels are serene, some look really bad-ass, and some are hilarious (not because they are bad, but because they were scenes that were meant to be funny).
All of you guys should really go ahead and check this story out, and you should also check out Shawn Daley's and Eastin DeVerna's Twitter pages, and see what else these guys are up to. I've inserted embeds below for Eastin and Shawn's Twitters. I also added mine because I just made it, and why the heck not?
As always, I'll be seeing you in the next post! The next few posts will be Flash-related, Hulk-related, X-Men related, and then I'll be getting into deciphering the Multiverses of DC Comics and Marvel Comics for new-comics book readers, people interested in comics, or for people that have a hard time understanding them (they are very convoluted). After that I will be talking about the influence that Chris Claremont and his work had on the Marvel landscape.
And to Shawn and Eastin, I really did enjoy this book you've made, and would like to congratulate you on publishing this work, even if it may not be your first. I hope to see both of your careers flourish, and cannot wait to see what other content you guys put out in the future.