Rosemary's Baby (1968)
1001 Movies to See Before You Die (Schneider, J.S, Smith, I.H)
In this article, we will be looking at 2019's book "1001 Movies to See Before You Die" and going through each film in a random order that I have chosen. We will be looking at what constitutes this film to be on the list and whether I think this film deserves to be here at all. I want to make perfectly clear that I won't be revealing details from this book such as analyses by film reporters who have written about the film in question, so if you want the book itself you'll have to buy it. But I will be covering the book's suggestions on which films should be your top priority. I wouldn't doubt for a second that everyone reading this article has probably watched many of these movies anyway. But we are just here to have a bit of fun. We're going to not just look at whether it should be on this list but we're also going to look at why the film has such a legacy at all. Remember, this is the 2019 version of the book and so, films like "Joker" will not be featured in this book and any film that came out in 2020 (and if we get there, in 2021). So strap in and if you have your own suggestions then don't hesitate to email me using the address in my bio. Let's get on with it then.
Rosemary's Baby (1968) dir. by Roman Polanski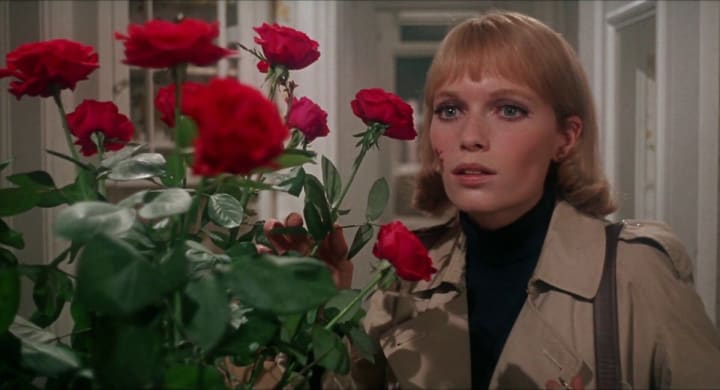 "Rosemary's Baby" (1968) is a film based on the 1967 novel of the same name by Ira Levin (also the writer of "The Stepford Wives" which was made into a film in 1975 and again in 2004). It is about a woman who becomes pregnant and gives birth, but whilst she is pregnant she suspects that there is a cult that wants to use her baby for certain rituals (this is kind of like Darren Aronofsky's 'mother!' except for the fact that nobody commits cannibalism). Dealing with themes of female liberation and religion, it was selected for the National Film Registry for the Library of Congress in 2014 after it was seen as one of the biggest films of the arthouse horror era of all time. Winning numerous awards, this film has solidified a legacy as being one of the most influential horror films of all time through its lens of viewing women as paranoid subjects of the film. This is a film that would come to influence other female-based horror films like: "mother!", "The Ring", "The Grudge", "The Exorcist" and many more. It would go on not only to win more awards, but is listed in "Greatest of All Time" lists and pushed the career of Mia Farrow into the spotlight.
At the Academy Awards, this film won the Best Supporting Actress Oscar for Ruth Gordon, which she also won the Golden Globe for as well. It won many awards for foreign film and international film from film institutes from other parts of the world. On the American Film Institute's list of greatest horror films of all time, "Rosemary's Baby" (1968) rated at number nine and thus, it solidifies its legacy in film history.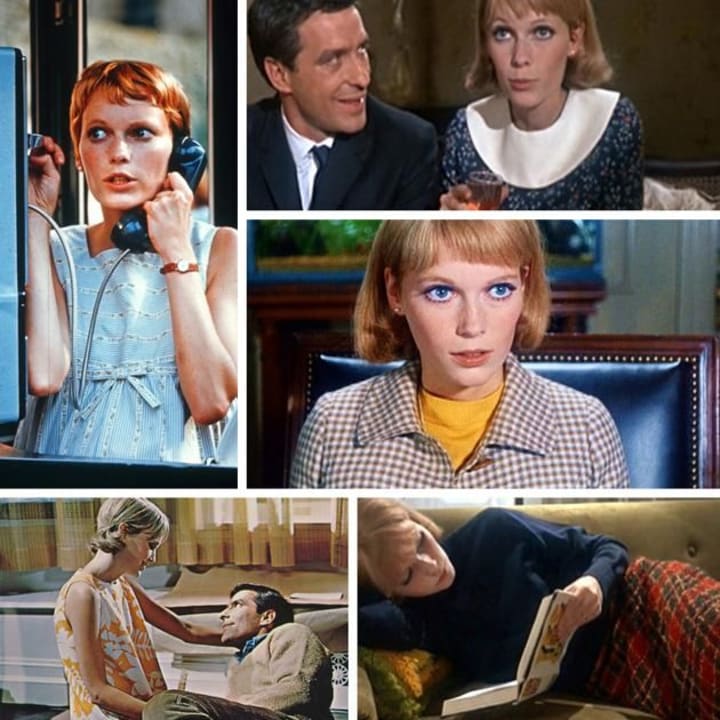 Some decades after the original, Ira Levin wrote another book entitled "Son of Rosemary" which was dedicated to Mia Farrow and even though it clearly wasn't as good as the original, it still made the best-seller list. I have actually read the book and I can honestly say it isn't as bad as people make it out to be. I think though, the original "Rosemary's Baby" (1967) book is far better. In comparison, it was bad, but on its own, it really isn't.
I think that I watched "Rosemary's Baby" (1968) for the first time when I was about fifteen, so yes I was a bit late to the party because this was about 2011-ish. I thought that honestly I had to read the book before I made a clear judgement and I remember having a red book with a pram in silver on the front cover. In big letters atop of it, it said "Rosemary's Baby" and honestly, I thought the book was more tense than the film but in terms of Mia Farrow's acting - she was absolutely brilliant in every single aspect.