Rogues Book One
Joshua Williamson does it again!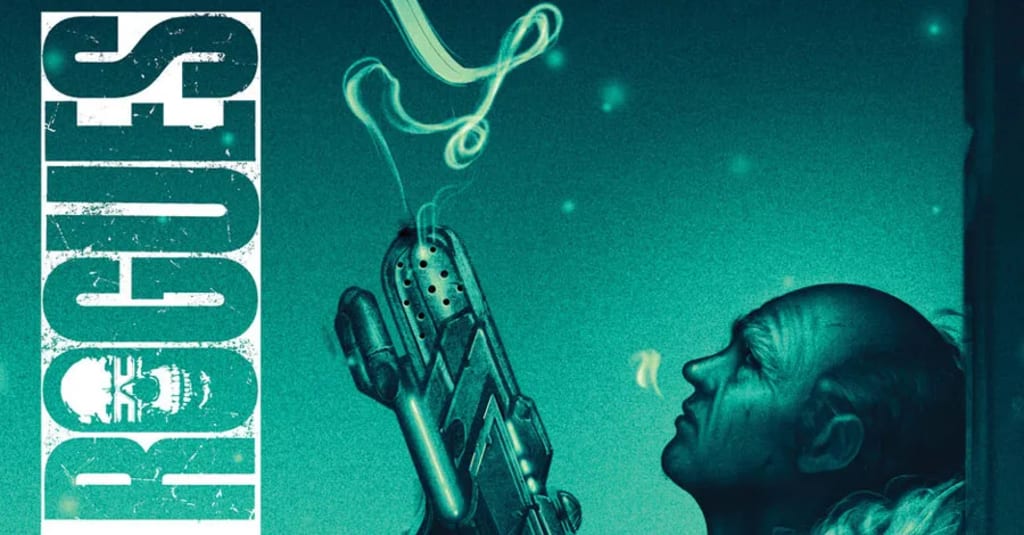 Every now and again there is a story that just feels like it needs to be told. DC Black label seems to be the perfect place to tell these no holds barred storylines with no limitations. Rogues was yet another shining example of how it could have been yet another novel on the regular platform.
This four part miniseries by Joshua Williamson is set 10 years in the future with the Rogues having disbanded and gone their own way. Now after 10 years of struggle and hardships Leonard Snart has the idea to bring the band back together for one last heist that will set themselves up for the rest of their lives.
This book flows so well that you will want to read it two or three times. That is how impressive the words are together and how seamlessly both the dialogue and the pictures each play a role in highlighting the emotion on display. There are a few pages in the middle after Snart overhears his bosses feeling sorry for him where he displays anger and there are no words on the page. Yet despite those words not being there, those are some of the most heavy pages I have read in a long time. The look of pure rage on Snarts face, the destruction of his decaying mobile home on full display and his determination afterwards to change his fortune. Williamson proves here that a picture is worth a thousand words and those pages lay the groundwork for the rest of the story to take shape. Snart will do anything to relive his glory days and not be viewed as a failure.
DC making use of their Black Label to ease the restrictions on their content including language and violence is very good for audiences. It is cool to have books that appeal to all ages and then these books that are specifically designed to tell darker stories that take us out of those comfort zones. I think Williamson is the perfect writer to take this one on with a no holds barred Captain Cold with nothing to lose and everything to gain back. These characters are not your everyday villain of the month flavor. They are broken by society in various ways and suffer from mental illness, crippling debt and addiction. It's very dark and very real world with the superpowers and the super weapons just adding more flare for the dramatic.
Williamson continues to be one of the best writers currently on DC staff as he handles the bulk of their massive world colliding stories. It was a nice shift to see him work on something so intimate and smaller scale to show just how vast his talents are and just how big the DC universe has become. This book is a good reminder that no story is off limits if the pitch is unique enough to garner attention. Rogues works particularly well as a mini series so it does not become bogged down by a larger narrative that could result in filler issues to keep the story progressing. It is blue collar individuals tired of having to pay for their past mistakes and finally just want to have enough to survive. It is one hell of a debut issue and a story that has given no indication as to how it will play out. Everything on these pages is a fresh perspective for these characters and a much more mature take as they are grounded by the world around them. Williamson has knocked another one out of the park and I cannot wait to get my hands on the rest of the series. Amazing job once again.
comics
About the author
All things pop culture. Movies, TV, Music,Comics as well as some dabbling into the Sports world. If you can record it, watch it and play it back. I have an opinion.
Reader insights
Be the first to share your insights about this piece.
Add your insights