Reviewing 'Collectibles, Comics, Toys & More' Auction
A fun look at some of the most interesting collectibles in the geek-themed universe.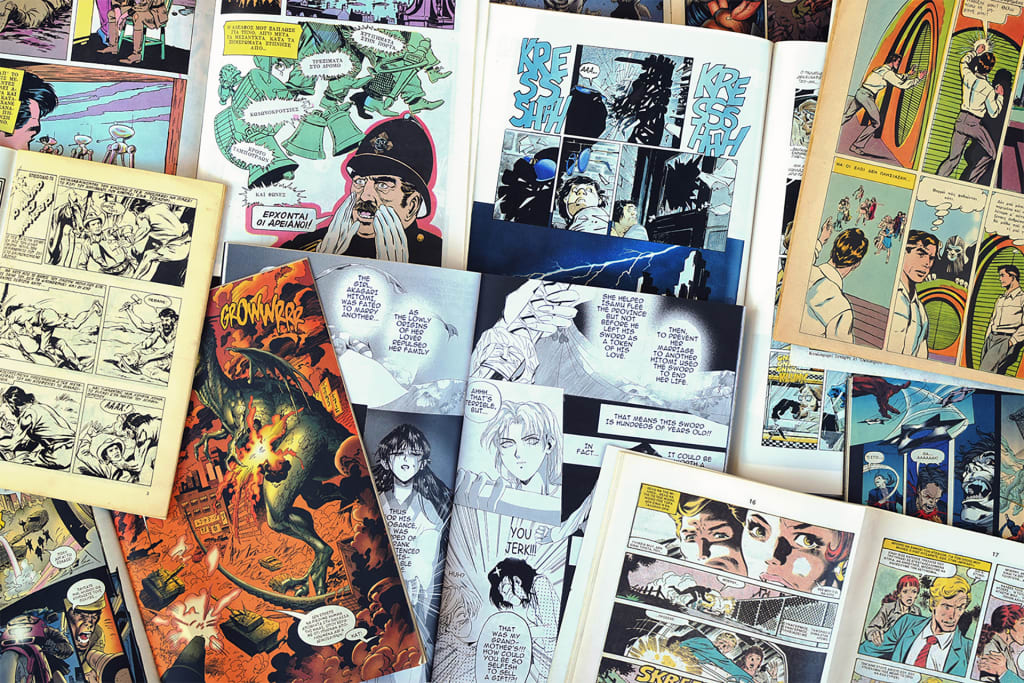 Geek culture has undergone quite the renaissance in the past decade. The days of interest in Star Trek, Star Wars, and comic books being limited to only the so-called "nerds" have long ago passed and in today's culture geek has gone mainstream. Billion dollar movies franchises, blockbuster television shows, and countless other signs that geek culture has attracted the masses suggest that this world is only just beginning to dominate the consumer market. The great thing about the geek genre, however, is that no matter how big it gets, there is always room for imagination both new and old. A recent look at some of the more popular items selling via online auction right now demonstrates just how this industry has evolved and the appreciation modern-day geek culture has for its predecessors of days long ago. Here's a glimpse at just some of the hot items from the past and the present selling today!
The godfather of the modern comic book industry, Stan Lee, has been creating some of the most revered comic book characters for generations and he continues to influence the franchises being made even today. This sketch, drawn during World War II, demonstrates some of Lee's earliest work and for the most passionate geek culture fans, this piece is akin to an ancient artifact that must be viewed in awe and appreciation. Currently, bidding begins at only $65 and interest should be heavy right from the start as historians of this genre compete for a chance to capture a part of their own "origin story" as comic book fans.
There is no comic book franchise on television right now that is more popular than The Walking Dead. Millions of viewers gather behind televisions every Sunday night for new episodes to see what will happen to these post-apocalyptic zombie survivors. The pieces being offered in this auction include a copy of the 62nd issue of the comic, signed by Laurie Holden who plays the cover character on the magazine, Andrea Harrison, as well as an action figure of zombie character Karen Cooper, signed on the packaging by the actress portraying her on the show, Kyra Schon. These pieces are both visually impressive and would make a perfect addition to any serious collector who appreciates the artistry and emphasis on the macabre that this show and comic have demonstrated for years now.
Star Trek may have found its beginnings in television but the franchise has truly evolved over the years in the comic book adaptations that have been produced for decades. The two greatest leaders to ever grace the Star Trek fleet have long been considered Captain Kirk and Captain Picard and these two comic books (from the original Star Trek comic as well as the Star Trek Next Generation spinoff) are impressive enough to include autographs from the men portraying these characters. William Shatner's signature graces the cover of Star Trek: The Trial of James T. Kirk while Patrick Stewart leaves his own autograph on the cover of Star Trek The Next Generation: The Space Between. Each of these issues focus heavily on these main characters and the artwork is representative of the era that they were published. Lucky bidders can obtain these two pieces of Star Trek history for starting bids of only $7 currently!
For countless young boys and girls in the 1960s and 1970s, William Shatner was the embodiment of what it meant to be a hero. Shatner's portrayal of Captain Kirk as a daring and confident commander of his own ship created a lasting image of the character which lives on even today. The two comic books that Shatner signed for this sale both focus on the adventures of Kirk during his time as captain and represent the epitome of Shatner at his most popular. The comics, published by DC, are visually impressive and would fit in nicely with both historic and contemporary collections. With bidding beginning at only $1, these items will be in hot pursuit among true collectors and Star Trek fans.
40 Years of Star Trek: The Collection is the definitive box set available for the most dedicated fans of the franchise and its countless different never-before-seen photos and lot listings give readers the opportunity to take a first-hand look at the behind-the-scenes aspects of this television show and the ensuing movies and comic books. The box set is also signed by Captain Kirk himself, William Shatner, and includes impressive artwork on the hard cover of the Star Trek ship passing through space. This piece would be a great fit in just about any Star Trek collection but the appeal of owning something so impressive that was initially from a Christies catalog in 2006 makes this box set so extra special and the starting bidding price of $42 may very well rise as more and more Star Trek fans try to add this item to their collection.
Pam Grier was the epitome of a sex symbol during her heyday and the character of Foxy Brown may have been her most well-known performance on the big screen. Brown's beauty and class live on in this miniature statue, standing 12" tall and featuring a lifelike depiction of Grier in character as Brown herself. Grier's signature on the box only lends further value to this piece. Most impressively, however, may be the packaging itself which includes artwork heavily influenced by 1970s era Blaxploitation films like the ones where Grier first made it big as an actress. Any fan of Ms. Grier, or movie history in general, would be lucky to add such a piece to their own collection!
Zachary Quinto has made an impressive name for himself in the past decade as a go-to actor in the geek culture genre. Appearing in everything from American Horror Story to Heroes, Quinto has jumped into his roles with a brooding demeanor that smolders on-screen. The items being sold in this listing include autographed issues of both a Heroes and a Star Trek comic book, signed by Quinto himself. Each of these pieces includes visually stunning artwork and the Heroes cover in particular is interesting for its portrait of Quinto in character, refreshing old memories from the show during its heyday in the late 2000s. With bidding starting at only $2, these pieces will likely become hot items as Quinto continues to carry on the role as Spock in the Star Trek blockbuster movies that have recently been produced.
Boba Fett has long been regarded as one of the most dastardly villains in the Star Wars universe. The presence of this character on screen was always ominous and thrilling. Jeremy Bulloch, the actor who portrayed Fett, has continued to carry on the legacy of this character and his signature on the packaging for this Funko Pop! bobble-head makes for an extra special keepsake for any true Star Wars fan or collector. The bobble-head itself depicts Fett in bounty hunter costume and adds a whimsical touch to an otherwise threatening character. Also included in this listing is an action figure of Momaw Nadon, another memorable character from the franchise and a great addition to an already fun and valuable listing!
Mickey Rourke's portrayal of Ivan "Whiplash" Vanko in Iron Man 2 was one of the most entertaining acting performances of the year when it was released to the public. Vanko is a truly worthy opponent for Iron Man and it takes the all of the wit and daring in Tony Stark to eventually defeat him. Vanko's legacy lives on in memorabilia like this action figure, however, and Rourke even added his own signature to the packaging to make this piece all the more special. As an add-on to the listing, the seller has also included the very first issue of the Ultimate Iron Man comic published by Marvel in 2005. The origin story of Tony Stark and his Iron Man alter-ego begins again in this issue and makes a great complement to any extensive comic book collection.
In the mid-1990s, Hercules saw a rise back to the mainstream in terms of popularity as Disney movies and a series of different television shows depicted this Greek legend as a contemporary version of himself. Sorbo's portrayal of Hercules may be the most well-known of all these efforts, however, and these two action figures include his signature on the packaging, making a delightful gift for fans of the show or even the ancient story in general!
Last, but certainly not least, on this list is this impressive issue of Monsters Unlimited from 1966, signed by Stan Lee, the godfather of comics himself! The magazine is visually appealing with its early depiction of Frankenstein from the theatrical production and inside the magazine readers can find great tidbits about the history of this movie franchise and the lasting impact Frankenstein has had on both the horror and feek genres! Currently starting at only $40, bidding is likely to increase quickly as collectors try to get their hands on such an interesting keepsake.
About the Creator
Writer & Social Media Editor for Jerrickmedia who is an avid reader of sci-fi and a fierce defender of women, minority, and LGBTQ rights.
Reader insights
Be the first to share your insights about this piece.
Add your insights