Review of 'Sisters of Sword and Song'
Sisters of Sword and Song is perfect for fans of mythology, held together by strong characters and an intricately woven plot.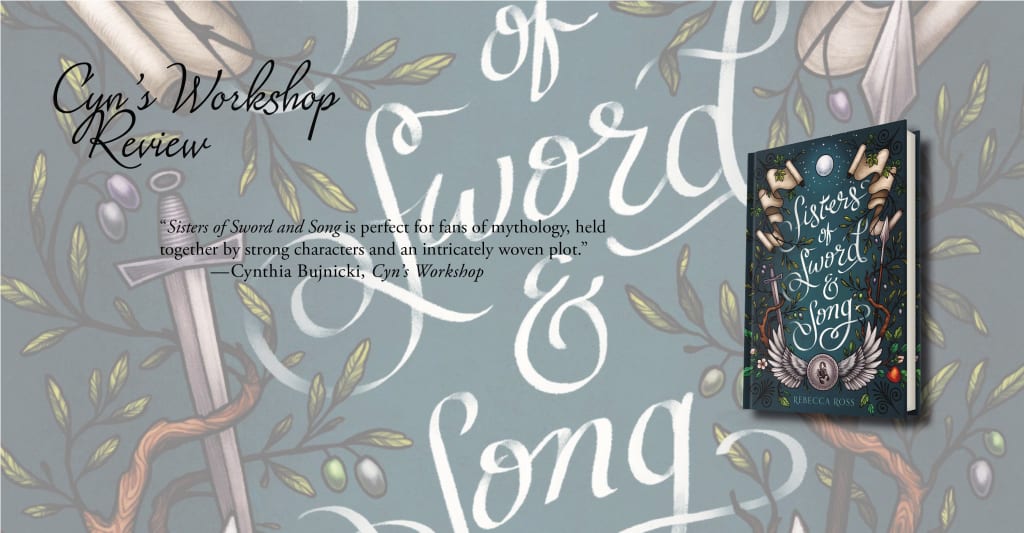 Synopsis
Rebecca Ross, acclaimed author of The Queen's Rising duology, delivers a thrilling new fantasy about the lengths two sisters will go for each other. Perfect for fans of Ember in the Ashes, Sky In the Deep, and Court of Fives.

After eight years, Evadne will finally be reunited with her older sister, Halcyon, who has been serving in the queen's army. But when Halcyon unexpectedly appears a day early, Eva knows something is wrong. Halcyon has charged with a heinous crime, and though her life is spared, she is sentenced to 15 years.

Suspicious of the charges, brought forth by Halcyon's army commander, as well as the details of the crime, Eva volunteers to take part of her sister's sentence. If there's a way to absolve Halcyon, she'll find it. But as the sisters begin their sentences, they quickly learn that there are fates worse than death.
Review
Sisters of Sword and Song is such a stunning novel. Ross has created something beautiful and imaginative, creating her mythology to build the world within the story.
Amazing Mythology
The mythology in Sisters of Sword and Song is fantastic. It is reminiscent of Greek and Roman mythology and has this powerful impact on the story. These gods came to the world and lived among the people, having families and spreading their bloodline before returning to the heavens. The result of this was creating magic users.
For Evadne and Halcyon, while they are descendants of a god, they are descendants of a god who gave up his power and immortality to live among the people resulting in his descendants having no magic. That does not stop these two sisters from being fierce.
However the mythology does more than just giving the sisters history; it gives the story a strong foundation. There is so much magic in the story and it is all connected to the life Ross has given to her mythology.
It is incredible to see the stories come to life for the sisters to see the mythology come to life, and it gives the story such a powerful resonance.
These are tales that have their own life outside of this novel, leaving a lasting impact on the reader.
While the mythology gives the story and world a strong foundation, it is the characters that drive the tension forward. Two sisters who are so different are utterly devoted to one another. This bond between them is incredible and highlights the strengths of the characters.
Great Sisterly Dynamics
Evadne and Halcyon balance each other out perfectly. While Halcyon is a warrior, Evadne is just a girl with dreams of grandeur. She always wanted magic and instead settles for her simple life. However, her simple life does not last as her sisters' web of mystery catches her attention.
The adventure encourages them to go, to see the world they live in differently, to see the magic all around them. Together, without magic, they flip the balance, relying on their inner strength to save the kingdom. Granted, there are times when Halcyon is not wholly unlikeable. When an accident results in the death of her comrade, she goes on the run. This does not seem to fit with how the story sees her or her relationship with her caption and comes off more as a plot device to create tension and push the story forward.
Evadne is the star here. She rises to the occasion and proves to everyone that her devotion and love for those she cares about gives her more strength and magic than anyone. Her journey throughout the novel is, quite simply, incredible. Evadne has to face her darkest fears and discover who she is outside her sisters' shadow, and that is a journey worth reading.
Final Thoughts
Sisters of Sword and Song is perfect for fans of mythology, held together by strong characters and an intricately woven plot.
Purchase on Bookshop
Like this review?
Don't forget to follow Cyn's Workshop on Facebook | Instagram | Twitter | Tumblr | Spotify | YouTube | BookBub | Goodreads | LinkedIn to stay tuned for future reviews.
About the Author
Cynthia Bujnicki graduated from Emerson College with a BA in Writing, Literature and Publishing. She has always loved to read since she was a child. A contributing writer for YA Fantasy Addicts, she is also the Editor-in-Chief for Cyn's Workshop. She lives in sunny South Florida with her husband and son and their two cats, Mr. J the Kitten and Nyx.