Review of 'Once Upon a Broken Heart'
Once Upon a Broken Heart takes readers back into the realm of Caraval, both with new characters and new magic.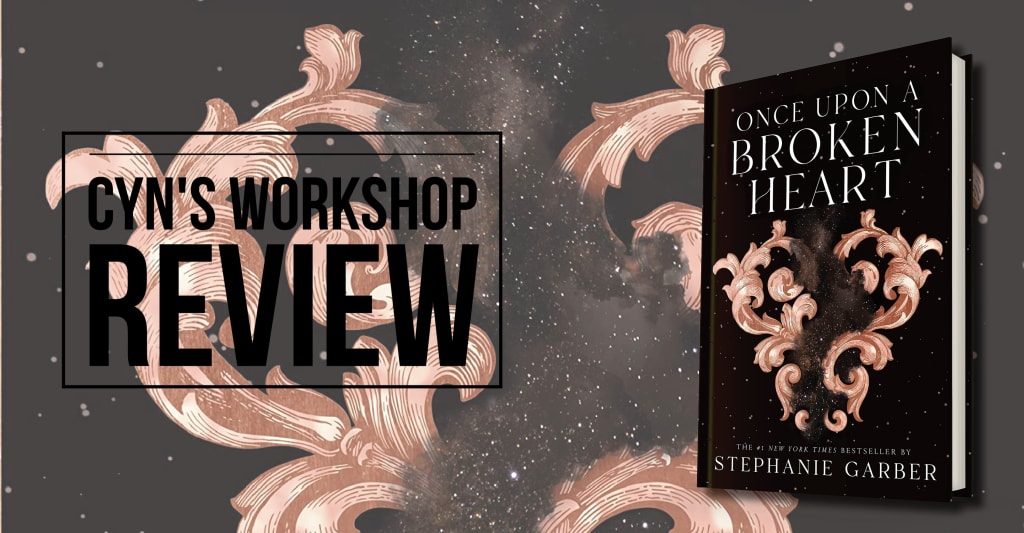 Once Upon a Broken Heart marks the launch of a new series from beloved author Stephanie Garber about love, curses, and the lengths that people will go to for happily ever after.

For as long as she can remember, Evangeline Fox has believed in true love and happy endings…until she learns that the love of her life will marry another.

Desperate to stop the wedding and to heal her wounded heart, Evangeline strikes a deal with the charismatic, but wicked, Prince of Hearts. In exchange for his help, he asks for three kisses, to be given at the time and place of his choosing.

But after Evangeline's first promised kiss, she learns that bargaining with an immortal is a dangerous game ― and that the Prince of Hearts wants far more from her than she'd pledged. He has plans for Evangeline, plans that will either end in the greatest happily ever after, or the most exquisite tragedy...
Review
Once Upon a Broken Heart takes readers back into the Caraval world with an all-new lead and a magic-focused plot.
Storytelling
Once Upon a Broken Heart follows Evangeline in the world Garber created with her Caraval series. Now, in case you're wondering, no, you don't have to have read Caraval to appreciate this story.
It features some characters from the Caraval series, and while reading the Caraval series would give more insight into who they are, they are not the focal point. Instead, Garber does a fantastic job highlighting those crucial moments from Caraval and summarizing them for the reader.
Garber focuses on building up this story from the ground up. The world is already established, but the callbacks to the Caraval series give the world the history it needs to ground the reader. Moreover, by focusing on the magic within the story, Garber maintains an engaging, fast pace.
Characterization
Following Evangeline, Once Upon a Broken Heart takes an exciting turn. Again, Garber lets the magic and history drive the story forward, creating this intricate mystery about a magically locked door. However, although the magic moves the story forward, Garber does not neglect the characterization.
Evangeline is such a wonderful character. Her belief in love and her love of curiosities make her so charismatic. But she is also so selfless in a way that does not make her annoying. Instead, the reader can tell she feels that she genuinely cares about other people with all her heart.
And then there is Jacks. Jacks is a character readers of Caraval will be familiar with. He is mischievous, and it is hard to see where his desires lie. He is self-serving, but is he evil? He likes to joke that he has no heart, but his actions and how Jacks takes care of Evangeline show he cares.
They have a strong dynamic here, making them incredibly wonderful to read about. The reader is invested, but they are also kept guessing where they are going.
The same can be said for Marisol. Once Upon a Broken Heart is a fairy-tale-like story, so this underlines the themes of the wicked stepmother. But does Marisol fit the bill of the wicked step-sister? Again, the reader is kept guessing. Evangeline has a good relationship with her step-sister, and Marisol is slightly more tempered. Again, Garber keeps the reader guessing, making the reader invested in how these character dynamics will play out.
Final Thoughts
Once Upon a Broken Heart is perfect for readers who love that fairy-tale atmosphere and storytelling, and Garber delivers that with something unique.
Writing Quality : 9/10
Character Development : 8/10
"Couldn't Put It Down"-ness : 9/10
Intellectual Depth: 8/10
Originality: 10/10
Overall Rating: 4 out of 5.
Like this review?
Don't forget to follow Cyn's Workshop on Facebook | Instagra| Twitter | Tumblr | Spotify | YouTube | BookBub | Goodreads | LinkedIn to stay tuned for future reviews.
About the Author
Cynthia Bujnicki graduated from Emerson College with a BA in Writing, Literature and Publishing. She has always loved to read since she was a child. A contributing writer for YA Fantasy Addicts, she is also the Editor-in-Chief for Cyn's Workshop. She lives in sunny South Florida with her husband, son and daughter and their two cats.