Review of 'House of the Dragon' 1.4-1.6
Lust, Tea, and Brutal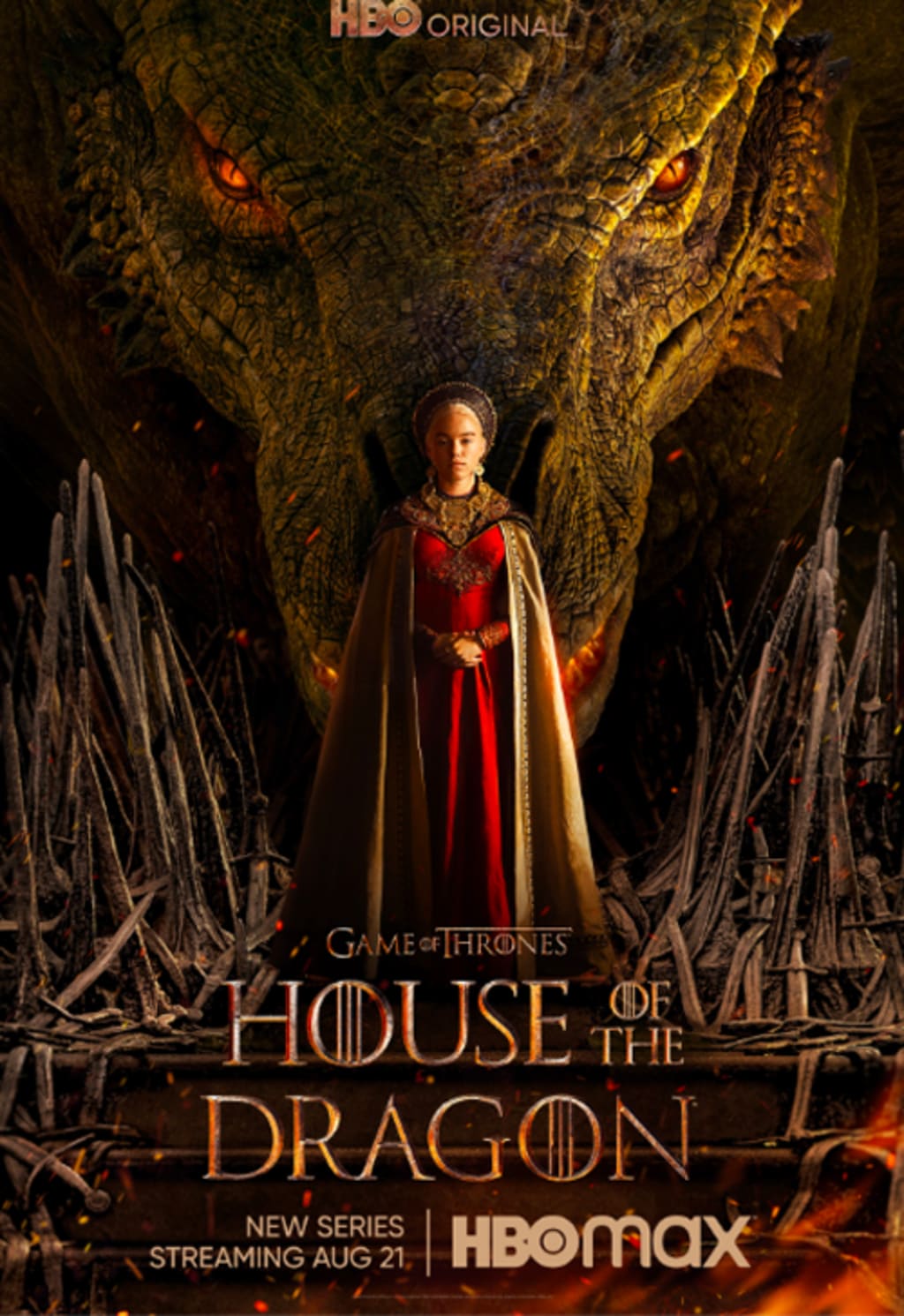 Push really comes to shove in the lustful, pivotal episode 1.4 of House of the Dragon on HBO Max a few weeks ago, in which
[and, of course, some big spoilers ahead]
Daemon takes Rhaenyra to a brothel, makes like he's going to ravish her, can't do it, but leaves her in the mood, so she seduces Ser Criston back in her room. And then the strategic chess game starts. The Hand tells the King that one of the Hand's informants saw Rhaenyra and Daemon going at it. Rhaenyra denies it. The King doesn't believe her (in the very last scene, the Grand Maester brings her a tea that takes care of "any unwanted consequences" of the tempestuous evening), but the King uses the occasion to order her to marry Ser Laenor. The King also fires the Hand for spying on his daughter.
So where does that leave us? First, we don't see Rhaenyra drink the tea. The episode ends with her looking at it. If she concludes before she takes the tea that she might want those consequences, well, that would move the narrative in a whole different direction. If she marries Laenor and gives birth to Criston's child ... I can't recall whether Game of Thrones "science" has anything akin to DNA testing, but we certainly haven't seen any evidence of it in House of the Dragon.
And who will be the new Hand? Daemon's been banished again, and I assume Ser Criston does not have a high enough rank. How about Ser Harrold? That would be fine with me.
As I mentioned in my review of the first three episodes, the King is getting more impressive in just about every scene. His actions in episode 1.4 were both shrewd and powerful -- using his anger at Rhaenyra to pressure her to get her betrothed, which is just what he wants. He didn't look too good in the coming attractions. But those could be deceiving, and I hope we get to see him in all the episodes this season.
***
Amanda Whiting had a provocative essay in The Independent a few days ago -- "The battle for the Iron Throne is pointless when everyone in House of the Dragon is this evil". I don't know if I'd agree that everyone is evil. I think King Viserys is a little better than that, though in episode 1.6 it's clear that Ser Criston and Queen Alicent are headed to the bad side. But I will say that the violence and gore and sheer number of deaths are beginning to wear on me.
At the end of episode 1.5, one of the producers remarks that you have to have murder at a wedding, because that's Game of Thrones tradition. Part of the charm of House of the Dragon is indeed its many anticipations of Game of Thrones, but when it comes to the unbridled brutality, maybe some divergence would be nice.
We also probably don't need to see the harrowing fatality of child birth in every generation, though the suicide by dragon of Daemon's wife in 1.6 was innovative. I have no idea, of course, what lies ahead in the remaining episodes of this season, but I can only hope that this dearth of happiness is remedied, at least a little.
I suppose at least part of my reaction is a reflection of the horror of our world off-screen, in our reality. The rise of fascism in the U.S. and around the world, the pandemic, Putin threatening to use nuclear weapons in Ukraine, all have filled up my tolerance for depravity. I'm not saying I'm suddenly longing to see sitcoms on the screen -- though I wouldn't mind some new episodes of Curb Your Enthusiasm right now -- but I am saying that the sheer ugliness of human nature is not something I'm especially in the mood to see more of, even if it's dressed in a riveting historical fantasy narrative, brilliantly acted and powerfully produced.
tv
About the author
Novels include The Silk Code & The Plot To Save Socrates; LPs Twice Upon A Rhyme & Welcome Up; nonfiction includes Fake News in Real Context, The Soft Edge, & Digital McLuhan translated into 15 languages. Details here. Prof, Fordham Univ.
Reader insights
Be the first to share your insights about this piece.
Add your insights