Review of 'Greythorne' (Bloodleaf #2)
Greythorne offers readers a more involved plot filled with plot twists, character growth, and amazing tension.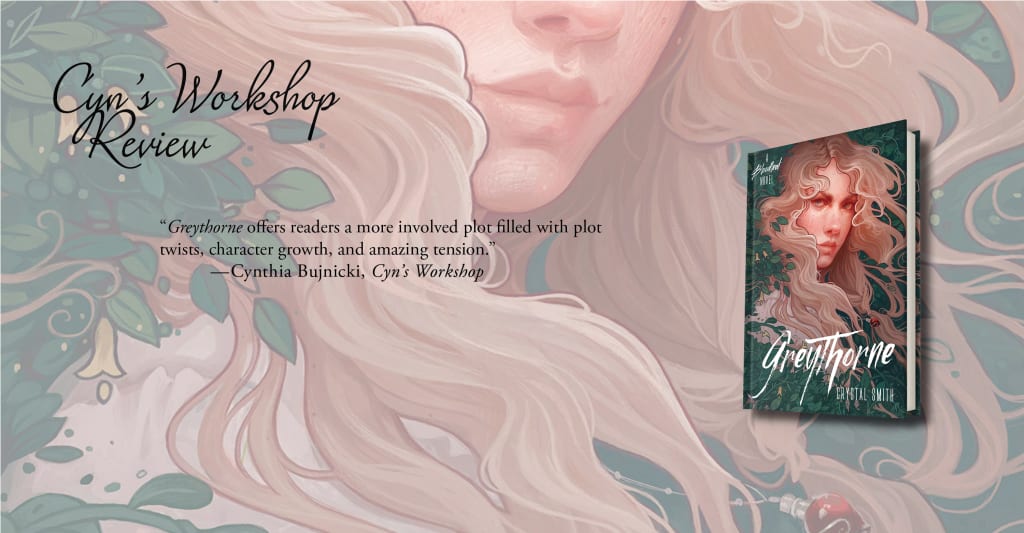 Synopsis
Brimming with deliciously mysterious magic, political intrigue, and a passionate heroine who will do anything to save the ones she loves--this highly anticipated sequel to Bloodleaf, praised as "enchanting, visceral, and twisty" by Laura Sebastian, won't disappoint.

Princess Aurelia's life is upended when the kingdom she thought she saved falls to ruin, a loved one is tragically killed in a shipwreck, and her home country turns against her. With no place left to call her own, Aurelia returns to Greythorne Manor--her best friend's family mansion--only to find that Greythorne has sinister secrets of its own. With enemies closing in on all sides, Aurelia is caught in a mad fight to protect the only people she has left--her family. In her darkest moments, when all seems grim, will Aurelia find a spark of hope from a love she thought long lost?
Review
Greythorne, the second novel in the Bloodleaf trilogy, gives the story much needed development and growth.
This novel was quite impressive. It ties so much to the events of the previous novel, but it evolves the magic and the history of the land so much more. Smith also uses this novel to resolve some of the issues in the previous novel. Most notably, Aurelia.
Aurelia Grows
Aurelia did not have much development in the previous novel, remaining static despite her strong personality. Maybe that was the problem with the first novel; she was not only headstrong, but she lacked internal conflict as well. Here she has changed considerably; she has grown finally.
Much has happened between the novels. Zan has been lost at sea, and Aurelia and her brother have moved to a large estate as their kingdom is still under the control of the Tribunal. This has made Aurelia grow a sharper edge. She is more flawed in this novel, making her more relatable and memorable. Aurelia is helping to pick up the pieces of the fallen kingdoms around her while she continues to survive on her own.
There is so much tension that the reader can visualize. The reader can see how Aurelia's muscles are coiled too tightly; they can see the exhaustion on her face. Smith does such a fantastic job show the reader with sighs and emotional writing. Smith shows the reader how Aurelia has grown and changed and how life has worn her thin. This is not the same girl from Bloodleaf.
Impressive Storytelling
There is also the story. It has grown so much. While the core of the novel ties into the events of the previous novel with the Malefica trying to escape her realm, the story brings out so much more.
There is a new antagonist, Arceneaux, who is more dangerous than her predecessor. She has many secrets and untold power, making her the perfect villain. As the new leader of the Tribunal, she is intelligent and manipulating. Arceneaux is a dangerous character.
The hidden messages throughout the story and the numerous plot twists keep the momentum of the story moving. The introduction of feral magic was also a neat touch. It is the perfect opposite of Aurelia's blood magic with its own rules adding more history to the novel, and, again, more plot twists.
It is those plot twists that keep the story so engaging. They come out of nowhere and push the reader to the edge of their seats. They were expertly crafted and fit into the story perfectly.
Final Thoughts
Greythorne is a great sequel, improving on its predecessor. There are times when the detailing and scene structure could have been more defined near the end, but overall, Greythorne makes for an excellent novel. (⭐⭐⭐⭐)
Like this review?
Don't forget to follow Cyn's Workshop on Facebook | Instagram | Twitter | Tumblr | Spotify | YouTube | BookBub | Goodreads | LinkedIn to stay tuned for future reviews.
About the Author
Cynthia Bujnicki graduated from Emerson College with a BA in Writing, Literature and Publishing. She has always loved to read since she was a child. A contributing writer for YA Fantasy Addicts, she is also the Editor-in-Chief for Cyn's Workshop. She lives in sunny South Florida with her husband and son and their two cats, Mr. J the Kitten and Nyx.