Review of 'Grace and Glory'
Armentrout brings her Harbinger series to a spectacular conclusion with Grace and Glory, bringing in tension, amazing characters, and plot twists to die for.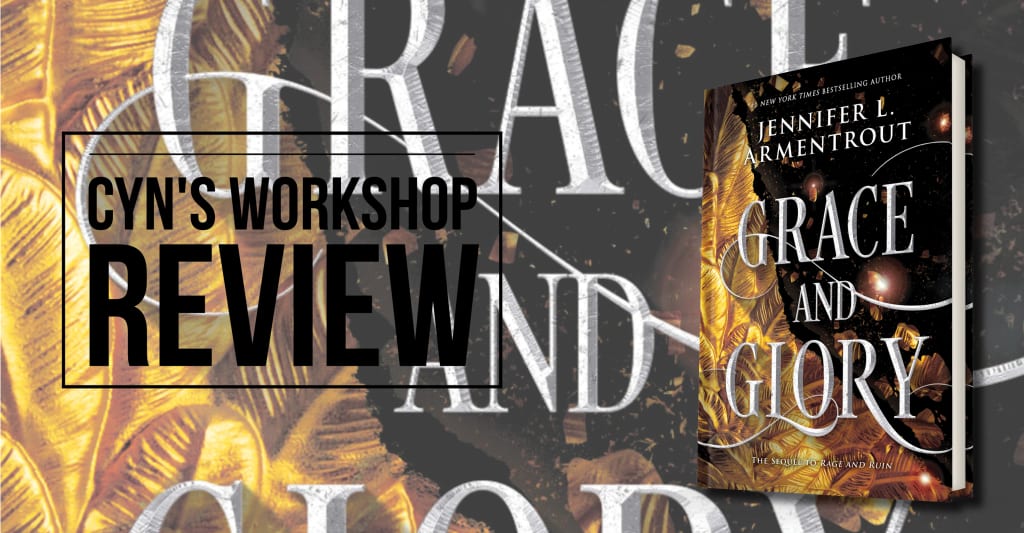 THE FINALE TO THE NEW YORK TIMES BESTSELLING HARBINGER SERIES

Trinity Marrow has lost the battle and her beloved Protector. Even with both demons and Wardens on her side, Trin may not win the war against the Harbinger.

Bringing Lucifer back to the world to fight the Harbinger is probably a really, really bad idea, but they're out of options—and the world's ultimate fallen angel is the only being powerful enough to impact the outcome.

As Trin and Zayne form a new and more dangerous bond and Lucifer unleashes Hell on earth, the apocalypse looms and the world teeters on the end of forever. Win or lose, one thing is certain—nothing will ever be the same.
Review
The final novel in the Harbinger trilogy, Grace and Glory, delivers exceptional characterization, humor, and excellent rising tension.
Excellent Conclusion
Armentrout has done a fantastic job of bringing to life this world with these characters, strong story building, and impressive world-building. I have said this once before, and I will repeat this; it reminds me so much of Gargoyles. However, that is what I love about it. This sense of nostalgia while also making this series and these beings her own.
There are Angels, Ghosts, Demons, Gargoyles, Witches, and Trinity, a trueborn half-human and half-angel. Armentrout gives the world a breath of life as she delves into the history of these creatures without diverging from the story.
That is what makes her storytelling so strong. The layers and layers of Grace and Glory give it depth and dimension, sucking the reader in. We can connect to Trinity because she is flawed and yet so resilient. Her retinitis pigmentosa means she is slowly going blind, but she never stops fighting, never gives up, and continues to hold her own.
Layered Storytelling
Moreover, while the story has been about her quest to stop the Harbinger, it is also about Trinity coming to terms with her condition. She has spent so much of her time living in fear of the day she will not see, and that is understandable. It is a scary thought to wake up one day and be blind, unable to see the stars or your loved ones' faces. So for much of the series, we have been following her on this journey where she hides her fear under layers of snark and attitude. Not a bad thing, working to make her even more relatable. However, it works so well for her character growth, creating this connection with the reader.
Armentrout also never loses the momentum of the overarching plot. While adding humorous scenes with the Supernatural addicted Lucifer, Armentrout keeps the reader entertained from beginning to end. Her storytelling does not falter, and the romance aspect of it also shines.
Between Zane and Trinity, the romance aspect of the story continues to develop. They continue to find their way back to one another. They face many hurdles in their romance, but they come together not through cliches but with their strength. Together they shine, but they also shine when they are apart as well. They are not this codependent trope; they respect one another, fight alongside one another, and hold their own, making their characterization stronger and more relatable to the reader.
Final Thoughts
Grace and Glory is, simply put, a fantastic conclusion. Armentrout leaves the door open to continue to explore this world, but this trilogy holds its own. Grace and Glory entertain and grounds readers in its characterization, humor, action, and storytelling, bringing the trilogy to a solid ending.
Writing Quality : 9/10
Character Development : p9/10
"Couldn't Put It Down"-ness : 10/10
Intellectual Depth : 9/10
Originality: 10/10
Overall Rating: 4.5 out of 5.
Like this review?
Don't forget to follow Cyn's Workshop on Facebook | Instagram | Twitter | Tumblr | Spotify | YouTube | BookBub | Goodreads | LinkedIn to stay tuned for future reviews.
About the Author
Cynthia Bujnicki graduated from Emerson College with a BA in Writing, Literature and Publishing. She has always loved to read since she was a child. A contributing writer for YA Fantasy Addicts, she is also the Editor-in-Chief for Cyn's Workshop. She lives in sunny South Florida with her husband and son and their two cats, Mr. J the Kitten and Nyx.