Review: 'Cosmic Ghost Rider #1'
Donny Cates continues to astound.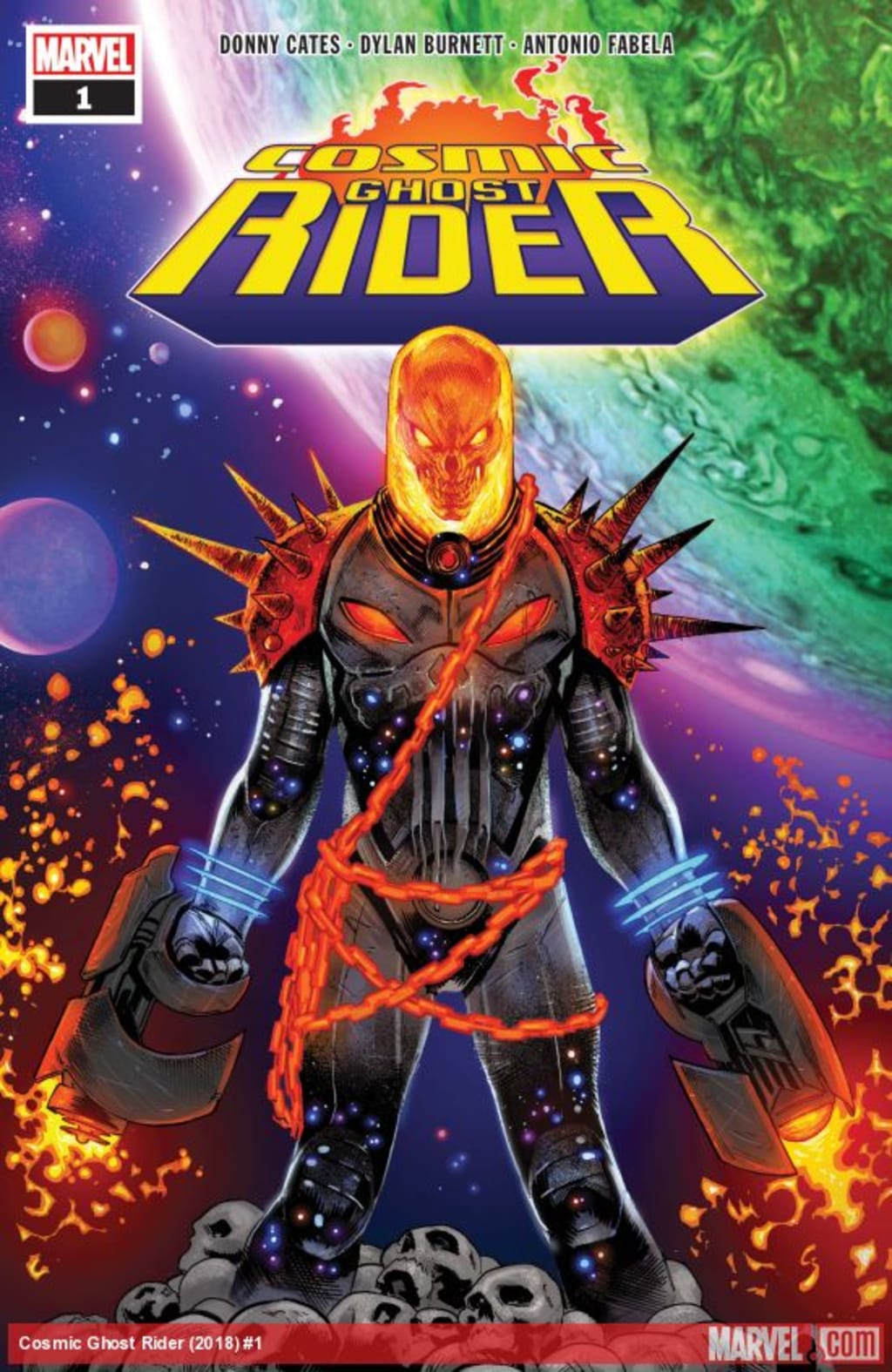 Donny Cates has been on a roll recently. Since he started writing for Marvel Comics he's worked on and finished Thanos, Doctor Strange, and Doctor Strange: Damnation, and currently writing Venom, Death of the Inhumans, and the subject of this review, Cosmic Ghost Rider, all of which have proven massively popular with fans so far. His short but sweet run on Thanos gave us the instantly classic Thanos Wins story, in which the titular character is whisked eons into the future by his older self in order to kill the last remaining opposition to his rule and finally allow him to be with Lady Death, his one true love. One of the most intriguing additions to the Marvel Universe that Cates gave us was the Cosmic Ghost Rider, a former servant of Mephisto, herald of Galactus, and now Black Right Hand of Thanos. Fans found the Cosmic Ghost Rider endearing due to his insane personality and the fact that he's not Johnny Blaze, Danny Ketch, or Robbie Reyes, but Frank Castle, the vigilante formerly known as The Punisher.
The character proved so popular that Marvel decided to give Frank his own five issue mini-series, the first issue of which debuted on July 4th, 2018. My expectations for this series were set pretty high, given my admiration for Cates' runs on both Thanos and Doctor Strange, as well as his penchant for embracing the inherent craziness of comic books. To put it plainly, I was not disappointed. This story is quite frankly bonkers and it shows no sign of mellowing out in the next four issues. We open with a short and concise overview of Frank's incredibly long life, including his time in the Marines, his family's death, his crime-fighting career, and his death and resurrection as the Cosmic Ghost Rider. It moves on to a surprisingly emotional conversation with Odin and then a shocking final page that sets up the conflict for the remainder of the series.
Donny Cates continues to prove himself one of the most talented writers in the business. His ability to blend absolutely insane settings and characters together while simultaneously crafting deep and moving stories that excite and astonish is nothing short of amazing. Only a mind as wonderfully twisted as his could come up with a concept as ridiculous as turning The Punisher into a space fairing flaming skeleton man and being able to make it work so well. He's worked with Marvel Comics for a little over a year now, writing five titles, and positively nailing all five titles. I have nothing but praise for Mr. Cates' talent and I look forward to reading many more of his stories. Dylan Burnett's art is phenomenal as well, and there's no doubt in my mind that he was the perfect choice to illustrate this series. His slightly cartoonish art is perfect to able to convey the inherent insanity and incredible cosmic imagery that's expected with a title such as this one. Marvel and Donny Cates have hit another home run with this series, and I for one, look forward to reading the rest of this great story.