Remembering The Black Panther's Seven Best Moments
Rest In Peace, Chadwick Boseman.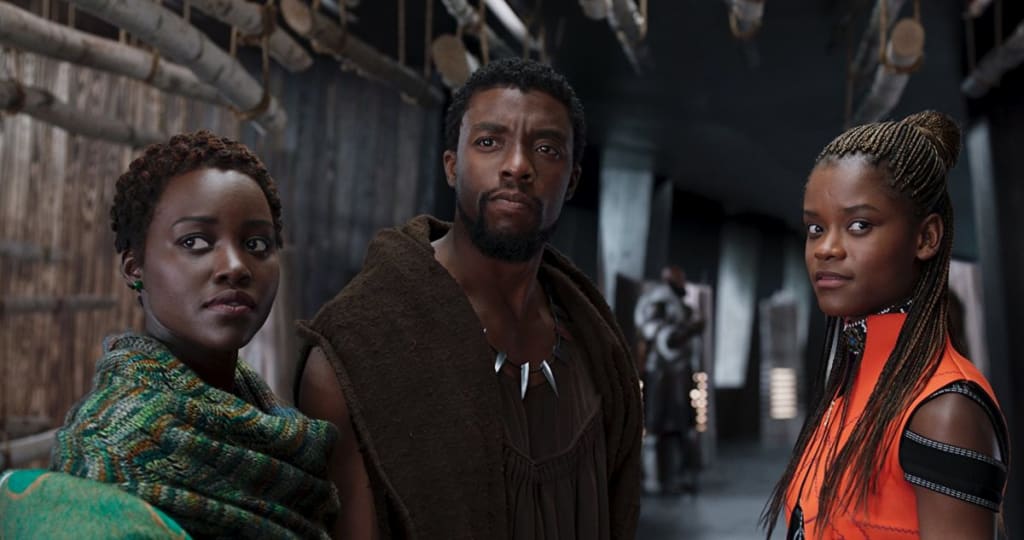 Friends and fans the world over were shocked and saddened by the news that actor and icon Chadwick Boseman passed away on August 28, 2020. For the past four years, Boseman had been waging a private battle with late stage colon cancer. The majority of his appearances in the Marvel Cinematic Universe were filmed while he was undergoing regular surgeries and chemotherapy treatments.
Boseman began his film career playing real life Black icons, such as Jackie Robinson in 42, and James Brown in Get On Up. However, by far his most popular role, and the one for which he will be remembered, is that of King T'Chaka, aka the Black Panther, in the Marvel Cinematic Universe. Of the actor's four MCU appearances, three, including the Academy Award Winning solo film Black Panther, are among the top ten highest grossing films of all-time.
So, to honour the memory of the late, great Chadwick Boseman, we've compiled a list of the Black Panther's best moments in the MCU. Rest in peace Chadwick Boseman. You'll always be our Black Panther.
Wakanda Forever!
7. Black Panther vs Captain America and Bucky Barnes/ The Winter Soldier (Civil War)
After Helmut Zemo successfully frames Bucky Barnes for the attack that claimed the life of T'Challa's Father, King T'Chaka, T'Challa suits up as the Black Panther to avenge T'Chaka's death. What results is an epic battle/chase sequence that pits the Black Panther against both Bucky and Captain America, who is trying to protect his old friend. During the sequence, Black Panther becomes one of only two characters to personally damage Cap's Shield, as the Shield and Black Panther's suit are made of the same rare metal: Vibranium.
The scene is the first time we see T'Challa as his alter-ego, and serves as a perfect introduction to the Black Panther, letting us know exactly what to expect from the character. It remains one of the most iconic entrances in the MCU.
6. Bringing Zemo to justice. (Civil War)
In the final act of Captain America: Civil War, T'Challa follows Tony Stark to the Siberian Hydra facility where he is to meet Steve and Bucky, still intent on revenge. However, as he watches the proceedings unfold, waiting for his moment to strike, T'Challa learns that Bucky really had been framed, and that Zemo was the true mastermind behind the events.
Horrified at the thought he had almost killed an innocent man, T'Challa confronts Zemo, and prevents him from escaping justice through suicide. The humility T'Challa gains from this incident, as well as a need to atone for past wrongs, are traits the character carries with him into his later appearances, and likely drives his decision to offer Bucky asylum in Wakanda in Civil War's mid-credits scene.
6. Confronting T'Chaka (Black Panther)
After a comatose T'Challa is fed the heart-shaped herb to revive him and restore the powers of the Black Panther, he is given another chance to speak with his Father, T'Chaka, in the spirit world. T'Challa immediately confronts his Father over his decision to abandon his young nephew, N'Jadaka (now Erik Killmonger), rather than bring him home to Wakanda.
While T'Chaka tries to justify himself, T'Challa lets his Father know, in no uncertain terms, that his decision was wrong. In this moment, T'Challa surpasses his Father as a King, because unlike T'Chaka, T'Challa has no problem owning up to his own mistakes and trying to atone for them.
4.Defeating M'Baku (Black Panther)
Early in Black Panther, T'Challa undergoes a ceremony to officially become both King and Black Panther. Just as T'Challa is about to be crowned unopposed, the Jabari tribe, who have been long estranged from the rest of Wakanda, arrive, and their leader, M'Baku, challenges T'Challa to a duel for both of his mantles. The fight is supposed to be to the death, and T'Challa is the clear victor, but he chooses to spare M'Baku.
This choice becomes important later in the film, when M'Baku is revealed to have rescued T'Challa after Killmonger threw him over the cliff. He also offered asylum to Queen Ramond and, eventually, brings the Jubari to aid T'Challa in battle. M'Baku also arrives to aid T'Challa in Avengers: Infinity War, at which point the two seem quite friendly.
This shows that, once again, T'Challa achieved something his Father was unable to accomplish: truly uniting all of Wakanda.
3. Leading Wakanda into battle against Thanos's forces (Infinity War)
In Avengers: Infinity War, Wakanda quickly becomes home base for all the Earth-bound Avengers when they bring Vision to Shuri to have the Mind Stone removed. As everyone respects T'Challa's role as King, he assumes a psuedo-leadership role over the Avengers once they arrive in Wakanda. It is T'Challa that makes many of the strategic decisions, ultimately leading both his own people and the Avengers into battle against Thanos's army.
Yet another iconic moment for the Black Panther.
2. 'As you can see, I am not dead!' (Black Panther)
Just as Erik Killmonger is about to sell dangerous Wakandan weapons out onto the Black Market and declare war on the world, T'Challa returns to reclaim his throne and save his country. As long as T'Challa lives, Killmonger cannot officially be King. His challenge is not over. While the reveal splits the Wakandan forces, some of whom choose to remain with Killmonger, it allows Okoye and the Dora Milaje to return to T'Challa's service and do what they believe is truly best for Wakanda
T'Challa's proud declaration of :
"I did not yield, and as you can see, I am not dead!"
Is a pivotal, iconic moment not just for Black Panther as a film, but for the character as a whole.
1. First through the Portal (Endgame)
As the restorative snap in Avengers: Endgame is immediately followed by their base being blown up by Thanos, they spend quite a while unsure whether it worked.
Then, just as things look their bleakest, Sam Wilson's voice is heard, a portal opens, and who should step through it but King T'Challa, the Black Panther, restored and leading his people to fight alongside the Avengers once more. T'Challa's return marks the beginning of not just one of the biggest scenes in MCU history, but in all of film history. It is one of many moments for which the character will always be remembered.
Rest In Peace, Chadwick Boseman. Your legacy will live on in the wonderful performances you gave us.
celebrities
Passionate About all things Entertainment!
Receive stories by Kristy Anderson in

your feed