Reading Memorial High School Drama Club's 'Chicago' Is Spectacular!
The best part about RMHS's 'Chicago' is that there are surprises around each corner.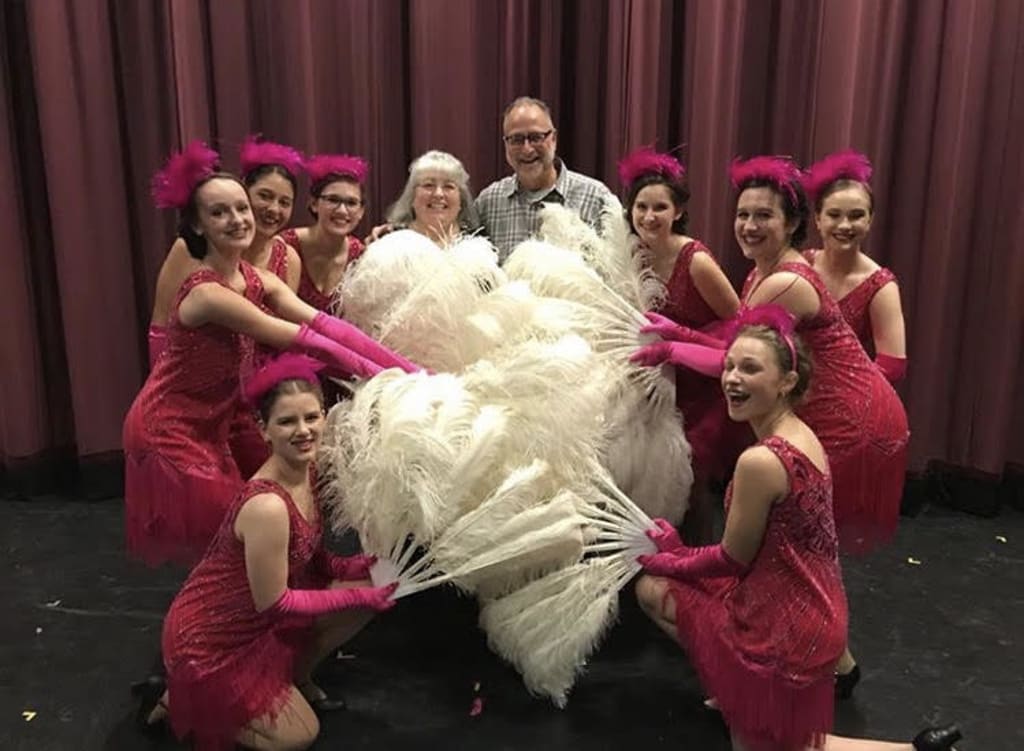 Director Bill Endslow and Music Director Kristin Killian pose for a picture with the Ensemble of 'Chicago'
I have an idea! Let's take a trip to Chicago! We can join all that jazz.
Reading Memorial High School Drama Club presents Chicago as its fall production. Based on the film of the same name, Roxie Hart is on trial for murder. Getting advice from famous vaudevillian Velma Kelly and her lawyer, Billy Flynn, the trial of a lifetime has the city of Chicago in an uproar.
RMHS did a spectacular job with their rendition of Chicago! The entire cast showed off their immense energy in the opening number "And All That Jazz." From start to finish, I gaped at the amazing voices, dazzling costumes, and the fun twists and turns.
Tessa Goldlust and Renee Haley were outstanding as Velma Kelly and Roxie Hart. The actresses absorbed their character's energy, sass, and belting out in tune. My favorite parts were how they were trying to get in each other's faces to steal the press. I applaud them for their incredible enthusiasm.
Anthony Dispena's humorous portrayal of Amos Hart was a highlight of the show. He most definitely earned applause for his musical number "Mister Cellophane."
One of my favorite scenes involved Owen Lannon as Billy Flynn, Roxie's Lawyer. I like how he programmed Roxie as a puppet during the number "We Reached for the Gun," trying to be on good terms with all the reporters and for the judge.
Rolling onto the stage on a stairway, Katie Delaney made her grand entrance as Matron 'Mama' Morton singing her terrific signature song, "When You're Good to Mama."
No part is ever small in the theater. A large group of talented individuals lit up the stage in energetic dance numbers, a crowd of nosy reporters, and expressive spectators during the trial scene. A few people showed off their talents, doing flips, cartwheels, or even a split! I could tell that everyone was having fun.
"Cell Block Tango" was one of the most entertaining numbers of the evening! Trapped behind jail cells, a group of women prisoners expressed their dark stories of revenge against their romantic partners who went against them. The actresses pulled off incredibly dramatic monologues while tapping rhythmically to the beat.
Minimal sets were used for Chicago. The stage was mostly bare, using only the curtains as a background. That created a mystical atmosphere for some scenes which worked. When sets were needed furniture was used to represent a living room, an office, or a courtroom.
Set up on the stage was an orchestra of talented musicians playing some of your favorite songs. Other songs to expect are "All I Care About is Love," "Me and My Baby," and "Razzle Dazzle."
I adored all the costumes. I felt that I was back in the 1920s with the glamorous dresses and gowns. Hair and wigs were especially beautiful. Chicago is an opportunity to travel back into the 20s.
The courtroom scene was a suspenseful scene. Nevertheless, it was still filled with comedic moments, giving the cast a chance to shine their talents. The best part about RMHS's Chicago is that there are surprises around each corner.
Director Bill Endslow's incredible enthusiasm lit up the stage in this energetic theatrical production. Everyone grasped their character, studying the moral of the show. Everyone was so excited to get back on stage for another song number to an excited audience.
You only have two more chances to get a ticket to Chicago. If you have the time I recommend that you catch a showing at RMHS 11/16 at 7:30 and 11/17 at 3:00 pm. You don't want to miss out.