'Poker Face': Movie Review
"Poker Face" is a great crime drama television series to watch.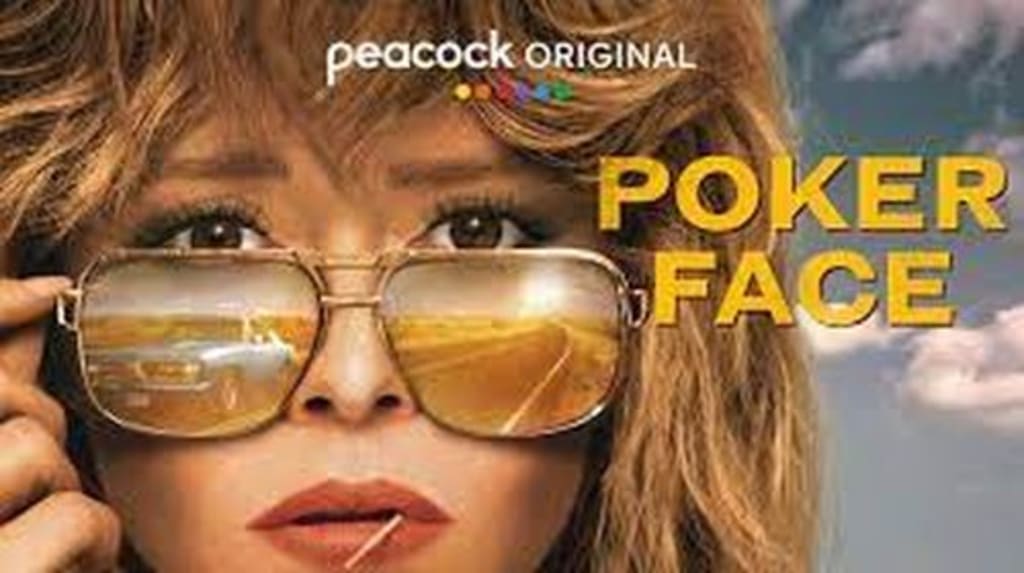 "Poker Face" on Peacock
If you like to watch really good movies as I do, then consider watching Poker Face. Season 1 of the 10-episode series was released on January 26, 2023, and ended on March 9, 2023. It is still available on the streaming service Peacock. The episodes are easy to binge-watch because they are just that good. I watched the entire series on a Friday night.
What "Poker Face" is About
This 2023 Poker Face crime drama television series should not be confused with the 2022 Poker Face Australian-American thriller film written, directed, and starring Russell Crowe and Liam Hemsworth. The 2023 American crime drama is a series while the 2022 one is a 95-minute movie.
The Premise of "Poker Face"
The American crime drama television series was created by Rian Johnson starring Natasha Lyonne as Charlie Cale, a casino worker on the run who has a special talent. In every episode, Charlie involves herself in helping solve murder mysteries by knowing when people are lying and when they are telling the truth. While on the run for her own life, Charlie finds out about cases she just can't leave alone because she knows the truth that others don't know.
Because she is on the run, Charlie ends up in unsuspected places and solves homicides in a variety of settings for people she just met. In those cases, a person has been charged with a murder that he or she didn't commit. Charlie is often seen being run out of town, but she knows she can solve a case. So, she turns her car around and heads back to the town, and doesn't leave until justice has been served.
What I Like About "Poker Face"
Even though the central character is on the run in every episode, she solves a murder mystery before moving on. She is on the run during all 10 episodes, but the cases she solves are different. I like seeing the conclusion of one case even though I know Charlie will still be on the run in the next episode. Her story continues, but all the cases she involves herself in are solved at the end of each episode.
Therefore, viewers get to watch the unique ways Charlie solves a new murder mystery at the end of every episode.
Similar shows
Charlie being on the run during every episode reminds viewers of the 1963 and the 1993 series of The Fugitive where the main character is innocent and on the run during the entire series.
Charlie's unique way of solving crimes and revealing how she does is a reminder of what the mystery writer Jessica Fletcher does in Murder She Wrote, what Lieutenant Columbo does in Columbo, what Ben Matlock does in Matlock, and what Perry Mason does in the courtroom on Perry Mason.
Poker Face is similar to Columbo in that viewers see the murder when it takes place. However, they are not aware of all the details needed for the cases to be solved like Charlie and Columbo.
Viewers do not know who the killer is in the other mystery shows mentioned above until everything is revealed in the end. Jessica Fletcher, Ben Matlock, and Perry Mason always have a small detail that the killer overlooked. There is no denying it after that detail has been revealed.
In most of those cases, the wrong people are on trial for a crime they did not commit. The lawyers and Mrs. Fletcher, the unofficial detective prove the wrong person has been charged.
What About Will Trent?
I have not forgotten Will Trent. The lawyers and detectives I mentioned above are from classic television shows that I still watch. However, Will Trent is a recent show that was released on ABC on January 3, 2023.
Trent, played by Ramón Rodríguez, is a special agent who has an eye for observational details that help him solve cases that baffle others.
Feel Free to Comment
Feel free to comment about anything mentioned in this article. Also, feel free to share your favorite television mystery. Perhaps it will become one of my favorites as well.
About the Creator
Margaret Minnicks shares articles with readers all over the world. Topics include celebrities, royal family, movies, television, foods, drinks, health issues, and other interesting things. Thanks in advance for TIPS that are sent my way.
Reader insights
Be the first to share your insights about this piece.
Add your insights