Pinocchio (1940) - A Movie Review
'Pinocchio' is a promising lesson to young children about how important telling the truth is.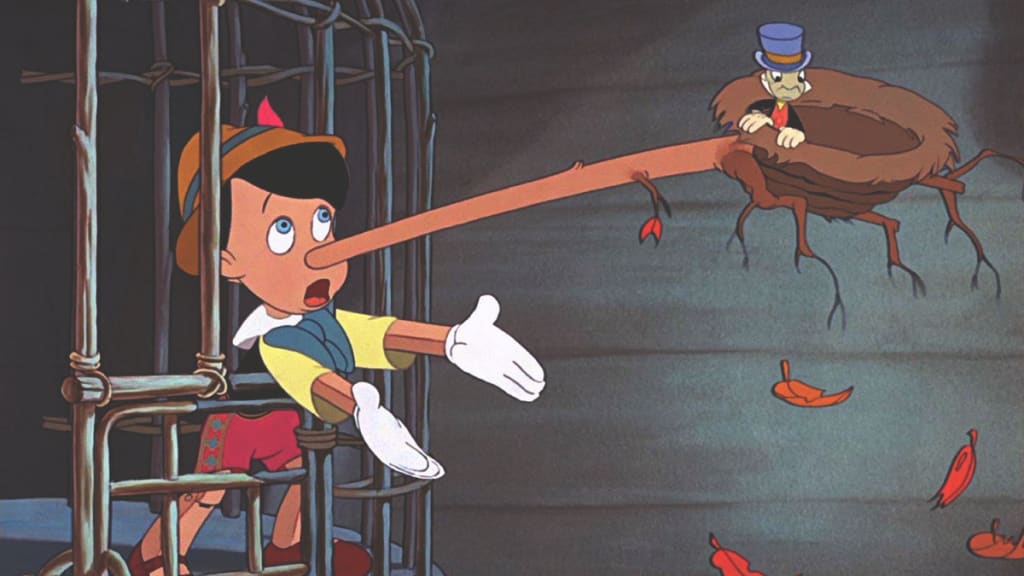 I just saw a puppet walking around on its own with a cricket. Am I crazy?
Released to theaters in 1940, Pinocchio was Disney's second animated feature. A puppet is given a chance to live. With the help of Jiminy Cricket, Pinocchio must prove himself worthy to one day become a real boy. The journey that follows is reflective.
Pinocchio is a fun adventure that I always enjoyed watching when I was a kid. I liked bopping my head to all the fun songs. Even now, that has not changed. The film is a promising lesson to young children about how important it is to tell the truth. For a film distributed to young audiences, Pinocchio has pivotal dark moments.
Granted with the chance to become a real talking puppet, Pinocchio is curious about the world. His behavior has raised mixed opinions among audiences throughout its eighty years. Arguably, he is still a young boy who is learning about the world. Pinocchio's aspirations and bravery are to be admired.
Friends are a value. Sometimes friends play a huge role in our consciousness. Jiminy Cricket is a huge influence. He is a gentle cricket who also learns a valuable lesson. That is a quality that I noticed on my recent watch of the film. Storywriters did a wonderful job incorporating him into scenes, adding comical levity.
Voice credits that brought this film to life include Dickie Jones, Cliff Edwards, Christian Rub, Evelyn Venable, Walter Catlett, Frankie Darro, and Charles Judels. This film is also a great example of how being voiceless makes a powerful impact. Characters like Figaro the cat, Cleo the goldfish, and Gideon are memorable in their emotive expressions.
Surprisingly, one character that I found intriguing was Lampwick. He is not a good influence, but I like the short friendship that he had with Pinocchio. It was genuine and he looked out for him - to a decree. If the film had a different outcome I would have liked to have seen more scenes dedicated to explaining Lampwick's backstory.
Animators went above and beyond with incredible animations, backgrounds, and designs. Did you know that Jiminy Cricket's design has 27 different colors? Gepetto's workshop is to be admired. The animators studied real clocks. When watching the film, take the time to examine all the crafty knick-knacks.
The climax is epic. And I mean epic. Admittedly the film is a bit overwhelming for younger audiences. The chase sequence with Monstro the Whale is an on-edge, riveting climax that has your eyes glued to the screen to see what happens next. Story writers included riveting emotion in scenes.
I could feel my heart pounding during a dramatic sequence that took place on Pleasure Island. Although it has a happy ending, one major subplot is never given a resolution leaving it as a dark conclusion.
Songs are creative. Opening the film, "When You Wish Upon a Star' is a slow and gentle number. I always snapped my fingers at the song 'Hi-Diddle-Lee-Dee.' It's so catchy. Other songs to include are 'Little Wooden Doll', 'I've Got No Strings', and a spectacular soundtrack that accommodates scenes.
Walt Disney created a treasure for all to enjoy. One of the most important messages that Disney incorporated in Pinocchio is that we all have flaws. We are all curious about the world but we have to understand the dangers of talking to strangers. Pinocchio is a heartwarming film about exploring friendships and relationships.
Pinocchio is a classic. Watch it to join the adventure with your two favorite heroes. And remember, never tell a lie, or your nose will grow.
movie
Writing has been my passion since I was 11 years old. I love creating stories from fiction, poetry, fanfiction. I enjoy writing movie reviews. I would love to become a creative writing teacher and leave the world inspiring minds.