Penn Badgley's Perfect Match
Victoria Pedretti as Love Quinn in Season 2 of You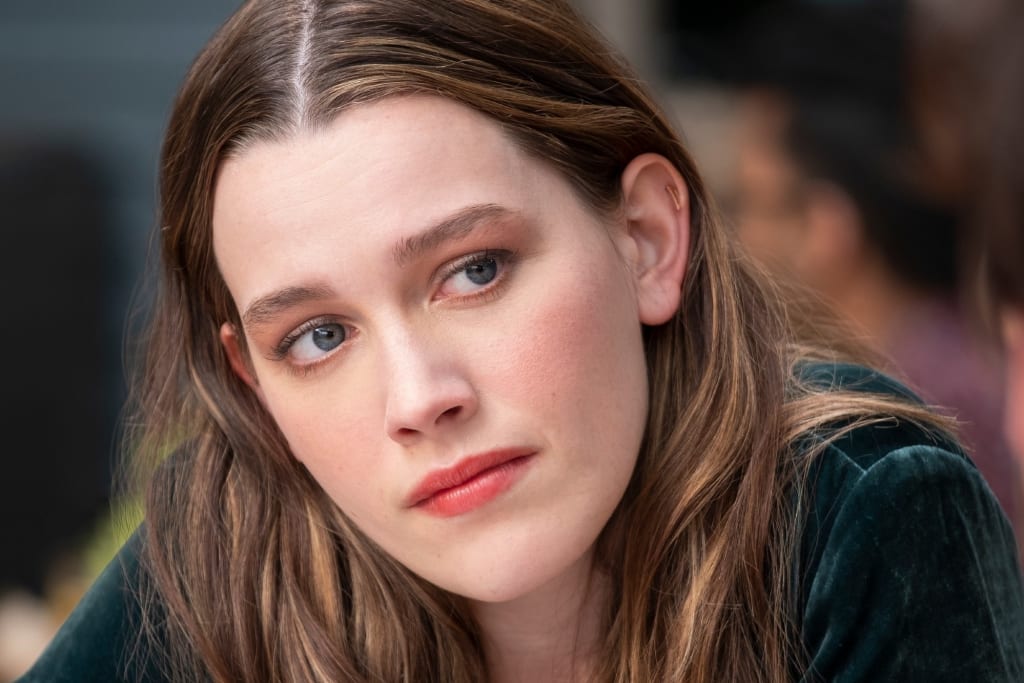 Victoria Pedretti as Love Quinn ( Credit: Daily Express)
Spoilers Ahead.
My first article on this site was actually a fluff piece. A fluff piece about the incredible Penn Badgley. This was before the series had even hit Netflix as a "Netflix Original".
Penn Badgley, who plays Joe Goldberg on You, is an actor I've been familiar with since his John Tucker Must Die days. He's always been a good excuse to watch anything even Gossip Girl. Now, I'm not saying GG is a bad show, it's just never been up my alley despite the fantastic acting and colorful writing. However, Leighton Meester and Kristen Bell are always added perks.
You, though, is a show right up my alley. If you've been living under a rock or just not paying any attention, You is a show (originally a duology of books, fingers crossed a trilogy soon) about a man named Joe who meets cute a good looking and witty woman named Beck. He's instantly infatuated with her, but the more he learns about her, the more he believes she needs someone like him in her life. Unfortunately for Beck, Joe has his own way of getting rid of the toxic influences in her life and this is where the real meat and potatoes of the story comes in. He deals with them in rather deadly ways. And eventually Beck finds out which ends in her untimely demise (in both the book and show). The first seasons end with Dr. Nicky, who was Beck's lover, in jail for supposedly murdering her and Joe coping with her death by showing attention in a new possibility.
This is where the book and show differ the most. The book introduced us to a new girl named Amy Adam who ends up stealing a pricey edition of Portnoy's Complaint and runs off to LA.
Joe follows her, intending on dealing with her much in the same way as Beck, but finds a beautiful new woman named Love. Love is passionate yet responsible. Sensual yet sexy. Joe is very much drawn to her in both the series and book. Love is everything Joe has ever wanted.
He ends up in jail at the end of the second book, Hidden Bodies.
However, the show sets up the Amy scenario just to twist in Candace, Joe's supposed dead ex pre-Beck.
She tells him she needs to talk and calls him Bunny. We cut off and the second season is teased as a showdown between Candace and Joe.
The entire second season and book focus on Joe's journey to LA and to Love. We meet her and are instantly smitten as Joe is with her. She's not Beck-like at all. Well except for one thing. She also has a toxicity in her life. While for Beck, it's her friends (especially Peach, her supposed bestie) and her bang buddy Benji, it's only one person really for Love: her twin brother, Forty. Forty, an addict with high aspirations to become a Hollywood icon and stereotypical rich boy trying to be earthy vibes, tends not only to ruin his life with his ambitions and addictions, but Love's as well. She feels indebted to him and only when he dies does she feel free. In the book, she sees Joe go to jail while she is pregnant with their first child. She's kinda chill about his revelations, but in the show, she's just like Joe.
Love is a spoiled rich girl in both forms, but she's obsessed with crafting the perfect family in the show. Her family despite their wealth feels broken to her. When she was a child, her brother fell in love with his au pair (basically a foreign nanny that helps with everyday things for room and board) and they had a secret affair.
Finding this out causes Love to fly into a jealous rage. She kills the au pair (who admittedly should've been arrested for being 19 and having a thing with a 14 year old) and frames her brother, saying it was due to his jealousy. Love recounts the story with her truth to Joe. She doesn't regret it, but does lament because it fractured her fragile brother's psyche and she's always had to pick up the pieces. She meets a man later in her life and marries him. She wants to start a family with him, but he's hesitant. He ends up getting sick and dies before she can convince him. This has caused some fans to exclaim that she killed him. Which is plausible as she had already committed murder at this point.
She tells Joe how much she wants a good family. That like Joe she'll do anything for the people she loves including killing. She murders both Candace and Deliliah as they could expose Joe's secrets to the public. Then she tells him that she is pregnant and the two will now be three.
The end of the second season sets up for a potential third season where Joe may have just met his match. He sees a woman through the fence and we see that there may be love beyond Love. Betcha Love will have some ways to deal with that especially now that this will threaten the perfect family she has constructed.
Victoria Pedretti stars as Love. A quirky, loyal woman with a dark side. She does such a great performance as the mood swinging and protective Love Quinn. She quickly wins the crowd as much as Beck did in the first season. Unlike Beck, we see Love's devotion to Joe. Her obsession with him driving her as much as his does him. She doesn't cheat on him just because she can. Instead she uses Milo as a reminder to Joe. Other men may want her, but she just wants him and what he represents. A man as broken and damaged as her who just wants better in his life just like her.
I'd never seen Ms. Pedretti in anything, but her performance in You season 2 definitely has me looking through her Wiki for more movies and shows.
I'm hoping You season 3 has them face off against each other because like Mr. Badgley, she definitely crosses the line between cute and creepy.
First article on You:
https://vocal.media/stories/penn-badgley-toeing-the-line-between-cute-and-creepy