"Oh, It's That Guy!" - 6 Great Not-Quite-Celebrities
Silver Linings #34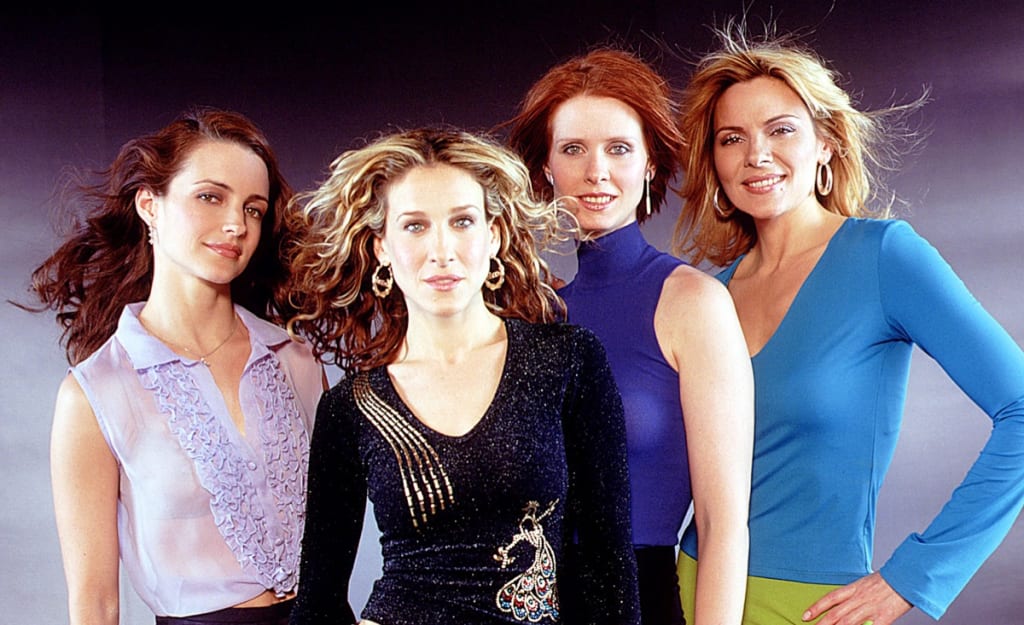 Hello, and welcome back to Silver Linings where the maligned, the forgotten, and (especially) the ignored get their time in the spotlight.
It takes a certain kind of person to become a celebrity in Hollywood. Millions of hopefuls go to California and New York every year wanting to become a household name like Brad Pitt or Angelina Jolie. Not even 1% of those people would succeed. However, while very few become recognizable names, many have solid acting careers staying largely in the background. They're the ones that make you say, "Oh, it's him/her!" when they show up on screen. Now, I want to give attention to a few of the ones like that. Here are three men and three women whose names may not be familiar, but their performances are.
Dabney Coleman
Dabney Coleman was a very recognizable face from the 70s to the 90s. I already mentioned how he was able to jump easily from serious to silly in Cloak and Dagger. However, he was able to do that throughout his career. He could go from a serious fire chief in The Towering Inferno to a sexist pig in 9 To 5 to the greedy but good-natured Mr. Drysdale in the movie version of The Beverly Hillbillies. I particularly liked him in one mostly ignored comedy Short Time where he played a cop convinced he was going to die from an illness; so, he starts taking extremely dangerous assignments trying to get killed in the line of duty. He even managed to provide a fun villain performance in the appalling comedy Hot To Trot!
Kim Cattrall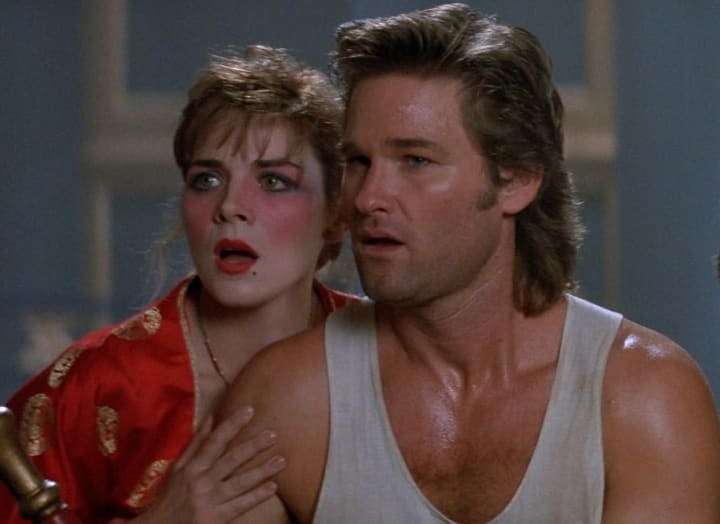 This Canadian fox is mostly only known by the general public for Sex and the City and her subsequent spats with Sarah Jessica Parker. That does her a disservice. She is the bombshell of my childhood. She was adorable as Cadet Thompson in the first Police Academy movie. She was a riot as the coach Miss Honeywell, a.k.a. "Lassie", in the first Porky's movie. She proved that Vulcans could be hot and have depth when she played Lt. Valeris in Star Trek 6: The Undiscovered Country. She was fun as Emmy in Mannequin, and she was no-nonsense as lawyer Gracie Law in Big Trouble In Little China.
Yes, I like her as Samantha in Sex and the City, too.
W. Morgan Sheppard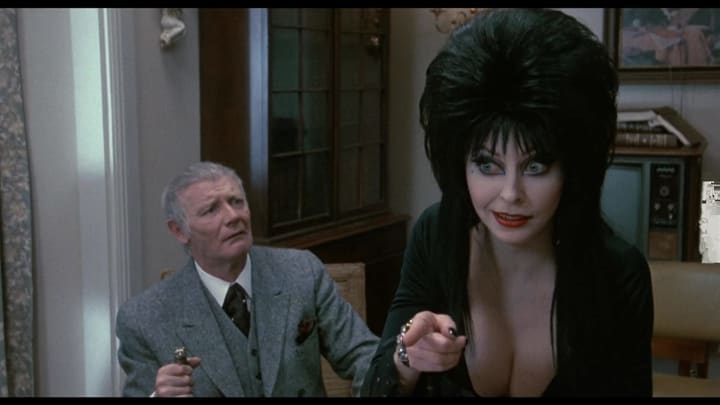 I understand if you missed English actor William Morgan Sheppard in the screencap above; naturally, Cassandra Peterson's cleavage tends to grab attention. Mr. Sheppard had been seen plenty in sci-fi and horror, including multiple appearances on Babylon 5, multiple roles in the various Star Trek series, and movies like The Elephant Man and Elvira: Mistress of the Dark (which I watch every Halloween). However, he was mostly known for his voice. He was the voice of Xanatos' father in Gargoyles, Peter Fargason in the English dub of the anime Hellsing, and even the CO who gave players their assignments in the first three Medal of Honor games. Though he passed in 2019 at the age of 86, I've always enjoyed every time he showed up.
Beth Grant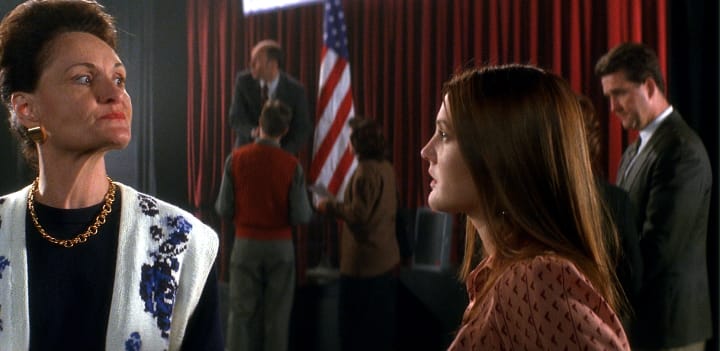 Beth Grant is the very example of how a great character actor can be recognizable in different ways to different movie fans. Ally recognized her as the slightly psychotic gym teacher Kitty Farmer in Donnie Darko. I recognized her as the neurotic and ill-fated passenger Helen in Speed. As it turns out, those are just two moments from tons in films like To Wong Foo, Thanks for Everything! Julie Newmar; No Country For Old Men; and The Artist and on TV shows like The Mindy Project; Wonderfalls; and Dollface. She's still going strong at age 70. Keep it up, Mrs. Grant!
Lane Smith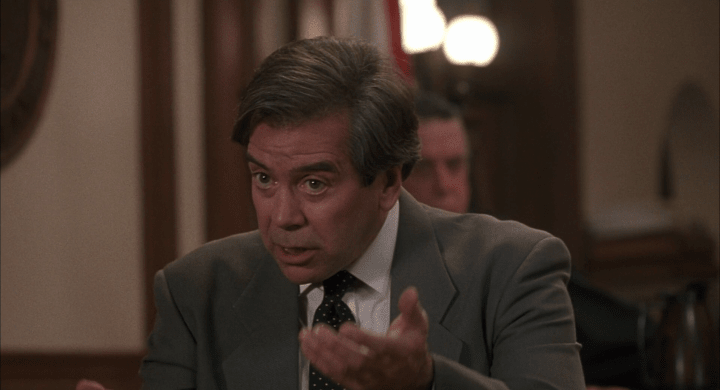 I mentioned Walter Lane Smith III before; he was Carla Gugino's disapproving father in Son-In-Law. However, Lane Smith showed up all over the place in the 80s and 90s, as both friends and fiends. He collaborated with evil aliens in the TV series V, he prosecuted two suspected murderers opposite Joe Pesci in My Cousn Vinny, coached a hockey team too harshly in The Mighty Ducks, and he was the tough but lovable Daily Planet editor Perry White in Lois & Clark: The New Adventures of Superman. Though he died from Lou Gehrig's Disease (ALS) in 2005, I haven't forgotten his great performances.
Radha Mitchell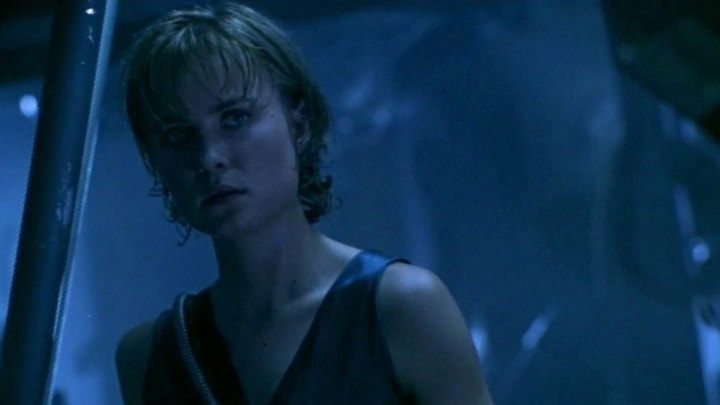 Australian actress Radha Rani Amber Indigo Ananda Mitchell (whew!) is an actress that popped up on my radar multiple times just looking at the movies I've mentioned on Vocal. She was Colin Ferrell's wife in Phone Booth, the acting Captain of shipwreck survivors in Pitch Black, and a desperate mother searching for her missing child in Silent Hill. That's just the tip of the iceberg. She can do tough roles like Agent Peters in Surrogates or gentle parts like J.M. Barrie's wife Mary in Finding Neverland. Though well-regarded by Australian audiences, she largely slips the notice of American movie fans which is a real shame.
What do you think? Any more background actors who deserve more recognition? Let me know, and take care (especially now).