North Shore Music Theatre's 'Oklahoma!' Was a Fantastic Performance
'Oklahoma' was cast with outstanding actors who come from different theatre backgrounds.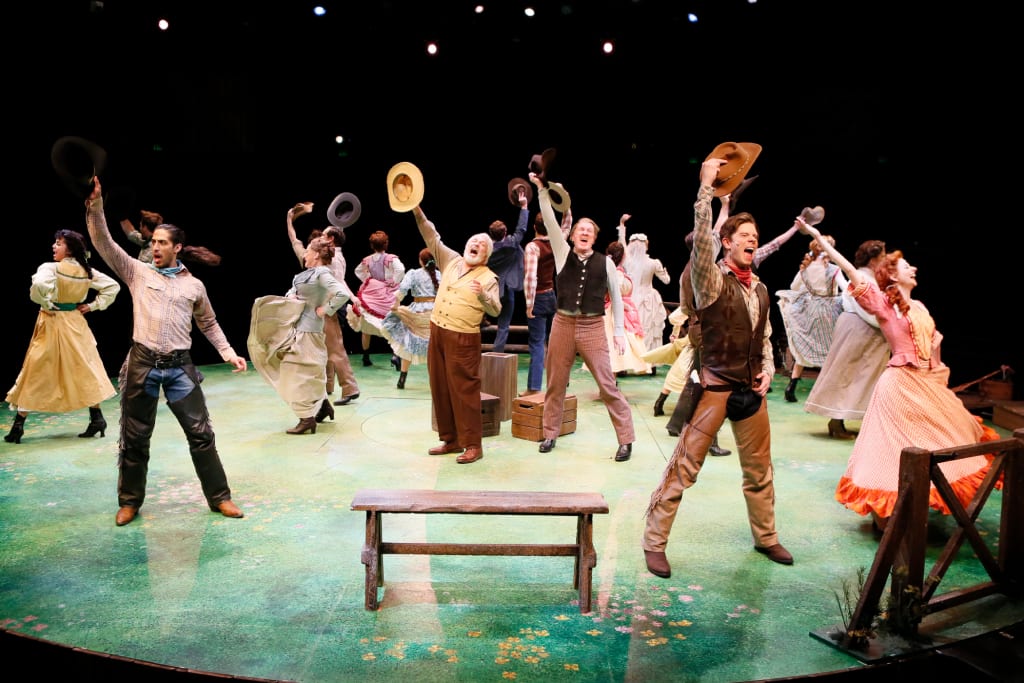 The cast of Oklahoma singing and dancing up the stage of North Shore Music Theatre. Photo taken by Paul Lyden.
Hold your horses, you're in for a wild ride in Oklahoma. There's nothing like dancing through the plains, horses, and a beautiful morning.
Oklahoma! First hit the stage in 1943! The plot centers around two love stories. Laurey is caught between two romances with two entirely different beaus while Ado Annie cannot get enough love. Does love really matter or are they just going to marry for the status?
North Shore Music Theatre began their most recent show with the rich, musically choreographed musical; Oklahoma! It was such a fun show to sit through watching actors frolic about the stage sharing a witty story in the melodious melodies.
The instant the show started I was gaping at the surprise of a large four-legged creature gracefully walking down the aisle with Blake Price (Curly McLaine) singing 'What a Beautiful Mornin.'" Followed by a small mishap which was saved by Price's superb timing. He just kept on singing which miraculously saved the day! Contrary to the line in the song, 'everything's goin' my way' just goes to show that everything won't go your way during live theater. The most important thing is how you react and keep moving forward.
Blake Price performed as Curly. He made the most memorable entrance onstage that I ever have seen. I just want to applaud Price for his remarkable adlibs to keep the show going. He had a terrific voice and excellent comedic timing.
From that moment Madison Claire Parks entered the stage her beautiful operatic soprano voice sang out to an entire audience. Her performance was powerful and graceful. Parks is natural in acting. She really grasped her inner character making a believable performance.
Melissa Carlile Parks is a delight the instant she hits the stage belting out "I cain't say no'" in an authentic accent. It's a catchy tune that immediately gets stuck in your head! She and Sean Bell (Will Parker) have the best comedic chemistry. You'll get a kick of their 'saying hello in Oklahoma fashion' moment.
Actors worked long and hard on dramatic scenes, flips and turns, and running about the stage. I especially have to applaud Susan Cella (Aunt Eller Murphy) and Alex Levin (Jud Fry) on their comedic, captivating and dramatic performances. Levin performed a remarkable number with a truly compelling voice.
An ensemble of many creative individuals danced about on stage. Oklahoma! was cast with outstanding actors who come from different theatre backgrounds. Each was given the right amount of time to stand out with a line, a song, or a dance number. The cowboy tap dance number was one of my favorites.
Music by Rogers and Hammerstein, audiences are in for a pleasurable treat filled with energetic songs. Songs include; "Oh, What a Beautiful Mornin,'" "Out of my Dreams" followed by the shop stopper, "Oklahoma."
My absolute favorite scene of all is the dream sequence. Every cast member shows off their unbelievable talent in a ballet number with great energy!
Little sets were used such as a doorway, a small house, and a picnic area. I actually felt as if I were in the setting. Theatre is a magical place, holding many opportunities for imagination.
Costumes were beautiful! Cowboy outfits, long prairie dresses, and even the signature western hat. I especially loved the chaps. And let's not forget the cowboy boots.
Once again, great job to all the performers who brought a timeless classic to life. I love how we can bring shows from different periods to life for multiple generations so we can enjoy the stories that we never lived through.
Again, everything may not go your way in the theatre. The actors, Blake Price especially, went along with it adding in memorable touches and even metaphorically giving an example that we can handle what life or horses throw at you.
If you're around this weekend and have the time to catch a showing of Oklahoma! at North Shore Music Theatre I suggest that you do! It's filled with countless surprises and memorable actors to bring this story to life.