News of the World - A Movie Review
While 'News of the World' has fantastic cinematography, its story could have been stronger.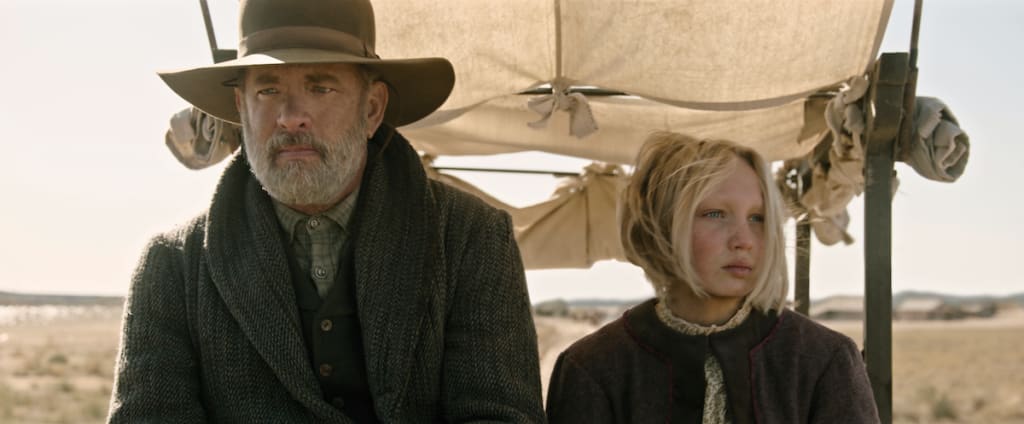 It's going to be a long journey so we'd better get moving.
News of the World arrived after a long trek into theaters in 2020. Captain Jefferson Kidd reluctantly agrees to take a young girl to her aunt and uncle. Traveling hundreds of miles in the west, the journey opens their minds to a friendship they never thought about.
I was excited to see News of the World when it was out. Being a Tom Hanks lover, the film immediately met my interest. After viewing, I wasn't all that impressed with the story which could have been better.
Tom Hanks and Helena Zengel were tremendous. Their interactions were the best part of the film. More focus could have been given to their bond. Because they have to rely on one another under short circumstances, Captain Kidd and Johanna learn better methods to communicate. Their friendship also helps them realize how they've been stuck in the past.
Zengel did an outstanding job presenting her character's emotional journey all through her eyes. Raised by the Kiowa people, Johanna does not recognize the English language. I liked the scenes where she is going through the captain's belongings and examining each object. I'm looking forward to seeing Zengel in more films.
While Hanks was superb, dictating news to townsfolk with wonderful diction, his overall character could have been written a more solid backstory. I never felt the growth of his character. To me, Captain Kidd still feels like the same person at the end of the film, despite obtaining better insight into his bond with Johanna.
To have a stronger connection to his morals about letting the past go, a significant other to Captain Kidd should have been deceased long before the events of the story. If writers chose this angle, I think that it would have pertained to a better kinship to his bond with Johanna.
Included in the ensemble of News of the World are Tom Astor, Mare Winningham, Ray McKinnon, Elizabeth Marvel, and many more. Ensemble members did an authentic job with their reactions in scenes where Captain Kidd delivered the news to them. We could have used more scenes like this.
Filmmakers found the best locations to film across open fields. Making the film resemble an old western was achieved through authentic sets and costumes. Paul Greengrass's direction evoked strong camera angles. This was one of the best parts of the film.
The cinematography captured natural lighting. I would have like to join them on their travels. This film is nice to look at. That being said, Greengrass could have spent more time on the story. For example, we don't spend enough time seeing Captain Kidd deliver news to the world which is his job. Filler noticeably started in the middle half of the film.
It felt like writers were trying to see how many incidents could happen to the duo while on their journey instead of paying attention to the main story. There were also strange transitions between scenes.
The soundtrack picked for the film was soothing. I am glad that the soundtrack is up for a nomination at the Oscars. Overall, filmmakers made it feel like a western film.
One sequence, although it was a riveting gunfight went on too long. Scenes could have been trimmed because it was a lengthy film. There is also one unnecessary character who tags along on the journey for only a couple of minutes but then is never heard from again.
Aside from these criticisms, I still recommend that you see News of the World. Tom Hanks is never to be missed.

Marielle Sabbag
Writing has been my passion since I was 11 years old. I love creating stories from fiction, poetry, fanfiction. I enjoy writing movie reviews. I would love to become a creative writing teacher and leave the world inspiring minds.
See all posts by Marielle Sabbag →