Newbies Should Give a Try to These Chinese Web Novels
Try these Chinese web novels to sit back and relax during these chilled winters.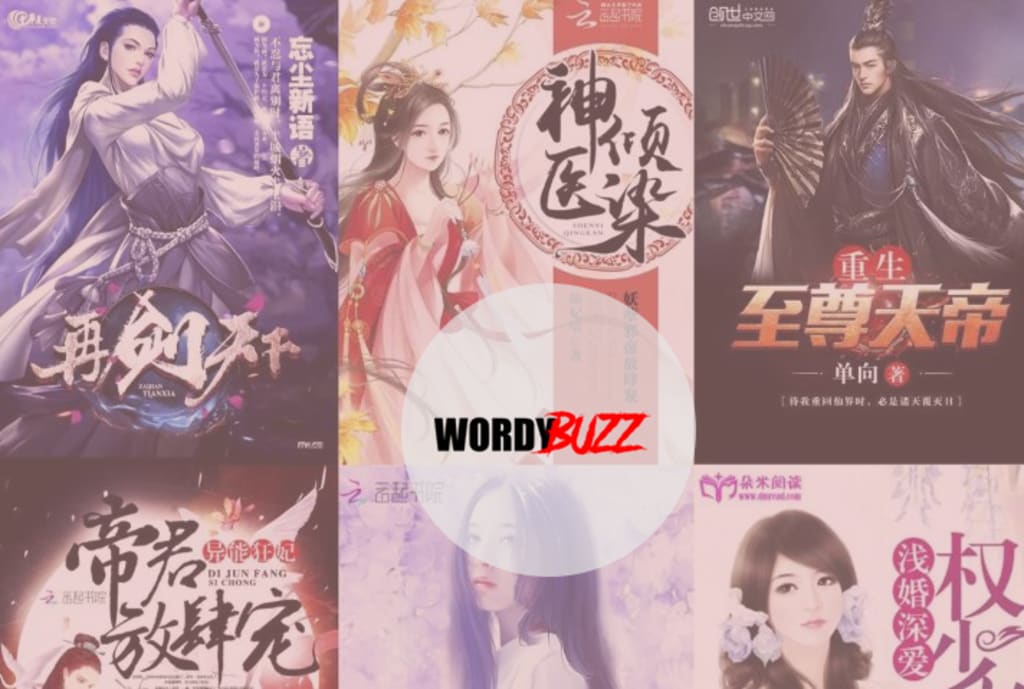 Wordybuzz - Read Chinese Web Novels Online
If you are new to the world of reading web novels, specifically Chinese ones. It is recommended for you to give a try to these chinese web novels in these winters, right at your favorite spot; Wordybuzz.
It's Not Easy to Be a Man after Travelling to the Future
• Rating: 4.5/5
After dying from a strange terminal illness, Ling Lan was reborn into a world 10000 years into the future. Although she dearly wished she could just live a peaceful and uneventful life in her new healthy body, fate had other plans… Forced to disguise herself as a boy just so she could inherit her deceased father's premium military benefits, Ling Lan's journey to adulthood was full of challenges. After much difficulty, she finally turned sixteen when she could drop the charade. But before she could grasp her newfound freedom to get married and start her own family, a twist of fate results in her being thrown into the Federation's top military boys' school With these twists of fate, Ling Lan had little choice but to walk further and further down a path of no return, one of cold and aloof dominance.
The Rebirth of the Malicious Empress of Military Lineage
• Rating: 4.7/5
Shen Miao, the Di daughter of a military lineage, pure, amiable, quiet and yielding, foolishly in love with Prince Ding, threw herself into the role of a wife. After assisting her husband for six years, she finally became the mother of the world (Empress).
She accompanied him to fight for the country, flourished the country's territory, took risks to become a hostage in another country. When she returned five years later, there was no place for her in the Inner Palace.
The beauty in his arms smiled brightly, "Older sister, the country is stabilized so, you should retire."
Her daughter met with a violent death and her son the Crown Prince was deposed. Her Shen family who sacrificed themselves for the country and the Emperor, not a single one of them were lucky enough to escape. With the change of one dynasty, everything was overturned. Her clan perished and she had to mourn for her children.
Shen Miao never thought that being a married couple who have gone through trials and tribulations and mutually assisted each other was just a stage joke to him!
He said, "Seeing that you have followed Zhen for twenty years, Zhen will grant you an intact corpse. You should thank this kindness."
Under the three Chi (1 chi = 1/3 meter) of white silk, Shen Miao made a malicious vow: In the time to come, she will take part in each and everyone's end!
Upon rebirth, she returned to the time when she was fourteen, when the tragedy had yet to occur, her family was still alive and she was still the pure, amiable, quiet and yielding Di daughter of a military lineage.
Relatives hiding a black heart, Elder and younger (female) cousins are ruthless and malicious, the new Yiniang is like a tiger watching its prey and the disreputable man who wants to repeat the events?
Her family must be protected, the huge enmity must be avenged, the Imperial seat of the country must also be a part of the trophy. In this lifetime, let's see who can beat the others!
But that little marquis from the Xie family, the arrogant and obstinate spear wielding youth, stood biasedly at her side and proudly said, "It's just the fall of the Imperial power. Remember this, the world belongs to you. You– Belong to me!"
The CEO's Villainess Childhood Friend
• Rating: 4.4/5
When Qiao Moyu awakened, she found herself in a novel world and had become the villainess who was loathed by the President, the story's male protagonist. Qiao Moyu, the President's childhood friend, came to his door whilst holding a baby, but the man said he won't take any responsibility since the child wasn't his! As she stared at her adorable and proud little toddler, Qiao Moyu decided to take this chance to raise her son while having a fresh start in her acting career. As for the other problems, she'll just take it easy! However, a few months later ~ President: "You're not some disgusting mosquito blood, you're my white moonlight (first love)." Luo Luo: "Mama, he's not Baobei's father. Baobei doesn't want him." A certain Film Emperor: "I want both you and the child." Online fans: "Qiao Moyu is ours!"
National School Prince Is A Girl
• Rating: 4.2/5
On the surface, she's a gay high school boy. In reality, she's the hacker known as Z, who hunts criminals on the Internet. A girl dressed in men's clothes; a master at playing games, punishing evil, and having the highest skill in seducing girls. When people learned that "he" was actually female, the entire population blew up!
Fu Jiu: "Great Deity Qin, do you have a girlfriend?"
Qin Mo puts down the laptop: "I don't have one."
Fu Jiu starts to seduce in a low voice: "In that case, you have one starting now. Me."
Hearing this, Qin Mo leans over tyrannically.
Fu Jiu is dumbstruck: "Hold on! What are you doing?"
Qin Mo: "Using my privilege as a boyfriend."
Trial Marriage Husband: Need to Work Hard
• Rating: 3.6/5
She was a peerless genius in the 24th Century – all she needed was a silver needle and she could practically bring anyone back from the dead. After an explosion, she crossed over into a strange world; everyone calls her "Miss." The previous "Miss" before had no contractual spirit, was weak and incompetent, and even the fiancé comes over with a new love and bullies her? Now that she has taken over, who dares to act so presumptuously around her? With needles in hand, the world is for her to own! Wherever she goes, miracles follow! However, she saved a pest. What was she thinking when she saved that man. His stunning demeanor and impeccable face is a huge contrast to his cruel actions. He tries all ways to win her over. This is an interesting cross over story with some magic, romance and a black bellied miss as the main character.
Chu Wang Fei
• Rating: 4.2/5
She, the prime minister's daughter, was timid and cowardly. Because her engagement fell through, and her reputation was ruined, she was pressured to spill her own blood in the palace hall! Once again opening her eyes, the cowardice had vanished, replaced by coldness, causing others to be intimidated at first glance. Yet no one realized, she was not her. He, the current dynasty's Chu Wang, served the country and brought peace and stability. Peerless and magnificent, all the girls under the Heavens eagerly pursued him! He helped her break off her engagement in the palace hall, but she avoided him at a great distance. He set his mind to pursue her, but she didn't intend to love him.
At home, the turbulent currents of government affairs surged violently, disputes from every country continued to spring up everywhere. The stunning her who had been reborn, and how she didn't bat an eyelid to resolve that terrifying carnage; her name had shaken the whole world!
When the dust had settled, and the song and dance had ceased, who could hold hands with her and look upon this thousand-year golden age, this flourishing ten thousand miles? Nowadays in this land under the Heavens, everyone spoke of how Chu Wang was cunning and two-faced, he desired the whole world, and was someone they seriously could not provoke. Yet the one they could not provoke even more was his Wang Fei – Yun Qian Meng! Anyone who provoked Chu Wang Fei, must surely be prepared to lose their necks!
A breathtaking rebirth, a thrilling marriage, in the blink of an eye the once weak woman had become the honorable Chu Wang Fei!
Wang Fei: In the palace chambers, between the feasts, smiles are hiding daggers, with layers and layers of plots and machinations; those who hurt my flesh and blood will have to pay the price.
Chu Wang: In these troubled times, carrying the fire beacon, over thousands of miles of fortresses and mountains, I have traveled to the distance to these border stations; if you dare to hurt my wife I will take your life.
Wang Fei: In another country, in a foreign land, will his thoughts stay pure? The princess of another nation is graceful and beautiful, will "a pair of people for one life" change?
Chu Wang: Returning home, difficult problems arise. As green hills extend into the distance, beautiful flowers and tender feelings grow deeply; dealing with the ruler and his ministers is harder than rising into Heaven.
That night, all the monarchs struggled for power, smoke rising all around; that night, the husband and wife were separated, neither humble nor haughty; that night, the land was in great disorder, lying corpses filled the plains; that night, whose heart was confused, whose family was broken, whose country was lost?
In the chaos of war, during their separation, separated by thousands of miles of unmoving mountains and rivers, the gentleman's heart and the wife's heart never changed. In the lonely city without aid, hand in hand as before, they advanced together while chatting lightly about this West Chu country.
The Good for Nothing Seventh Young Lady
• Rating: 4.3/5
She was the godly thief of the 24th century, yet she was reincarnated as a good-for-nothing idiot with no parents. Not only that, she had to bend her will according to her relatives' mood. Idiot? Trash? Very well, sooner or later, she will show these group of silly earthlings what it means to be too late for regrets! Battle-qi? Magic? Her talent on both magic and martial arts will mortify every genius in existence. The position of the clan chief? The mythological Vermilion Bird? Want them? So sorry~ She already took them! But who will tell her, that the cute boy who gets carsick easily was really the mythological Vermilion Bird? Then, what about the elder that's residing in her body, just which deity does that mysterious soul belong to? Furthermore…… Why was it that other people's companion were those kind of domineering, and incomparably mighty type. Why was it the ones around her were either an evil merchant or a sly fox, a useless nerd or a playboy, the worst is this sick pretty boy! What happened to ruling the world, and standing above all else? Please don't f*ck with me!
The Princess Wei Yang
• Rating: 4.5/5
Life is unpredictable. Her husband loved her stepsister, deposed her as Empress and even forced her son to death. In that Cold Palace, she was forced to drink poisonous wine. So in the next lifetime, she made a promise to never do good deeds and help others, to never step into the palace and to never become the Empress! At the Prime Minister's estate, the mistress' daughter is reborn into a she-devil An evil stepmother? I will make sure you go to Hell! A two-faced, hypocritical older stepsister? I will rip apart that beautiful façade!
A scheming younger stepsister? I will throw you into the grave!
You guys didn't let me live peacefully so you should also expect the same!
Initially she wanted to stay away from disaster as far as possible; however, a man's heart is like a needle in the sea—impossible to search for, impossible to understand.
The man who once swore to abandon her became someone who can't live without her.
The enemy from the past lifetime suddenly confesses his feelings for her.
Even worse, she is bothered by a handsome man with a thick-skin who doesn't know how to give up!
Poison Genius Consort
• Rating: 4.2/5
Easily cowed and bullied, she was the useless, ugly woman with no talent in medical skills. Supported by millions, he was Tianning's most respected duke with the power to move all under Heaven. On their wedding day the bridal sedan was carried to the front doors, but the Duke of Qin's gates were shut tight. They told her, 'Come back tomorrow. 'All alone, she walked step-by-step full of pride through the duke's doors. Little could they imagine, this unattractive good-for-nothing was a beautiful, genius doctor of poisons! — After transmigrating to the past, poisons expert Han Yunxi finds herself on the verge of being married off to the country's second most powerful man, the Duke of Qin. Her future life seems set–except her husband is an unfeeling ice block, her in-laws think she's a eyesore, the empress dowager wants to use her for her own goals, and poison-related plots abound. Alone, the intelligent (and sensible) Yunxi must carve her own space from the intricate web of court intrigue and the jianghu, relying on her words, wits, and wisdom to survive. Adapt when necessary, use force when required; to survive and thrive is the name of the game to a prosperous life. No matter what, she'll prove her right to live!