My Review of "The Mitchells Vs The Machines"
A fun animated family film that reminds me of the Croods and The Lego Movie.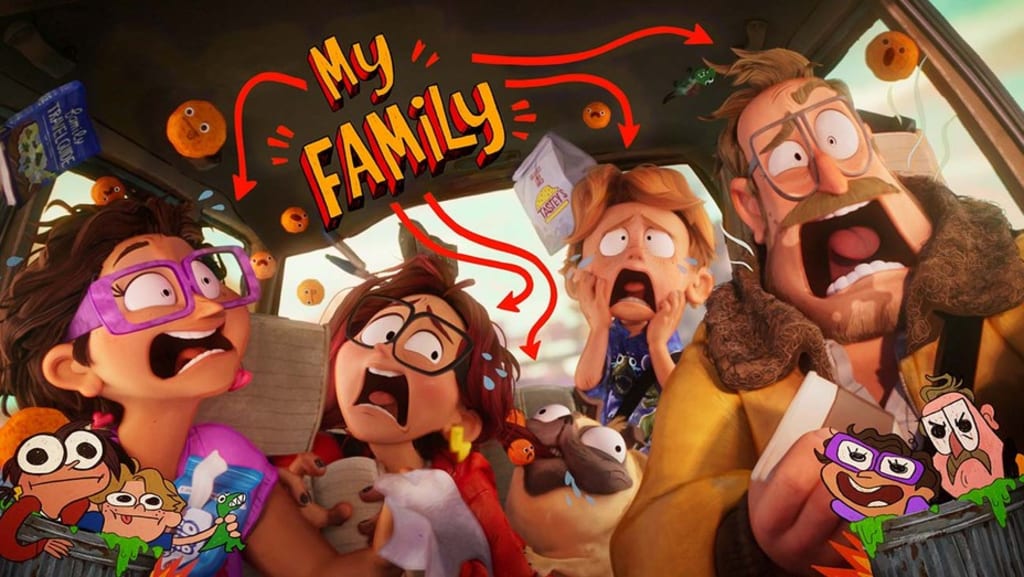 The Mitchells Vs The Machine is Netflix's latest 2021 animated family film. We're still starved for new movie content nowadays and I think this should satiate some of our appetites. It's a family friendly film so it goes without saying that you should expect a fairly predictable movie. The execution however was very well delivered.
This movie starts off in the middle of the movie. It's smart that they did this because we all know from the trailers and even the thumbnail that there will be a robot invasion. That's not the main emphasis of this movie though.
The movie then goes back to a few weeks before the robot invasion incident. Here we learn about the main character Katie. She's a self-professed oddball that is about to go to college. All of her life she's gone through her life feeling out of place. Her incredible imagination allows her to think up of wild scenarios in which she puts on film. It seems nobody gets her until she found out about a film school. She meets up with people that are potentially going to this school and they just click.
Meanwhile she explains how her family is just as unconventional as she is. Her father is a nature obsessed guy that doesn't really see the appeal of her film career. He thinks she should have a back up in case it doesn't pan out for her. She has a younger brother just as weird as her but fears losing his older sister when she goes away for college. Then there's her mom who wants to have an Instagram worthy family life.
Everything seems to like the stereotypical family nowadays with everyone staring at their phones. Of course the dad being nature obsessed and computer illiterate encourages them to shut off their electronics. Of course this takes a turn for the worst when he breaks Katie's computer while arguing about her YouTube video.
This is basically the catalyst that brings the movie together. To mend the father daughter relationship with one another Katie's father decides to cancel Katie's flight to college. Instead he opts to take her and the rest of the family on a long road trip to Katie's college. He hopes to mend his relationship with his daughter and bring the family together again one last time.
While this is happening there's a high tech company that is about to unveil their latest artificial intelligent robots to help the world. Already hearing that you know what's going to happen. It is funny how they make references of how we're all so obsessed with technology. This is a prevalent talking point in movies nowadays. It also talks about how we are so nonchalant about dismissing things when they are of no use to us anymore.
Without going into details to totally ruin the movie for you, there is eventually a robot takeover of the world. They are going to capture all of the humans around the world and yet somehow Katie's family is the only family that has eluded them.
The family zaniness kind of reminds me of the old National Lampoon Family Vacation movies of yesteryear. There's a very wacky quality to the scenarios they find themselves in that make quick comparisons with that movie. Of course there is a lot more special effects and epic moments in this movie thanks to the animation factor.
The animation will remind you of a cross hybrid between The Lego Movie and Spider-Man: Into The Spider-Verse. It doesn't have the jittery animation of the Spider-Man movie but the art style reminds me of that movie. The zaniness of the movie reminds me of The Lego Movie. It uses a lot of YouTube-esque pop ups. You'll also see a lot of trending things like filters and other things that kids do nowadays.
With a lot of pop culture references this movie will most likely be recognized 10-15 years from now as a time capsule to how things were back in the early 20's. Still I think that the core of the movie is done correctly and all of the jokes were pulled off excellently. There are sight gags a mile a minute in this movie and it's a different type of humor that I would like to see more of.
Overall, I really enjoyed this movie. It actually felt like a theatre quality movie that would be best watched in a movie theatre. Unfortunately nowadays we're not really able to do this so the next best thing is watching it at home in your home theatre. I have to give this movie a 7.5 out of 10. It's fun for the whole family so there's something in there for everyone. I don't think you can watch this whole movie without having smile on your face.
review
About the author
I have tons of opinions that change constantly. I watch a lot of movies and play video games. There are some articles on my struggles with languages and dance as well.
Reader insights
Be the first to share your insights about this piece.
Add your insights