My Review of "The Kitchen"
A story about mob wives taking over the mob scene.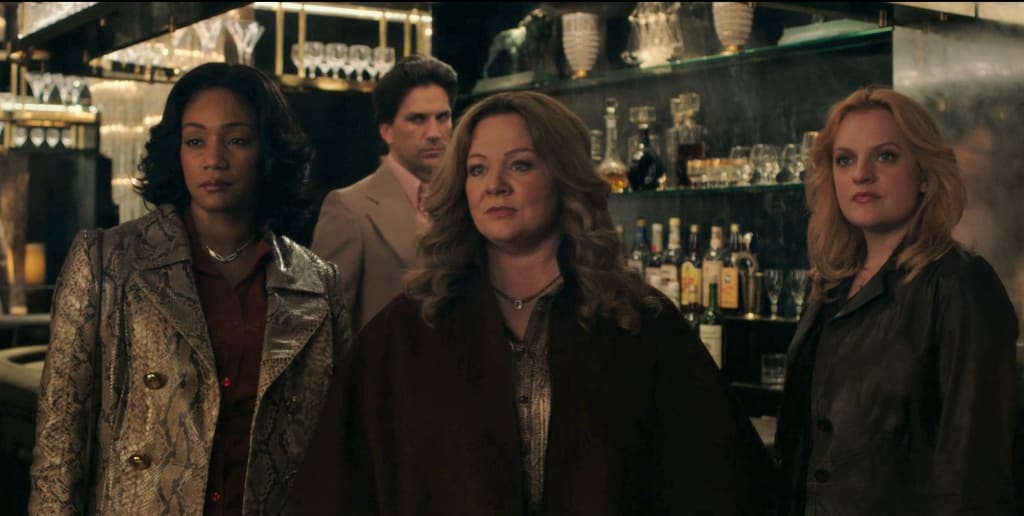 The Kitchen is a very cool concept. It sort of reminds me of a similar idea with the movie Widows (2018). I loved Widows so I thought I'd get into this one just the same. It doesn't hurt that I'm a sucker for underdog stories. This had the potential to be a pretty good one.
The movie starts off learning about this Irish mob group in a part of New York called Hells Kitchen. They basically run the area with violence. It's your basic organized crime scheme where businesses will have to pay off these goons for protection in the neighborhood. That's how the Irish mob was able to collect funds.
Unfortunately for a small faction of the Irish mob there was an FBI sting. They got an anonymous tip and busted these mobsters at the crime scene. These guys are sentenced to 4 years in jail. This leaves their wives in a precarious position.
The movie is set in the 70's and unemployment is through the roof. To make matters worse women were greatly denigrated and disrespected so it's really tough for the wives of these incarcerated mobsters to obtain some sort of income. The mob family protect their own but the money that they're sending to these women isn't quite enough to even pay rent.
We get introduced to Kathy, Ruby and Claire. The three mob wives that are fighting to survive. Kathy is the stay at home mom that loves her husband but feels the pressure because she's raising 2 kids by herself. Then we have Ruby who is learning new things about her husband all the time. She's further belittled by her husband's family because she's black. Finally we have Claire who has lost all of the confidence in herself. She suffered through horrific abuse by her mobster husband and is terrified by everything.
Already I'm kind of liking this movie. I know these women are going to kick as butt I wasn't sure how. It would soon be revealed that these women wouldn't use the same old tactics that the Irish mob had used in the past to gain protection money. They do things in a more intelligent way.
As they continually grow in power new issues start to pop up. Loving in a patriarchal system they're of course not taken seriously because they're women. This soon changes with some clever intimidation devices. Of course things later get a little more violent and all chaos ensues eventually.
I'm a sucker for clever intimidation devices especially the ones they used in this movie. It's too bad they didn't do a few more. There's also a nice character progression of Claire's character. When she starts to build confidence in herself, I couldn't help but cheer on for her. The only thing is that I wish she had a bigger role in this movie.
Kathy and Ruby had interesting story arcs as well. There was a bit of a pacing issue closer to the end where there's a twist. It almost seemed as though the movie was starting all over again. At least it left me wanting more. The problem is that the ending feels more like a cliffhanger than it does a true ending. I really hope that they continue with this franchise if they can but it really depends on how well this movie does. Hey movie studios, not everything should be a franchise! If that was the case then make them into TV shows and not movies.
Overall, I was pleasantly surprised with this movie. It was great and if you liked Widows you might want to check this movie out as well. Unfortunately the ending is a little less than desired. I was hoping for more of a conclusion than the lazy franchise way that a lot of movies do nowadays. I have to give this movie a 7 out of 10. I think people are really sleeping on this movie. Obviously the movie studios had enough confidence to think it will be a franchise.
review
I have tons of opinions that change constantly. I watch a lot of movies and play video games. There are some articles on my struggles with languages and dance as well.
Receive stories by Brian Anonymous in

your feed