My Review of "She's Out Of My League"
A movie that explores our value on superficial aspects of people.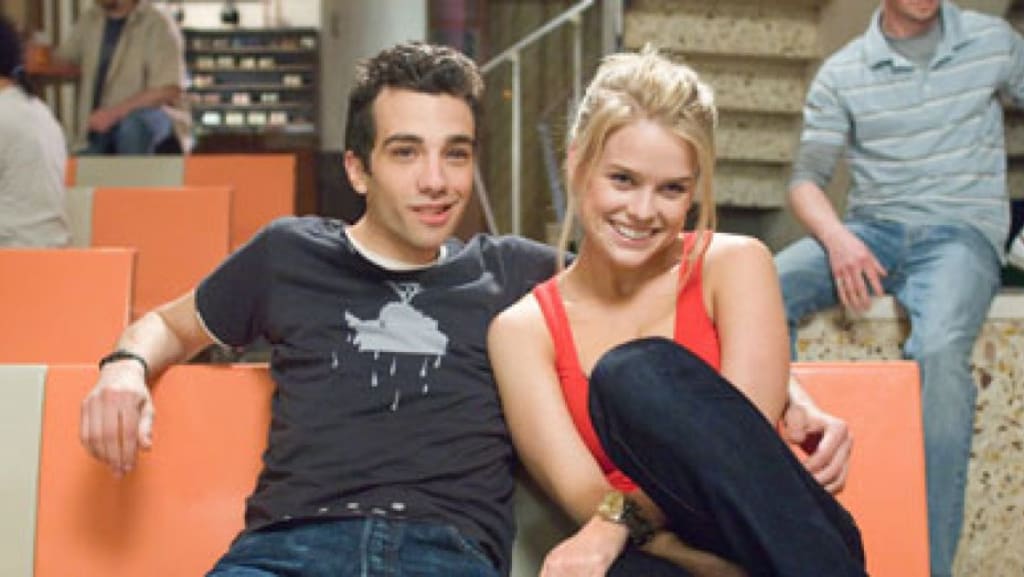 She's Out Of My League is an interesting movie. I've seen this movie 10 years ago when it first came out so I wasn't so sure how it aged. Seeing as movies such as Hitch by Will Smith haven't fared so well in this new world I thought this movie might suffer the same fate. Thankfully it doesn't. It talks about personal insecurities. Looking deeper into this movie you can see how it still relates to how we treat each other today.
For those of you that haven't seen the movie it starts off with this character Kirk, played by Jay Baruchel, he's just this average guy that works at the airport. I use the word average loosely because he doesn't really live in a great situation. His ex-girlfriend Marnie, played by Lindsay Sloane, and her new boyfriend live with Kirk and his family. I don't know how that's possible but that's a pretty horrible situation. It's all for comedy but that's messed.
To make matters even worse Kirk's brother and fiancé live in the house with them as well. His brother Dylan, played by Kyle Bornheimer, is a pretty horrible person. Well he's kind of a stereotypical older brother in this movie.
Luckily Kirk has some good friends. There's Stainer, played by T.J. Miller, Jack, played by Mike Vogel, and Devon, played by Nate Torrence. They're pretty much the guys that give Kirk advice and help him out whenever they can.
One day at work there's this girl Molly, played by Alice Eve, who is traveling to New York. While she's in the airport pretty much everyone is ogling her because she's so beautiful. She forgets her cell phone at the airport and Kirk finds it for her. She tells him to hold it for her until she comes back to Pittsburgh.
When she comes back to Pittsburgh they arrange a meeting and she likes the fact that he's a nice guy. So she starts inviting him to more things and little by little they start getting closer.
The instant they become an item everything changes as everyone surrounding Kirk sees him in a different light. They can't understand how a girl like Molly can be attracted to a guy like Kirk.
There are a load of self esteem issues talked about throughout this movie. People that don't consider themselves attractive will of course have self esteem issues as they've been raised throughout their lives to feel the way they do.
I can see how people might act the way that Kirk's friends and family do in this movie. We do put a lot of value in the things we have and the way we look. People's prestige and wealth does in fact have an impact on how other's view them in terms of attractiveness. In this movie, I think they dive directly into this talk rather than a lot of other movies that kind of talk around the issues. I thought this was kind of a smart idea.
As it's a movie there's a lot of forgiveness for a lot of things that in real life would have ended things. I get that it's a romantic comedy and that we have to accept things the way they are for the sake of keeping the run-time reasonable.
It's a good exploration at these characters but each of the characters don't really grow that much except for maybe Kirk's friend Stainer.
I thought Kirk's friend Devon stole a lot of scenes as the naive super optimistic friend. Whenever they have really optimistic friends in TV shows and movies, it's hard to not love them. He's constantly making references to Disney films and motivational quotes.
Overall, I was able to enjoy this as much as I enjoyed it 10 years ago when I first saw this movie. It's a feel good movie that you can relax to. I kind of think this movie is a role reversal of a lot of romantic comedies aimed at women. Usually there's a down on her luck woman meeting the man of her dreams. I give this movie a 7.5 out of 10. I enjoyed my time watching this movie and I could recommend it to people.
review
I have tons of opinions that change constantly. I watch a lot of movies and play video games. There are some articles on my struggles with languages and dance as well.